By 
Korea.net Honorary Reporter 

Roufida Abouelwafa Ahmed
Photos = Korea Tourism OrganizationStarting Sept. 1 and through to Oct. 31, the Korea Tourism Organization (KTO) will be hosting a series of events at halal restaurants across Korea. This is the second time the KTO hosts the festival, and it aims to provide for the needs of Muslim travelers, as a gesture to make Korea a Muslim-friendly destination. This year the event will cover two months, while last year it lasted only 40 days. More than 100 restaurants are participating in the event, from all over Korea, not just in Seoul. You can find restaurants in Daejeon and Busan and on Jeju Island, and in even more cities. By browsing the website for the event, below, travelers can easily find information about where they want to eat, such as names, addresses, and menu items of the participating restaurants.
http://www.hrwkorea.or.kr/restaurants/rest_list.php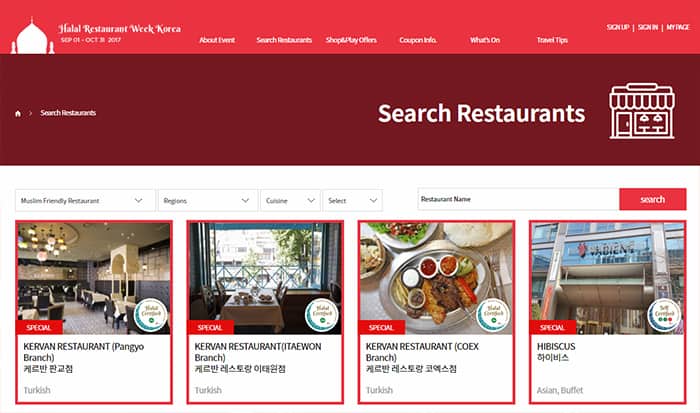 The participating restaurants are classified into four categories.
1) Halal certified: these are restaurants that are officially authorized by agencies such as the Korea Muslim federation.
2) Self-certified: these are restaurants that are owned and managed by Muslims themselves.
3) Muslim-friendly: these are restaurants that offer halal dishes on their menu, and thus alcohol products may be sold there.
4) Pork-free: these are restaurants that don't use pork in their dishes and don't provide halal food.
There is a large variety of restaurants taking part in the event, including Asian, Arabic, Turkish and Italian restaurants, catering to Koreans and non-Koreans alike who wish to try some delicious new types of food. All of this diversity suits not only Muslims but also any traveler who seeks halal food or any related dining experience.
Coupon booklets feature participating restaurants and offer a variety of price discounts, special halal menu items, 1+1 deals and other freebies. Travelers who use coupons and share their experiences online will get a chance to win prizes.
Among the promotional benefits, you can find 13 companies and brands that have offers on their cultural activities and programs, such as museum tickets and shows, perfume workshops, hair products, cosmetics and even renting traditional Korean Hanbok attire. You can find all the specific details at the website or in the shop.
Some of the most popular participating brands are Lotte, Talent Cosmetics, Aromind, duty free shops and more.
At the website, you can find information about mosques and prayer rooms across Korea, such as addresses, contact numbers, opening hours, as well as some basic sentences in Korean that will help Muslims tourists participate in a conversation.