Traditional stone statues made from the volcanic rock of Jeju Island, dol hareubang in Korean, have been donated to the cities of Gorinchem in the Netherlands and to the Paraguayan capital of Asuncion.
A pair of dol hareubang statues was erected in the city of Gorinchem on April 28. The donation was backed by the deep historical bonds that exist between Jeju Island and the Netherlands stretching back more than 460 years. Gorinchem is the hometown of Hendrik Hamel (1630-1692), a Dutch sailor who became the first European to introduce Korea to Europe. As a sailor in the Dutch East India Company, he accidently drifted toward Jeju on his way to Nagasaki in 1653, and ended up living in Korea for 13 years. In 1666, he returned to Europe and wrote "The Journal of Hendrick Hamel" which became the first book introducing Korea to Europe.
Gorinchem Mayor Govert Veldhuijzen said, "Dol hareubang statues help citizens take an interest in Seogwipo City, the island of Jeju and Korea. These statues are already becoming a new attraction in our city."
A representative from Seogwipo City, which donated the volcanic statues along with the Hamel Foundation, said, "We're working with Gorinchem to promote Hamel and another Dutchman, Jan Janse de Weltevree, who was the first European naturalized Koreans and who arrived on Jeju Island together. The mayor of Gorinchem plans to visit our island within the year to discuss more details about the project."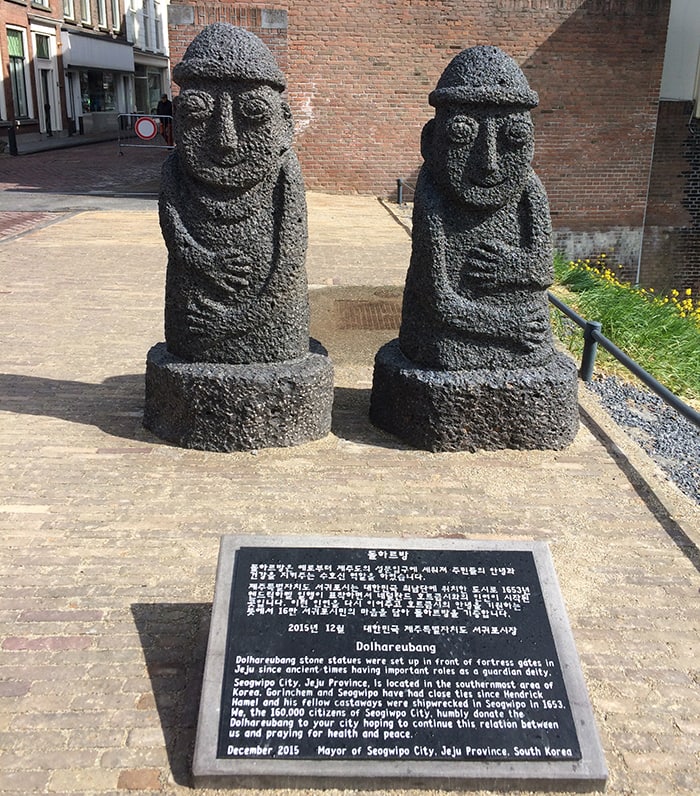 On the other side of the world, statues of a dol hareubang and of a haenyeo female diver were donated to a riverside park in Asuncion, the capital city of Paraguay, on April 26.
These two statues were donated by the government of the Jeju Special Self-Governing Province and by an association of people from Jeju Island who reside across South America. In August 2013, representatives from the provincial government and the association held a meeting with then Paraguayan President Federico Franco and promised to donate the statues as a token of gratitude toward Paraguay for having supported the island province in its campaign to be designated as one of the New Seven Wonders of Nature.
The provincial government said, "The donation of these two statues in Asuncion will help boost cultural understanding between Korea and Paraguay."
Currently, about 100,000 Koreans live in South America, including in Paraguay, and contribute to enhancing ties between Korea and the region. Among them are around 200 people whose families were originally from Jeju Island who live in Paraguay, Argentina and Brazil.
A total of 31 dol hareubang volcanic stone statues have been donated to six countries, including the U.S., China, Japan, over the past 17 years since 1999 when the first statue was donated to Guilin Province in China, bringing Jeju Island to the world.
By Yoon Sojung
Korea.net Staff Writer
Photos: Jeju Special Self-Governing Province, Seogwipo City
[email protected]