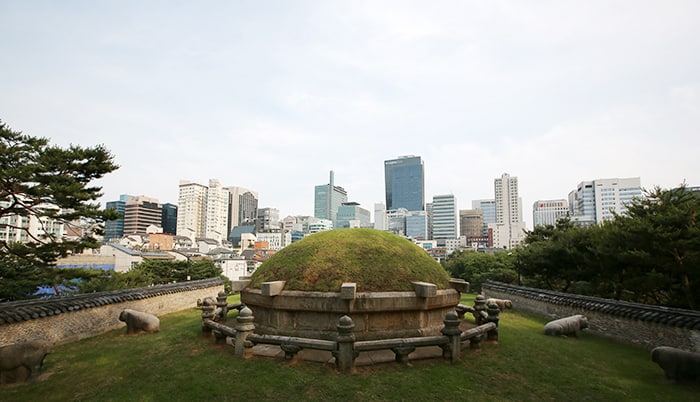 By Kim Young Shin 
Seven royal Joseon tombs in Seoul and Gyeonggi-do Province are inviting tourists to a wide range of heritage events, including traditional music and dance performances, photo and video exhibitions, and ecological experiences, all from Oct. 22 to Nov. 5.
The Cultural Heritage Administration (CHA) announced the times and dates for the events at the following tomb sites: the Seolleung (선릉, 宣陵) and Jeongneung (정릉, 靖陵) royal tombs in Seoul; and then in Gyeonggi-do Province, the Seooreung tombs (서오릉, 西五陵) in Goyang-si City, the Hongneung tombs (홍릉, 洪陵) and Yureung tombs (유릉, 裕陵) in Namyangju-si City, the Gwangneung tombs (광릉, 光陵), also in Namyangju, the Gimpo Jangneung tombs (장릉, 章陵), Yungneung tombs (융릉, 隆陵) and Geolleung tombs (건릉, 健陵) in Hwaseong-si City, and at the Donggureung tombs in Guri-si City. These are all parts of the network of 40 royal Joseon tombs that have been designated as a UNESCO World Heritage site.
At Seolleung, where Joseon's ninth ruler, King Sungjong (성종, 成宗) (1457-1494) and his wife Queen Jeonghyeon (정현왕후, 貞顯王后) (1462-1530) are buried, a traditional gugak concert will be held each day from Oct. 25 to 29 to celebrate the Joseon musical canon "Akhakgwebeom" (악학궤범), which was written at the king's request.
A short video introducing the book will be played from 12 p.m. to 1 p.m. while a gugak performance takes place on stage.
On Oct. 28 and 29 from 2 p.m. to 4 p.m., visitors can attend a gugak class that will teach you how to play the gayageum 12-stringed zither (가야금) and the haegeum one-stringed fiddle (해금).
At Hongneung, the tomb of Gojong (고종황제, 高宗皇帝) (1852-1919), the first ruler of the Daehan Empire, and his wife, Myeongseong (明成皇后) (1851-1895), and at Yureung, where Sunjong (순종황제, 純宗皇帝) (1874-1926) and his two wives, Sunmyeong (순명황후, 純明皇后) (1872-1904) and Sunjeong (순정황후, 純貞皇后) (1894-1966) are buried, there will be a photo and video exhibition about the Daehan Empire and the life of the ruling family from Oct. 31 to Nov. 5.
The two tomb sites will also host a traditional opera, "The Dream of the Daehan Empire" (대한제국의 꿈), on Nov. 4 and a gugak concert, "Daehan Empire Arirang" (대한제국 아리랑), on Nov. 5, both starting at 3 p.m.
All the events hosted at the royal tombs are free. However, the bird feeding at the Gimpo Jangneung site and the field trip to the restoration site at the Donggureung site both require reservations.
Reservations can be at the Joseon royal tombs' website, with services only in Korean.
http://royaltombs.cha.go.kr
Place
Date∙Time
Title of the Event
Seolleung and Jeongneung (Seoul)
Oct. 25-29
12:00~13:00
"King Seongjong's Akhakgwebeom and our cheerful gugaktraditional music"
Oct. 28-29
14:00~16:00
Gugak lessons (Gayageum and Haegeum)
Seooreung (Goyang)
Oct. 28 15:00~16:10
Dance drama "Seooreung, in autumn"
Hongneung and Yureung (Namyangju)
Oct. 31-Nov. 5
Photo and video exhibition on Daehan Empire
11/4 15:00
Traditional opera "The dream of Daehan Empire"
Nov. 5 15:00
Concert "Daehan Empire Arirang"
Gwangneung (Namyangju)
Oct. 25-29 10:00, 15:00
"Deep into fall, Gwangneung forest and King Sejo"
Jangneung (Gimpo)
Oct. 28 10:00~12:00
Feeding migratory birds and photo exhibition
Yungneung and Geolleung (Hwaseong)
Oct. 22, 29, Nov. 5
15:00
"Traditional culture performances at Yungneung and Geolleung"
Donggureung (Guri)
Oct. 25, Nov. 1 14:00
The field trip to restoration site of Mongneung