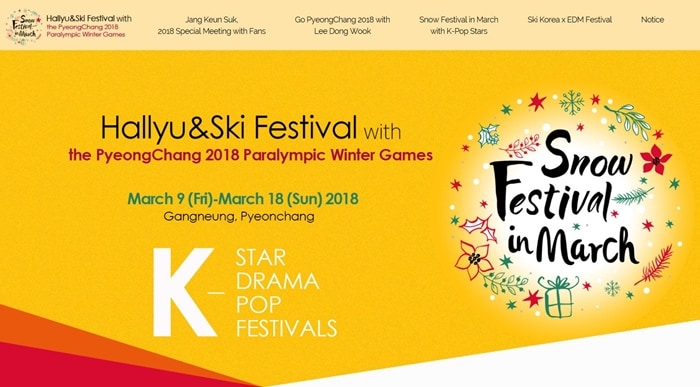 By Min Yea-Ji and Lee Hana
Fans of the Korean pop music and entertainment scene will be able to enjoy a number of exciting events during the PyeongChang 2018 Paralympic Winter Games in the heart of all the snowy action.
The Snow Festival in March, organized by the Korea Tourism Organization (KTO) and Gangwon-do Province, will provide several opportunities to meet some of your favorite celebrities at the PyeongChang Paralympics from March 9 to 18.
The four main events are: fan meetings, watching a Paralympic event with a celebrity, a K-pop concert, and an EDM party.
On March 10 and 13, actors Jang Keun-suk and Lee Dong-wook will hold meet-and-greets for their fans from Korea, Japan, China and Southeast Asia. Following the meetings, the actors will watch a preliminary sled ice hockey match at the Gangneung Hockey Center together with the fans.
On March 15, around 1,000 Paralympic ticket-holders will be selected to attend a K-pop concert featuring B1A4, BTOB and GIRLKIND held at Gangneung-Wonju National University's Haeram Culture Center.
Meanwhile, on March 11 and 17, visitors will be able to take part in an EDM party with Korea-style deep fried chicken and beer at the Yongpyong Resort Blisshill Stay & Tower Plaza.
More information about the upcoming festival can be found at the websites below:
Festival homepage: http://snowfestivalinmarch.com/en/
Festival facebook page: https://www.facebook.com/snowfestivalinmarch/