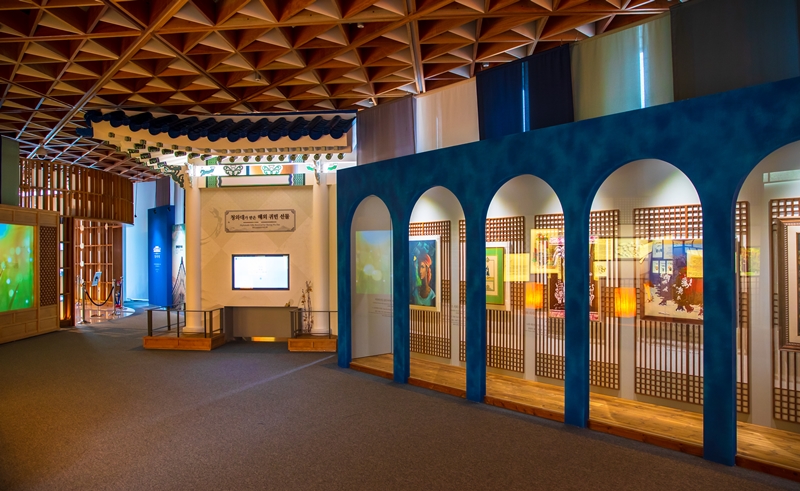 By Park Hye Ri and Lee Jihae
Photos = Cheong Wa Dae Sarangchae
Foreign visitors to Seoul from later this month can go on a walking tour along Cheonggyecheon Stream to Cheong Wa Dae Sarangchae, an exhibition at the presidential office featuring Korean culture and information on former presidents.
The Korea Tourism Organization (KTO) on Sept. 16 announced that it will run every Thursday and Friday from Sept. 19 to Oct. 18 the walking tour "Cheong Wa Dae Sarangchae Road." The KTO launched the course in spring this year and decided to add an autumn version.
The four-hour tour begins at the KTO's Seoul Center K-Style Hub and ends at Cheong Wa Dae Sarangchae.
The Thursday course will pass through Seochon Village, a road with traditional Hanok houses lining the alleys, and Tongin Market, where participants can enjoy Korean street food.
The Friday course is more focused on Buddhism as visitors will visit Jogyesa Temple, where they will make traditional snacks and meet monks there.
The fall version of the tour will differ from the spring one in that participants in the latter will use a city bus to shorten the course.
"As soon as we announced the fall tour, we started getting many phone calls for reservations," a KTO source said.
"We'll make the tour available to Korean nationals as well, and upgrade and expand the program to make it a signature fall tour program."
Limited to 30 people per tour, the fall version will be offered in Korean and English at KRW 10,000 per person. More information is available at the link below: