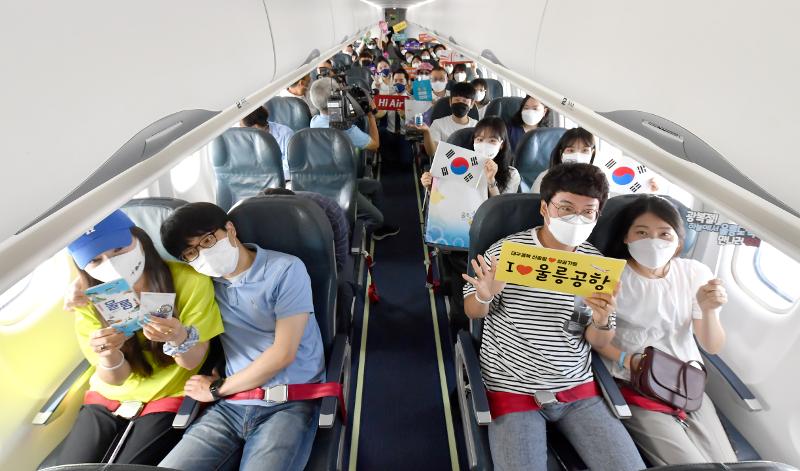 By Lee Jihae
An event held on Aug. 15, National Liberation Day, allowed people to fly and view the nation's easternmost island of Dokdo Island from a plane.
Gyeongsangbuk-do Province held a nonstop flight to commemorate the holiday and promote Ulleung Airport, which is under construction. The flight took off from Daegu and flew around skies over the islands of Ulleungdo and Dokdo without landing on either.
Ulleungdo was borne from volcanic activity in the East Sea. The distance between Dokdo and Ulleungdo is about 90 minutes by boat.
Ulleungdo has no airport but the one under construction slated to open in 2025 will accommodate a plane that can hold 50 passengers.
A combined 96 people joined the flights that day, comprising members of the organization Heritage of Korean Independence and groups related to Dokdo, as well as those who won tickets to the event by submitting drawings of Ulleungdo and Dokdo on their social media accounts.
The participants rode a 50-passenger plane of High Air, the nation's lone small air carrier. The first flight took off at 8:15 a.m. and another at 2:45 p.m. from Daegu International Airport, flew in skies over Dokdo and Ulleungdo for about ten minutes and returned to the same airport two hours after takeoff.
Meanwhile, Yonhap News on the same day said that from Sept. 10, new international "no-destination" flights will officially begin, with one departing from Gimhae, Gyeongsangnam-do Province, and landing on Jeju Island.
The flights have the plane fly in and around the airspace of other countries while not entering or landing on them, and instead land at the airport of origin.
Such flights have returned to their airports of origin, but from next month, they will land at different airports.
Passengers are exempt from testing for COVID-19 and quarantine procedures upon landing and can enjoy duty-free shopping.
The flights are expected to boost domestic tourism in the regions of the airports of landing and help revitalize the airline, duty-free and shopping sectors.