What would it feel like to ride a bicycle from Seoul to Busan?
You'll get an answer soon, for a group of Taiwanese tourists from Giant, the world's largest bicycle manufacturer, are here to pedal across the peninsula.
A group of 26 Taiwanese tourists, including Giant CEO Tony Lo, are participating in a long-distance bicycle tour from Seoul to Busan from Sept. 20 to 24.
This tour is part of a pilot program co-hosted by the Korea Tourism Organization (KTO) and Giant, and tour participants will complete the 537-kilometer journey across Korea. Beginning in Seoul, the five-day route includes riverside roads along the Namhangang River, the Saejaegil Road and then along the Nakdonggang River.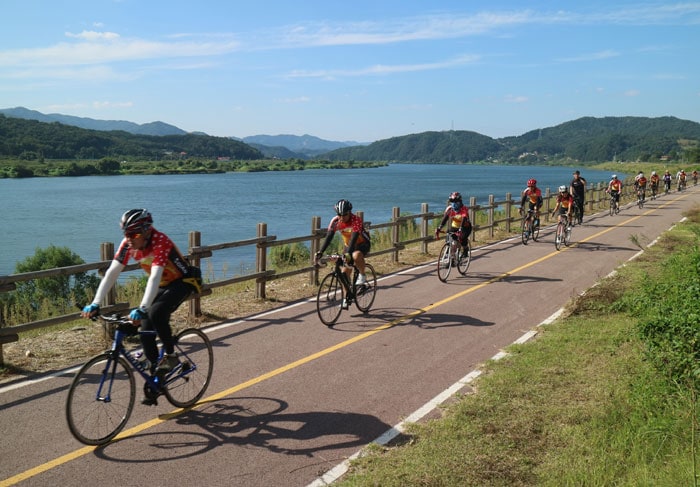 After this pilot program, the KTO and Giant plan to introduce another long-distance bicycle tour in China next month. The KTO and Giant will officially launch organized bicycle tours in 2017.
Established in 1972 in Taiwan, Giant accounts for roughly 10 percent of the total bicycles produced worldwide. The firm makes 5.5 million to 6 million bicycles per year.
KTO's Taiwan branch said, "In Taiwan, there's growing demand for leisure-mixed tourism, as more and more people enjoy bicycle touring or marathons. For those people, we will continue to develop special tourism packages where they can not only see the sites but also enjoy special experiences."
The number of Taiwanese tourists who visited Korea between January and July this year hit 477,000, showing a 56.8 percent increase over the same figure from last year.
For Korea, Taiwan is the fourth largest source of tourists, after mainland China, Japan and the U.S. .
By Yoon Sojung
Korea.net Staff Writer
Photos: KTO
[email protected]