To mark Dokdo Day on Oct. 25, the Northeast Asian History Foundation invited Korea.net Honorary Reporters to go on a trip from Nov. 1-4 to the islands of Ulleungdo and Dokdo. Dokdo Day was designated in 2000 by the private organization A Party for Tokdo Protection to mark the occasion when Emperor Gojong of the Korean Empire on Oct. 25, 1900, enacted Imperial Ordinance No. 41, which designated Dokdo an island belonging to Ulleungdo.
Dokdo is Korea's easternmost territory and Ulleungdo is a volcanic island 87.4 km away from Dokdo's northwestern side. Ulleungdo has gained popularity as a safe tourist attraction since the outbreak of the COVID-19 pandemic. As of Oct. 31, the number of visitors to the island from January to October this year hit a record-high 430,423, topping the previous mark of 415,180 set in 2013.
The seven Honorary Reporters, one each from the U.S., Vietnam, the Philippines, Ukraine, Kazakhstan, Pakistan and Iran, joined the tour of both islands. Korea.net took photos of the two days and four nights spent there with the group.
By Kim Seon Ah with contribution from Kang Haeeun
Ulleungdo, Dokdo, Gyeongsangbuk-do Province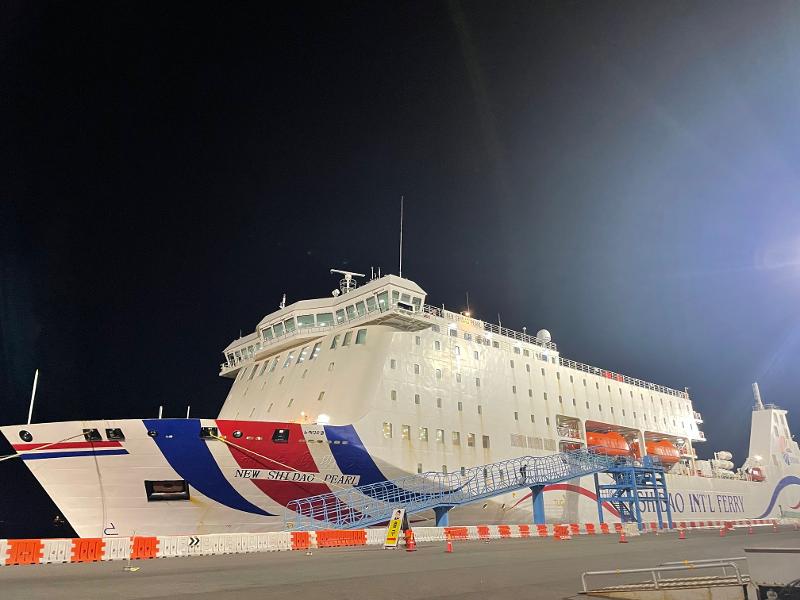 The vessel New Shidao Pearl is anchored on Nov. 1 at Yeongilman Port in Pohang, Gyeongsangbuk-do Province. The large passenger ship weighs 19,988 tons and can accommodate 1,200 passengers. This ship departs once a day, from Pohang at 11:50 p.m. and Ulleungdo at 12:30 p.m. The prices are KRW 66,500 per person for a multi-person suite and KRW 803,000 for both passengers for a two-person royal suite. Three daily voyages are made including going back and forth between Pohang and Ulleungdo. Passengers must show identification when embarking. A Korea.net reporter, intern and Honorary Reporters on Nov. 1 gathered at Seoul Station, where they boarded the bullet train KTX and rode for 2 1/2 hours before reaching Pohang Station. (Kim Seon Ah)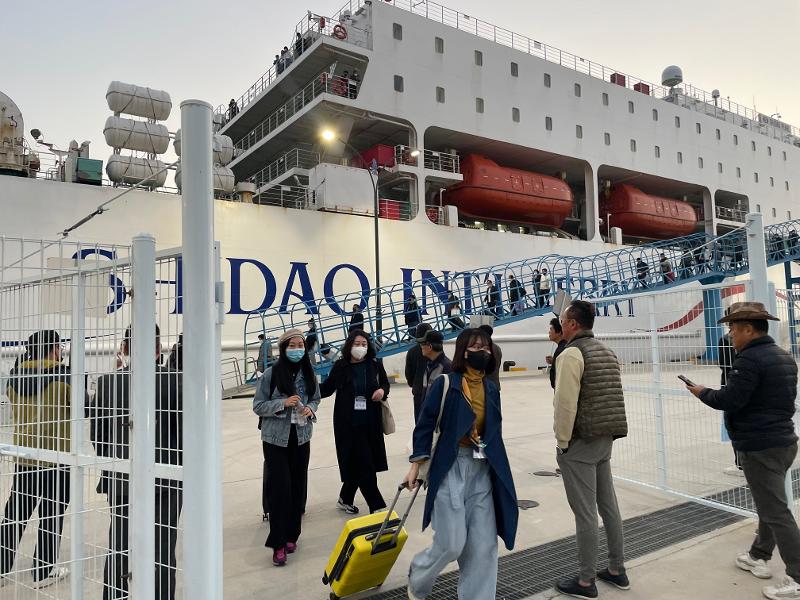 Korea.net Honorary Reporters at 6:50 a.m. on Nov. 2 arrive at Sadonghang Port on Ulleungdo Island and disembark. The voyage from Yeongilman Port in Pohang to Ulleungdo's Sadonghang Port took about seven hours. (Kim Seon Ah)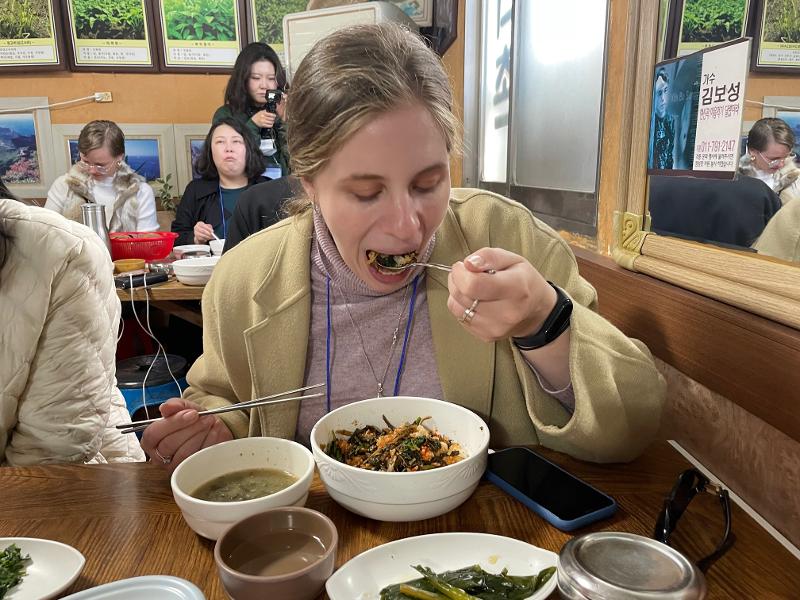 Honorary Reporter from Ukraine Iuliia Mogylko-Song on Nov. 2 arrives at Sadonghang Port on Ulleungdo Island and eats breakfast at a nearby restaurant. Her meal was sanchae bibimbap, (mixed rice with wild leafy vegetables and spicy red pepper paste), a renowned specialty of the island made with indigenous vegetables such as wallflower leaves, bracken and goat's beard. The wild vegetables on the island sprout in early spring and have unique scents thanks to the climate and frequent snow. (Kim Seon Ah)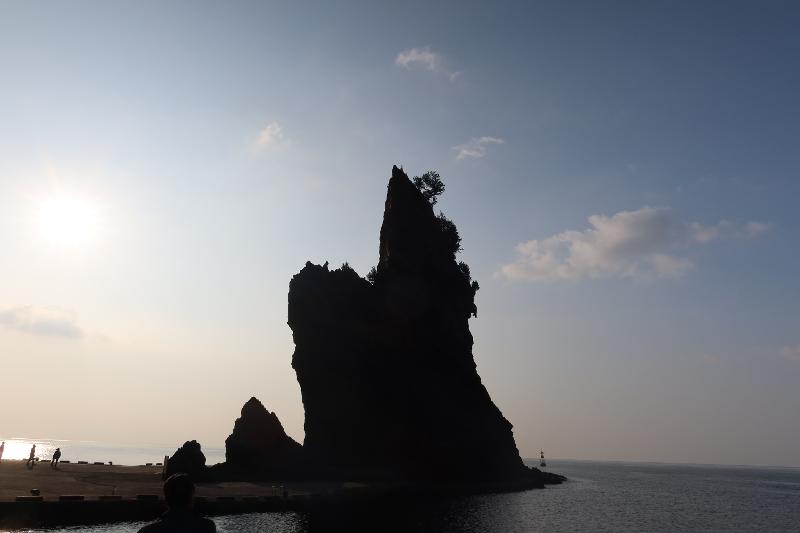 This is Turtle Rock on the morning of Nov. 2 on the western side of Ulleungdo Island. The rock resembles turtles going and down the rock. Depending on the angle, six to nine turtles can be seen. (Kim Seon Ah)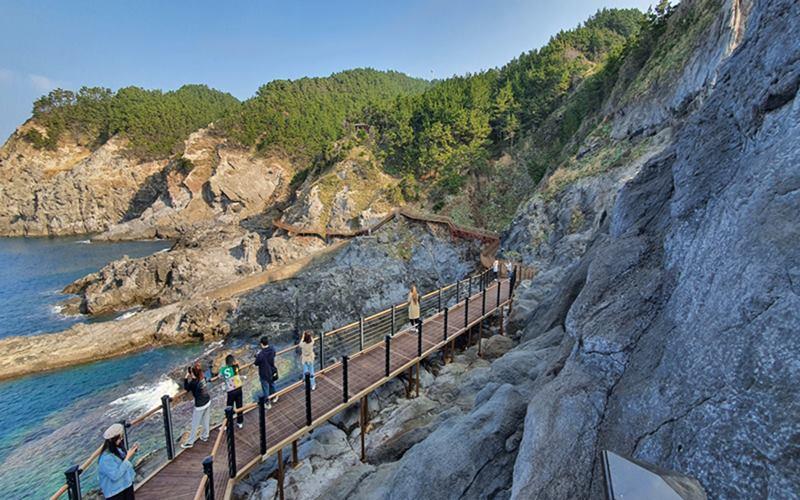 Honorary Reporters on Nov. 2 walk along the Taeha coastal trail in western Ulleungdo. Visitors can view the sea right next to them while hiking on the 637 m-long trail. (Kang Haeeun)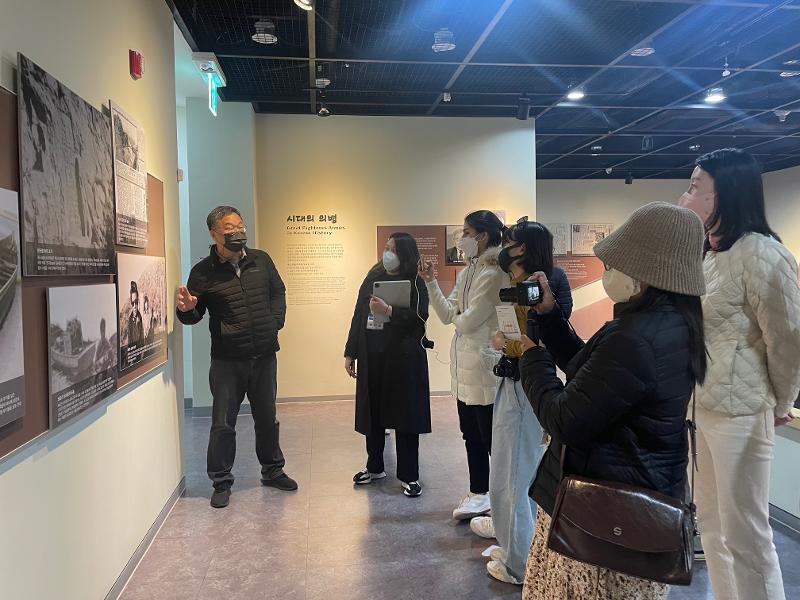 Hong Seong Keun, a researcher at the Northeast Asian History Foundation (left), on Nov. 2 tells Honorary Reporters about the Dokdo volunteer defense team at Dokdo Volunteer Forces Memorial Hall. An Ulleungdo native and expert on Dokdo, Hong is the nephew of Hong Sun-chil (1929-86), who led the team in the mid-1950s. (Kim Seon Ah)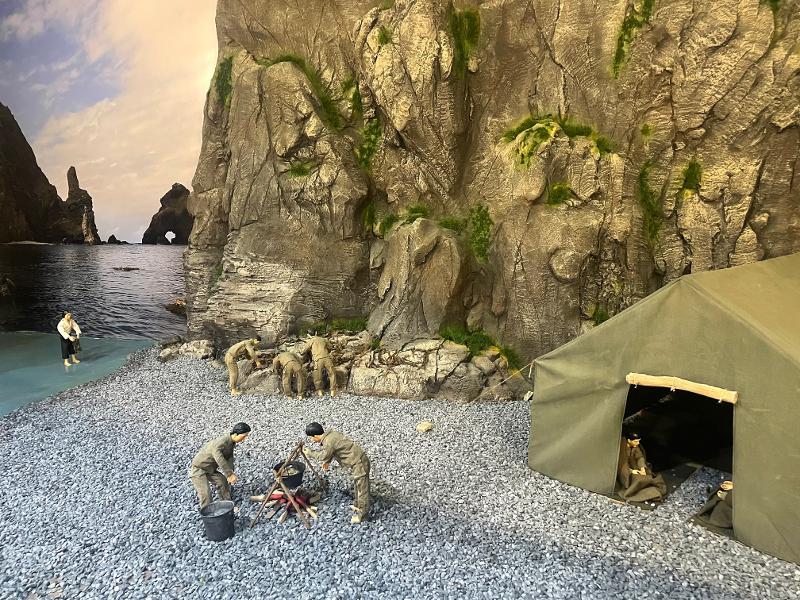 The corner titled "Fighting to the Death for Three Years and Eight Months" (unofficial translation) on the first floor of Dokdo Volunteer Forces Memorial Hall shows the lives of the Dokdo volunteer defense team. The members completed their mission of protecting the island for three years and eight months from April 1953 to December 1956 and passed on their duties to police. The photo reenacts the lives of the members in Dokdo back then. (Kim Seon Ah)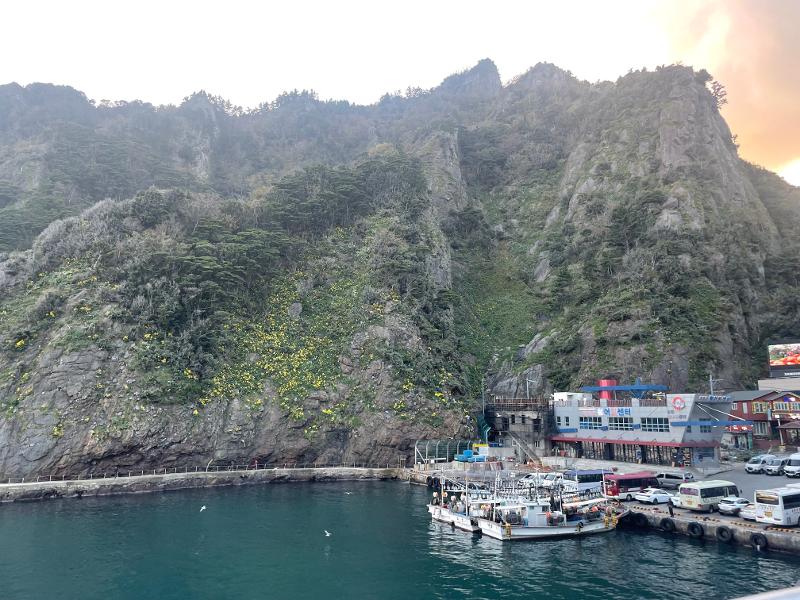 The photo shows Dodonghang Port, the gateway to Ulleungdo Island, on Nov. 2 at 4 p.m. with restaurants, souvenir shops and main public organizations nearby. The view is of the port as seen from the bridge at the main plaza for gatherings. (Kim Seon Ah)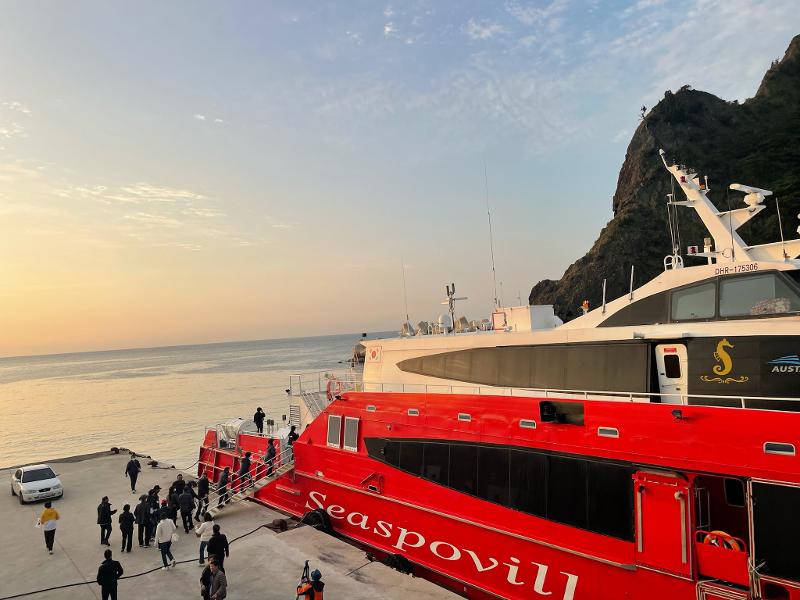 The speedboat Sea Star 11 on Nov. 3 at 7 a.m. waits for passengers at Sadonghang Port in Ulleungdo bound for Dokdo. The boat ride from Ulleungdo to Dokdo takes about 70 minutes. A roundtrip for an adult on a weekday is KRW 60,000 for a regular seat and KRW 66,000 for a premium seat. The fare is 10% higher on weekends and public holidays. Passenger voyages to and from Ulleungdo and Dokdo are held one to three times a day depending on the weather. (Kim Seon Ah)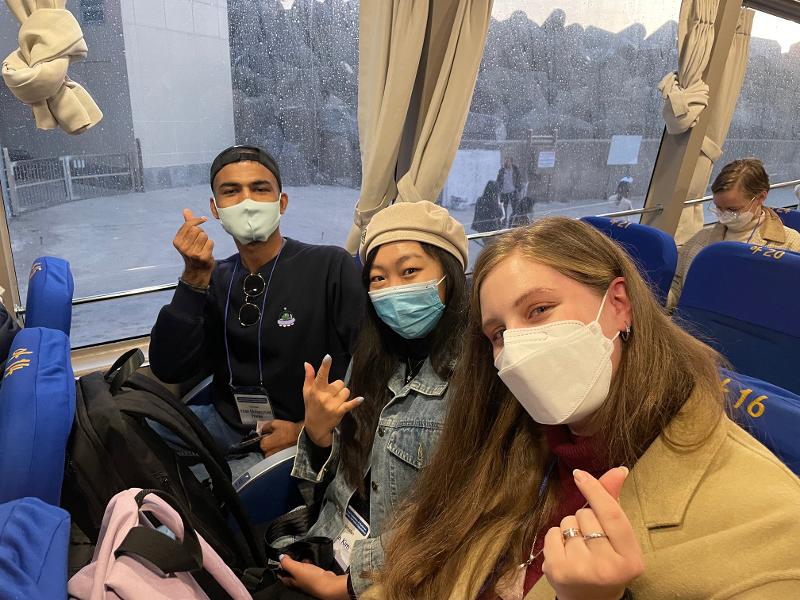 Honorary Reporters on Nov. 3 at 7:20 a.m. look excited and make the heart finger gesture on their boat ride from Ulleungdo to Dokdo. From left are Khan Muhammad Waqus from Pakistan, Olga Kim from Kazakhstan and Iuliia Mogylko-Song from Ukraine. (Kim Seon Ah)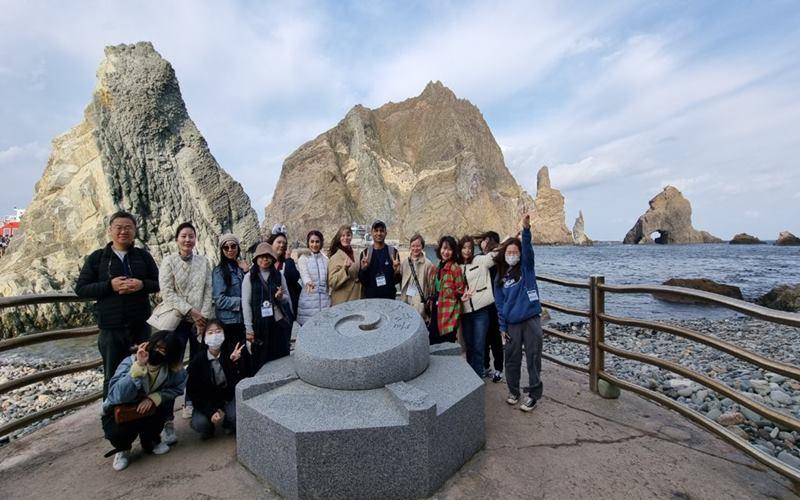 A Korea.net staff writer, intern, Honorary Reporters and personnel from the Northeast Asian History Foundation arrive on Dokdo Island on Nov. 3 at 8:50 a.m. and take photos. The sea route from Ulleungdo to Dokdo has high waves and is windy, so the number of days when a voyage is possible in a year is only 40-45. (Oh Hyung-gun)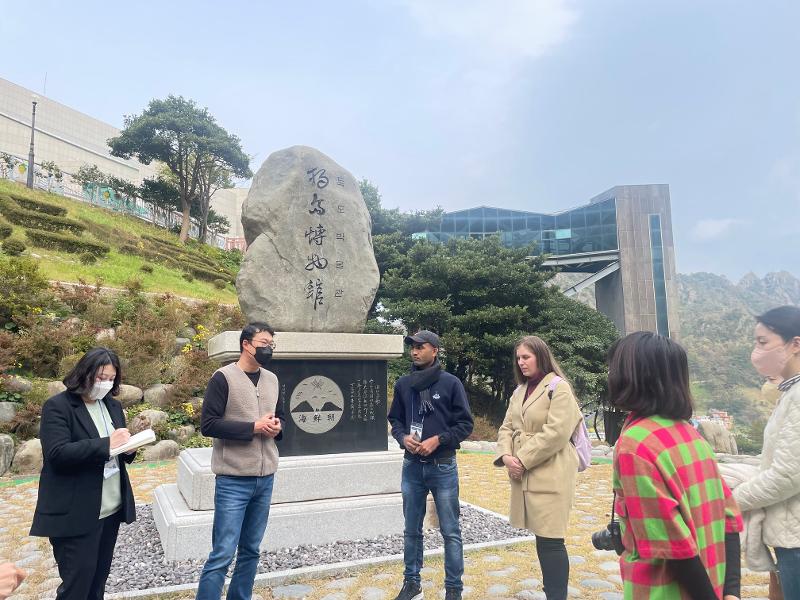 Honorary Reporters on Nov. 3 listen to explanations from curator Kim Young-do at Dokdo Museum. The museum has four exhibition halls and sources on Dokdo's history and methods for its preservation. (Kim Seon Ah)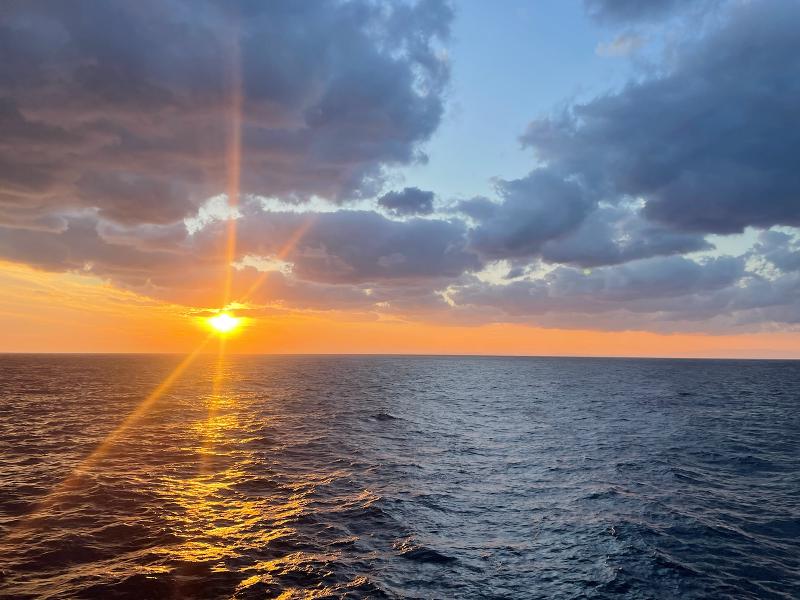 The sunset is seen from the bow of the ship that left Ulleungdo on Nov. 4 to head for Dokdo. Honorary Reporter Farnaz Pirasteh from Iran said, "The entire voyage was truly amazing. I knew it would be good, but the visits to Dokdo and Ulleungdo far exceeded my expectations." Honorary Reporter Dao Le Dung from Vietnam said, "I got to know more about Korea." (Kim Seon Ah)
sofiakim218@korea.kr