By Kim Tae Won and Sohn JiAe
A series of special discount cards or passes have come to reduce entrance or transportation fees for non-Korean visitors to Seoul and Pyeongchang in Gangwon-do Province during next year's PyeongChang 2018 Olympic and Paralympic Winter Games.
One of them is "Pyeongchang Korail Pass" launched by the Korean Railroad Corporation (Korail), a pass that allows passengers to ride Korail trains traveling across the nation, including a KTX Gyeonggang high-speed train from Seoul all the way through to Pyeongchang and Gangneung in Gangwon-do Province.
Your Pyeongchang Korail Pass purchase comes with extra benefits, including free boarding on city tour buses across Seoul, Busan, Jeju Island, Incheon, Gyeongju and Daegu, as well as a giveaway of Korail's rechargeable public transportation "Railplus Card."
The pass comes in two types: a five-day pass for KRW 168,000 and a seven-day pass for KRW 195,000. It can be purchased until Jan. 31, 2018, at the Korail official website (http://www.letskorail.com/pyeongchang) or at airports and major train stations.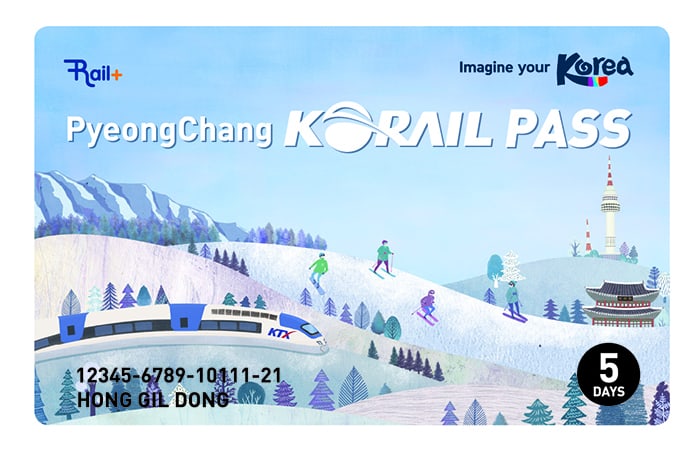 The Visit Korea Committee will begin the sales of the "Korea Tour Card," a public transportation card for non-Koreans, starting on Jan. 1, next year.
Cardholders recharge a card up front for as much as they want and use it to transfer to buses, subway and taxies. It will give them discount benefits on their transfers.
Besides, they can enjoy five up to 50 percent discounts at 2,240 shopping centers, accommodations, tourist spots and restaurants, as well as on performances, exhibitions and hands-on programs, taking place across the nation.
A card purchase and recharge is available at convenience stores (GS25, CU, 7-Eleven, Mini Stop and Storyway), at card vending machines inside subway stations and banks, and, also, at Airport Railroad Travel Centers. More information can be found at http://www.koreatourcard.kr/en/.
Seoul Metropolitan Government, too, has launched its equivalent "Discover Seoul Pass with PyeongChang" that can be used only across Seoul and Gangwon-do Province.
With this special edition pass, you can enjoy benefits with the previous version of "Discover Seoul Pass" — free entrance to 21 tourist sites in Seoul, discounts on 13 performances and duty-free stores –, and 61 additional discounts that can be enjoyed in the Olympic host cities.
The pass comes in two varieties: a 24-hour pass for KRW 39,900 and a 48-hour pass for KRW 55,000. It's purchasable at airports and tourist information centers downtown Seoul, and available until March 31 next year.
More information on benefits that the pass provides can be found at http://discoverseoulpass.com/en or via its official application "Discover Seoul Pass."