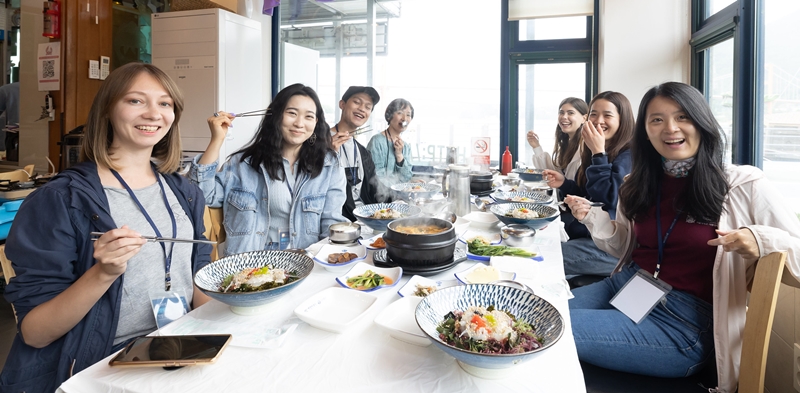 By Lee Kyoung Mi
Photos = Kim Sunjoo
Namhae-gun County, Gyeongsangnam-do Province
Around the East Sea, West Sea and South Sea, seafood is essential on the dining tables of Koreans as three sides of their country are surrounded by the sea. The Korea Maritime Institute says annual per capita consumption of seafood in the nation is 69.9 kg, an incredibly high level in the world.

Due to the warmer sea temperature stemming from geographical features, a wide range of sea life is found in southern waters with aquaculture being the most active industry. For this reason, cuisine using seafood has developed in the region.

From May 24-26, a Korea.net team and seven foreign Honorary Reporters visited Namhae-gun County, Gyeongsangnam-do Province, to explore seafood in the region. The seven were Anastassiya Kim (Kazakhstan), Quang Thi Thuy Dung (Vietnam), Mohammad Iqbal Jerusalem (Indonesia), Virginie Schultz (France), Yang Huiyan (China), Kaori Yoshioka (Japan) and Karina Gur (Germany). All of them shared their experiences with Namhae Island's treasure chest of seafood.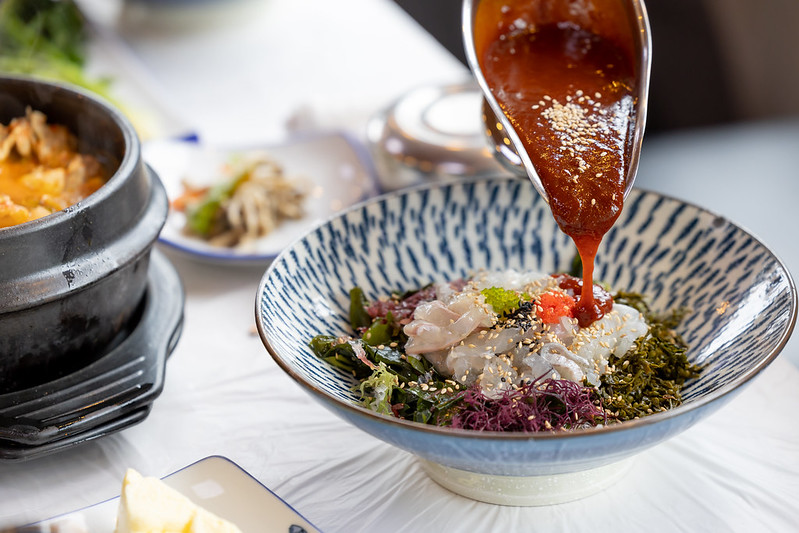 * Haecho hoedeopbap
Slices of immaculate white raw fish are served in a bowl topped with green and purple seaweed, followed by a spoonful of gochujang (red pepper paste). Steamed rice is added to a bowl and everything is mixed together. The first spoonful brings a pleasant sea smell to the mouth.
Haecho hoedeopbap (rice topped with raw fish and seaweeds) is made with in-season fresh fish and a variety of seaweed. The version that the group ate that day featured three kinds of raw fish — bass, flatfish and spotty belly greenling — and seaweed varieties such as miyeok (sea mustard), kelp, red sea strings, mojaban (brown algae), hancheon (agar) and badapodo (sea grape). The chewy texture of the slices and crunchy seaweed impressed everyone's mouths with every chew.

Quang Thi Thuy Dung from Vietnam, who ate raw fish for the first time, said, "I was so surprised to find no fishy smell," adding, "Seaweed and sweet and sour sauce created perfection."

Mohammad Iqbal Jerusalem from Indonesia added, "The color of the raw fish and seaweed was so beautiful that it was a shame to eat it," adding, "I'm already full just looking at it," while taking photos for a long while.
The secret behind the dish is the county specialty of using gochujang seasoning with citrus. Not only the juice but the fruit's peel and seeds are used to boost its scent and maximize flavor.
Kim Mi Yeon, the owner of a restaurant run by three generations of her family in the county, said, "Unlike citrus in other regions, Namhae's are smaller and looks small and rough as they're grown on old trees but also less bitter and more fragrant."
"The unique fragrance of citrus in the gochujang seasoning removes the fishy taste that could remain."
* Myeolchi ssambap and myeolchi hoemuchim
The most iconic dishes of the region are myeolchi ssambap (rice with stewed anchovies and greens) and myeolchi hoemuchim (sliced raw anchovy salad). Both are made of big anchovies caught by a jukbangryeom, a bamboo fishing net that is the county's traditional fishing method and designated intangible cultural heritage and a key traditional instrument of the domestic fishing industry.

Myeolchi ssambap is Namhae's indigenous delicacy of anchovies stewed with soybean and pepper paste accompanied by lettuce, sesame leaves and kelp served with rice. Myeolchi hoemuchim also uses anchovies in a salad with all bones and organs removed by hand and mixed with vegetables and spicy sauce.
Park Daegyu, chief of a jukbangryeom management community who has used the traditional fishing method for anchovies for over 25 years, said, "We can get quality anchovies because those caught by this method are not damaged on the surface," adding, "I'm confident of the anchovies caught this way (would be deemed excellent) anywhere."

To better enjoy the food, he advised that when eating myeolchi ssambap, cut the anchovies in half as they might not be fully seasoned and soak those parts in the stew before eating.

Honorary Reporter Karina Gur from Germany said, "Germany doesn't have as many seafood dishes as Korea," adding, "I've never had cooked fish wrapped in vegetables before but it's surprisingly delicious to eat braised anchovies in a wrap."
Honorary Reporter Kaori Yoshioka from Japan came from Tokyo for this tour. "I learned for the first time that we can eat raw anchovies," she said. "In Japan, we mostly use anchovies for making broth, but I think eating raw anchovies like this in Korea with bones seems good for health."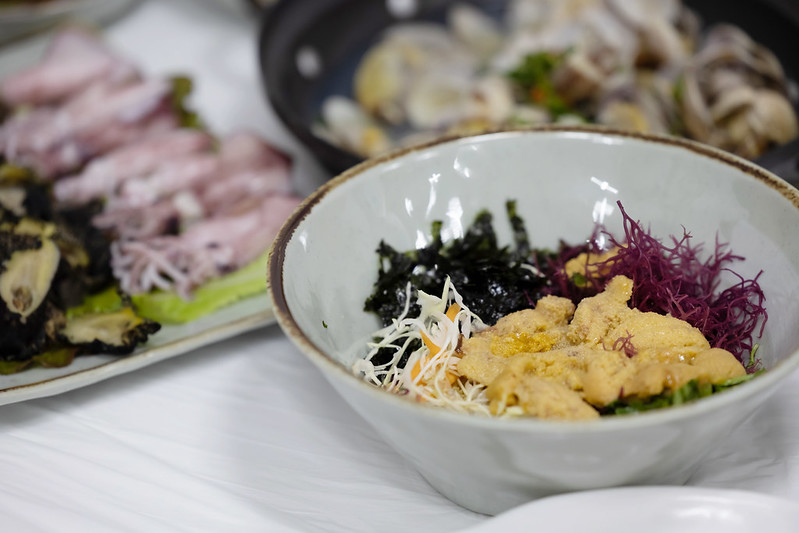 * Seongge al bbibimbap
"Sea urchin roe tastes fantastic as it has the smell of the sea," Honorary Reporter Anastassiya Kim from Kazakhstan said.
"I caught sea urchins as a child so I know how tasty they are. The soy sauce seasoning is a great match," Yoshioka added.
A bowl of rice is served twith a variety of seaweed and algae such as semogasiri (red algae), gim (laver), minari (water parsley), sliced lettuce and carrots and yellow sea urchin roes. The restaurant uses only fresh sea urchins caught by female divers daily, with the owner putting a big spoonful of roe in the bowl to show her warm heart.

Kim Young Sook, who has run her restaurant for almost 10 years, recommended to the reporters to sample the roe raw before adding sauce or mixing them, saying this is the only way to feel its subtle smell and softness and fully enjoy the dish. This is why she made the seasoning with soy sauce, not gochujang, for a lighter taste.
Among the dishes on their table at each restaurant, the reporters tasted not only the main dish but also side dishes made with ingredients produced from Namhae such as kkolttugi sukhoe (steamed small squid), sea hare, bajiraktang (clam soup), ojingeo buchujeon (pancake with squid and chives), seodaehoe muchim (spicy salad of sliced raw sole) and kkolttugi jeotgal (salted and small squid). All seven expressed amazement over the number of side dishes and sampled and took photos of each of them.
Yang Chang Woo, a team leader at the county's Fishery Resources Bureau, which supported the tour, said, "Namhae has a lot of delicious seafood resources but not many people know about this, so I hope to promote it to the world through Korea.net."
"We never imagined that Korean food would be eaten like this by people in the world," he added. "Like for Korean food, we will pursue various projects to make K-Blue Food a global cuisine."
What Namhae seafood dish was the favorite of the Korea.net team and Honorary Reporters?

Korea.net and the seven Honorary Reporters sampled a variety of seafood during their three-day trip to Namhae-gun County. Each person picked a best dish, with seongge al bibimbap earning the most votes with six from the 12 members, including four Honorary Reporters.

Gur, who picked the dish as her favorite, said "It was the best dish among all I ate in Namhae. I liked it because it has no strong taste." Virginie Schultz of France added, "The roes were so soft like cream."

Haecho hoedeopbap and myeolchi ssambap tied for second with three votes each.
km137426@korea.kr