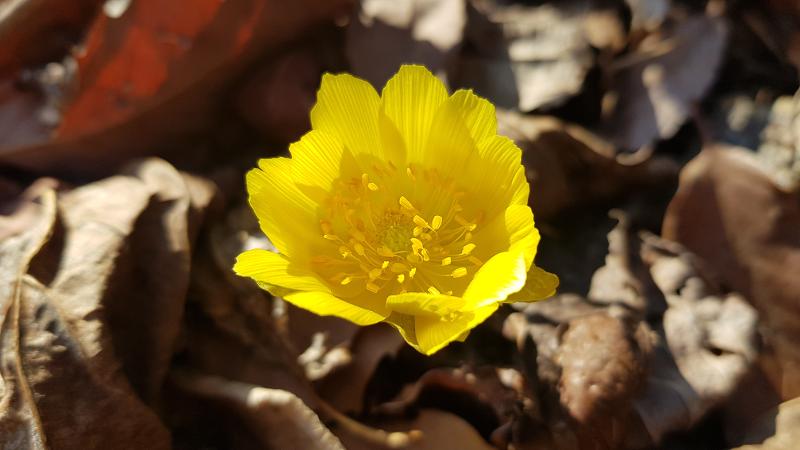 By Xu Aiying and Lee Hana
Photos = Korea National Park Service
Flowers have started to blossom with the coming of spring.
On Feb. 24, the Korea National Park Service (KNPS) announced this year's first blossoms with information on where to spot them at national parks across the country.
Back on Jan. 24, yellow pheasant's eyes were the first to bloom at Jirisan National Park by the Jungsan-ni path in Hadong-gun County, Gyeongsangnam-do Province, and at Gyeryongsan National Park by Donghaksa Temple in Gongju, Chungcheongnam-do Province.
At Hallyeohaesang National Park in Namhae-gun County, Gyeongsangnam-do Province, the chundangmae, usually the first apricot blossom to bloom, opened its flowers at Gujora Beach on Geoje-do Island in early February. Canolas started blooming on Feb. 13 on Geomun-do Island.
The KNPS said spring flowers are expected to blossom on March 5 around Gyeongchip, or the day marking the beginning of the third solar term and the start of spring.
From March, cornelian cherries and ginger plants will bloom, painting national parks bright yellow with their flowers. From the middle of the month, visitors will see liverwort, Byeonsan wind flowers and violets at national parks in Gangwon-do Province and on the mountains of Chiaksan, Odaesan, Taebaeksan and Seoraksan.
From mid-April, canolas and azaleas will be in full bloom at Dadohaehaesang National Park in Yeosu, Jeollanam-do Province. In May, royal azaleas will bloom at the national parks of the mountains Bukhansan (Seoul) and Sobaeksan (Yeoju, Gyeongsanbuk-do Province).
"This year, spring flowers will arrive around 10 days earlier than last year. It'll be a good time to visit our national parks and enjoy the colors of spring," said KNPS Chairman Kwon Kyoung-up.