By Hahm Hee-eun
Photos = Jeon Han
Seoul | May 21, 2018
The send-off ceremony for the national soccer team as it prepares for the 2018 FIFA World Cup in Russia was held at Seoul Plaza in front of Seoul City Hall on May 21. This is the first time that the Korea Football Association (KFA) arranged a separate public event as the national team prepares for the World Cup.
Among the 27 athletes appointed as the national representatives for the 2018 FIFA World Cup, twenty-three athletes, including Son Heung-min, a forward for Tottenham Hotspur, and Ki Sung-yueng, a former central midfielder for Swansea City, attended the ceremony. The athletes all wore specially tailored suits and greeted the nation's soccer fans as they showed up on stage for the red carpet ceremony.
Son Heung-min, top Asian goalscorer in Premier League history, said, "I will be fully-prepared for the games so that our soccer fans can smile brightly during the World Cup." In addition, some of Korea's legendary soccer players, such as Cha Bum-kun, Choi Soon-ho and Hong Myeong-Bo, also participated in the event and shared words of encouragement.
Around 3,000 football fans gathered at Seoul Plaza and cheered for the athletes as they waved official scarves that had this year's slogan on them, "We, the Reds!"
Among the crowds, Choi Min Gi introduced himself as a passionate soccer fan that watches all football games played by the national team, even when he has to stay up all night. He said, "I came to the send-off ceremony, because I wanted to cheer for Cho Hyun-woo. It's his first time playing in a World Cup. Also, it's a great opportunity to meet our national soccer representatives who play in the international leagues."
Kim Junhyeok, who came from Daegu, said, "Toohon, the fighting spirit, is written on the inner-side of the official uniform. I think it's the best word to describe the Korean soccer team's determination. Although we're in Group F, competing with distinguished teams from Germany, Mexico and Sweden, toohon can be demonstrated even in the most challenging situation. Remember, in 2002 Korea wasn't known as a great football team, but we still made it to the semifinal through toohon."
Kim Yoo-jin, who's been watching Korean league games for two years, said, "The charm of the Korean soccer team is that it makes us feel like our hearts are being squeezed. There's a saying that 'A ball is round,' which means you never know how it will stop. In other words, you never know what the results of the game will be. I think that phrase perfectly fits with the Korean football team's status." She also emphasized that, "This year's world cup is going to be interesting, because the Video Assistant Referee (VAR) system will be added and results of the games may turn out differently."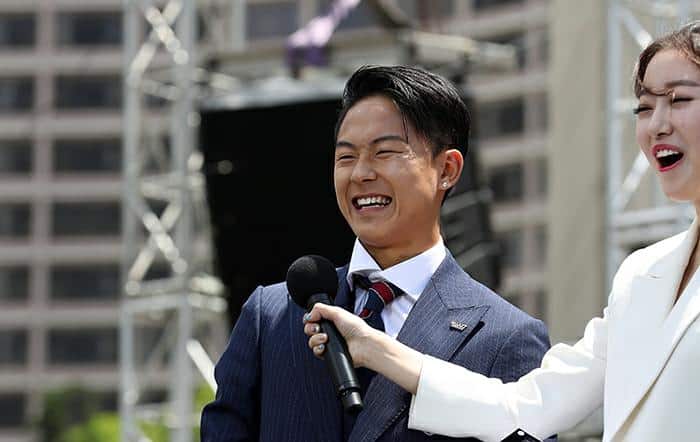 Jake Shatzer, from Texas, said, "My father works at the U.S. Army base in Seoul, so I came to Korea and joined a soccer club here. That's how I became interested in the Korean soccer team," and he showed his red uniform that had his name in Korean on the back. He further said with a big smile that, "The biggest charm of the World Cup is that it brings everyone across the world together. Even if there are some differences, everyone has this common love for soccer. No matter what's going on in the world, everyone can have a good time altogether during the World Cup."
Coach Shin Tae-yong's national football team hopes to reach the World Cup Round-of-16 after competing in Group F against Sweden, Mexico and Germany. The first game against Sweden will take place in Nizhny Novgorod, Russia, on June 18.