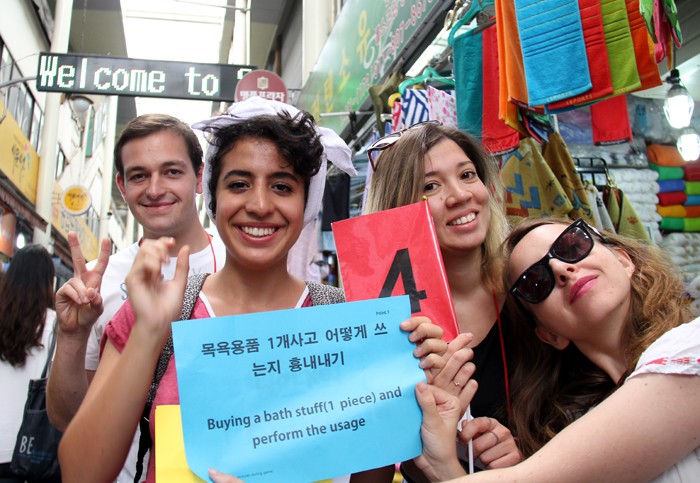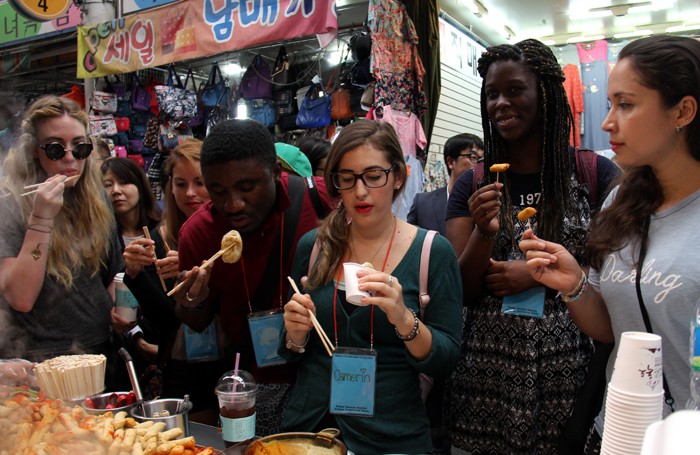 "This is the first time for me to taste it and it's really nice."
Camerin, a U.S. resident in Seoul, gave unstinted praise upon sampling the street food on offer at the Seomun Market, a traditional market in Jung-gu District, downtown Daegu, on Sept. 19. She was among some 200 or so non-Korean visitors to the market who were participating in the "Expats' Exploration of Traditional Markets" project.
The project brought together "explorers," that is, tourists and international students from across the nation. The project's first destination was the Seomun Market in Daegu.
A performance given by some of the group in the heart of the market announced the start of their journey. Participants then moved toward the main street lined with a variety of food stalls.
As they moved about, they sampled some of the street food on offer, including sunflower seed hotteok sugar cakes, one of the market's specialties, a sweet treat filled with sunflower seeds and honey in a disc of dough. There was also stir-fried rice cake seasoned with a spicy sauce (tteokbokki) and fried dumplings (mandu). These culinary delights added to their journey.
Some eaters were surprised at how spicy the food was and gulped down bottles of water. However, due to tastes that tantalized their palates, they just couldn't put down their chopsticks.
Participants with a full stomach were tasked with a "shopping mission." They had to purchase simple food items, bathing supplies or strips of cloth. They enjoyed their tasks to the fullest, as much as could be enjoyed in such a traditional market. As they made their purchases, they were also able to experience first-hand the feeling of jeong (정, 情), or generosity and almost affection, that exists among the more elderly store owners and their patrons.
"Chuseok, one of the biggest national holidays, draws near, and I'm very impressed by the way that vendors here speak in the Gyeongsang-do Province dialect. It's so fun," said Kacha, a participant from Russia.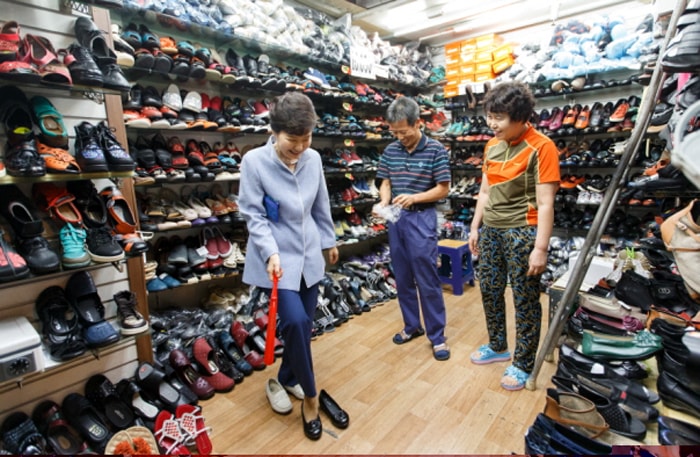 The Seomun Market has been around for more than 500 years: it started to take shape during mid-Joseon times. Once called Daegujang (대구장, 場), the market is currently home to about 4,600 stores. Among the items for sale are mostly textile goods, including cloth, traditional Hanbok garments and bedding.
Finally, President Park Geun-hye has visited the place twice, the first time in September 2012 and then in September this year. On her latest visit, the president bought a Hanbok dress, a pair of shoes, dumplings and traditional confectionary.
By Sohn JiAe
Korea.net Staff Writer
[email protected]