There is a range of wildlife species that exist around the world. Livestock, in particular, is the key to human survival. Amid rapid urbanization, however, the importance and existence of such domesticated animals has been somewhat forgotten over the past few years.
The Rural Development Administration (RDA) has come up with a new plan to raise awareness of the benefits that livestock brings to mankind. It's the Hands-on Livestock Experience program, giving people, especially younger people, a chance to commune with animals and to learn more about their usefulness in our lives. There are also petting zoos where people can feed the animals and see them first-hand.
As part of this, the RDA recently recommended five of the best animal farms across the nation to visit this summer, giving visitors direct hands-on farm experiences.
Stock Farm With Seeds of Hope, Jeollabuk-do Province (North Jeolla Province)
The city of Namwon in Jeollabuk-do Province is home to the Stock Farm With Seeds of Hope, a farm compound nestled along the slopes of Jirisan Mountain. Located some 500 meters above sea level, it is home to flocks of goats that leisurely roam the grounds. Visitors to the farm are given the chance to play with and even milk the animals. They will then be able to taste fresh goat milk. They can make yogurt, cheese and other milk-based snacks, too.
Location: 36 Jeonchol-gil, Unbong-eup, Namwon-si, Jeollabuk-do Province
Contact: 063-636-1033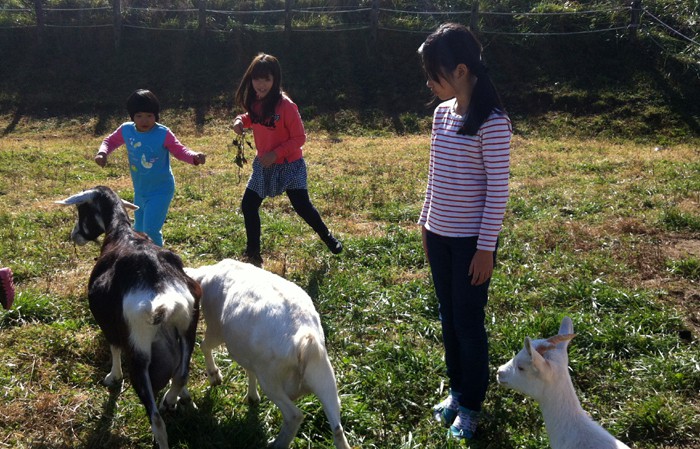 Horse Breeding Farm, Jeollanam-do (South Jeolla Province)
How about riding a horse along the mud flats of Muan-gun County, Jeollanam-do Province? A horse-breeding farm in the region offers horse-riding lessons divided into beginning, intermediate and advanced classes. Novices can learn how to ride a horse. Riders can even practice their horseback archery, too.
Location: 347-1 Wangsan-ri, Samhyang-eup, Muan-gun County, Jeollanam-do Province
Contact: 061-284-0512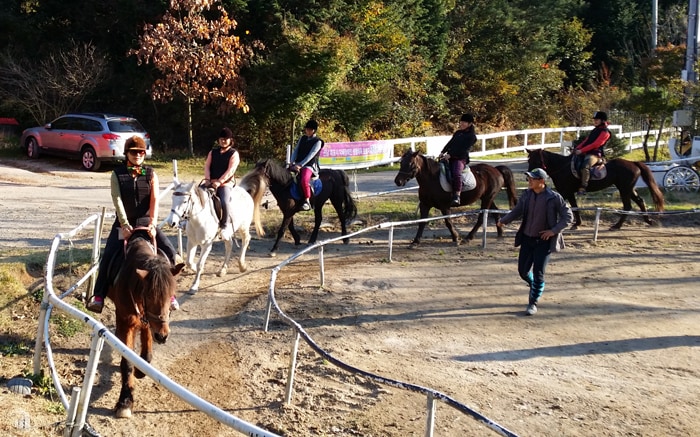 Hare Farm, Gyeongsangnam-do (South Gyeongsang Province)
There is a farm that houses more than 500 hares in Changnyeong-gun County, Gyeongsangnam-do Province. The Hare Farm enables visitors to see and touch eight species of rabbit, as well as learn their habits, body structure and on what they feed. In addition, there is a show to entertain visitors based on the well-known fairy tale "Byeoljubujeon" wherein the main character is a hare.
Location: 354-20 Onjeongcheongam-ro, Bugok-myeon, Changnyeong-gun County, Gyeongsangnam-do
Contact: 055-521-3945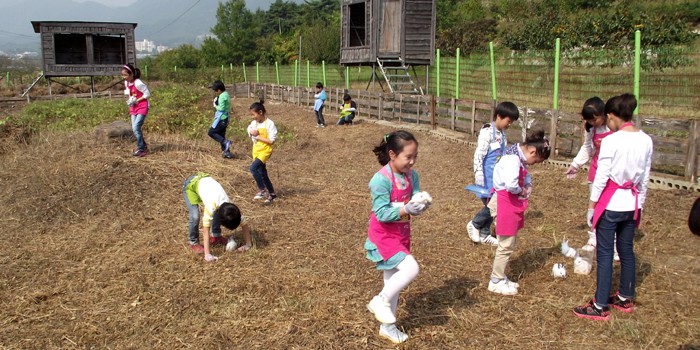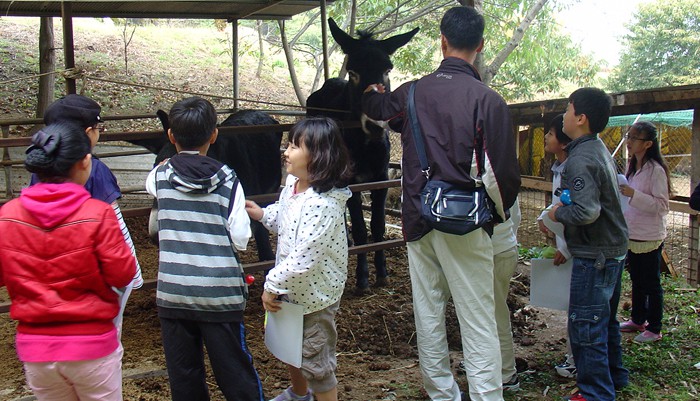 San-Deul-Ba Stock Farm, Chungcheongnam-do Province
Taean-gun County in Chungcheongnam-do (South Chungcheong Province) is home to a special animal home. In the Taean Byeotgari Village there lies the San-Deul-Ba Stock Farm, surrounded by green mountains and chestnut trees.
The farm is home to many kinds of domesticated farm animals, ranging from chickens and dogs through to rabbits and goats. Visitors can feed the animals and even watch ostriches or poultry, such as chickens, ducks and geese, lay their eggs up close.
A five-minutes' walk away from the farm is the sea coast, allowing visitors to enjoy beach activities in the salt fields and wetlands.
Location: 63-16 Byeotgari-gil, Iwon-myeon, Taean-gun County, Chungcheongnam-do
Contact: 041-672-7295
Official website: http://www.deer.pe.kr/
Pig Theme Park, Icheon, Gyeonggi-do Province
In Icheon, Gyeonggi-do Province, pigs play soccer and bowl. The pigs also do tricks, taking their toys in and out of boxes. All of this unfolds at the Pig Theme Park. The park runs a pig museum, too, and has on display a variety of about 1,300 documents and records related to the animal. The exhibits have been collected from 19 parts of the world, including Germany, Vietnam, China, Singapore and New Zealand. Visitors will be able to encounter tiny piglets, less than 30 centimeters long, at the park's café, too.
Location: 64 Wolpo-ri, Yul-myeon, Icheon-si, Gyeonggi-do Province
Contact: 031-641-7540
Official website: http://www.pigpark.co.kr/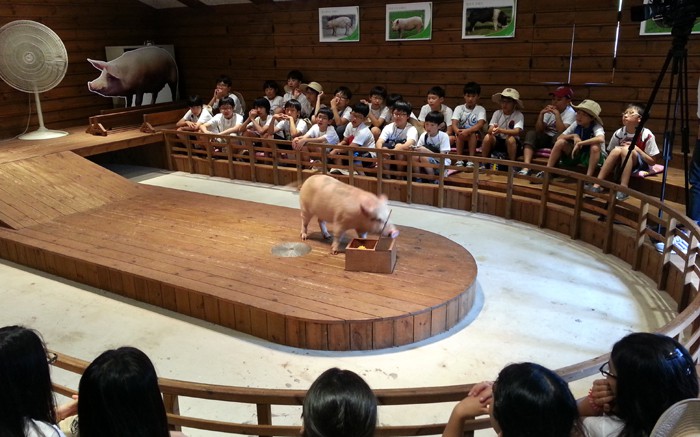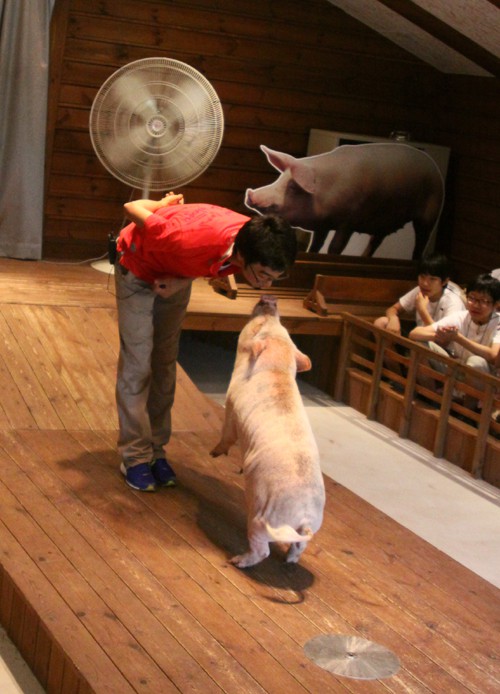 By Sohn JiAe
Korea.net Staff Writer
Photos: the Rural Development Administration
[email protected]