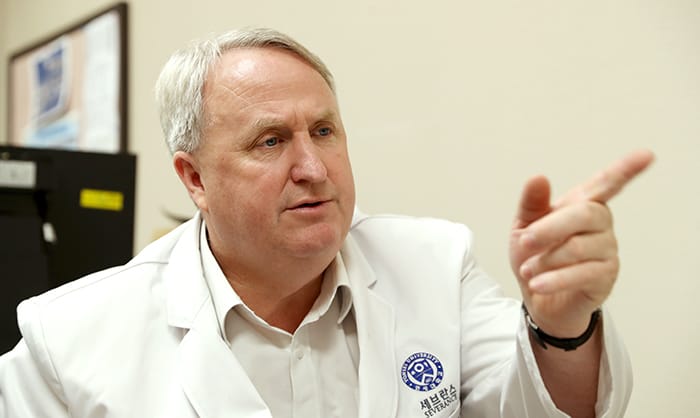 By Yoon Sojung and Hahm Hee-eun
Photos = Kim Sunjoo
Seoul | April 5, 2018
"I hope both Koreas can work together to sort out issues one-by-one."
So said Director John Linton of the International Health Care Center at Severance Hospital regarding the 2018 Inter-Korean Summit.
Also known as Ihn Yohan, his Korean name, Linton is one of the many people who see the upcoming Inter-Korean Summit to be quite significant.
The naturalized Korean doctor from a U.S. missionary family first visited North Korea in 1997 to fight tuberculosis and to provide some ambulances. During the 29 times he has visited North Korea, he has traveled all across the country, not only to major cities like Pyeongyang, Hamheung and Cheongjin but also to the countryside, and has treated more than 300,000 patients with his brother Stephen Linton, President of Eugene Bell Foundation.
"The majority of North Koreans don't even get simple vaccinations. Hospitals in the North don't even have diagnosis instruments that work properly, like x-ray machines," said Linton.
"Tuberculosis is particularly fatal, as it caused the most deaths in both Koreas when everything was destroyed in the aftermath of the Korean War," he added.
Despite the reconciliatory mood on the Korean Peninsula that has grown out of the two previous summits between the two Koreas, in 2000 and 2007, tension and crisis still prevail across the region due to the issue of North Korean nuclear weapons. This has also affected humanitarian aid, including medical support to the North.
In late February 2018, Linton visited Washington, D.C., with Moon Chung-in, a special presidential advisor on unification, foreign affairs and national security. There, they met influential figures in the politics and business sectors, and in the Korean community, to explain to them the importance of medical support to North Korea. It was about one month before the two Koreas announced the 2018 Inter-Korean Summit.
Linton firmly believes that medical aid and efforts to eradicate disease in the North could work as effective support measures to support unification in the future.
"The World Health Organization charter says that, 'The enjoyment of the highest attainable standard of health is one of the fundamental rights of every human being.' I agree with that, but being starved to death and dying due to a lack of medical benefits are also human rights issues."
"Multidrug-resistant tuberculosis is the most fatal disease, much more dangerous than AIDS or nuclear weapons," said Linton.
He emphasized the need to expand health and medical support projects in the North, focusing particularly on contagious diseases.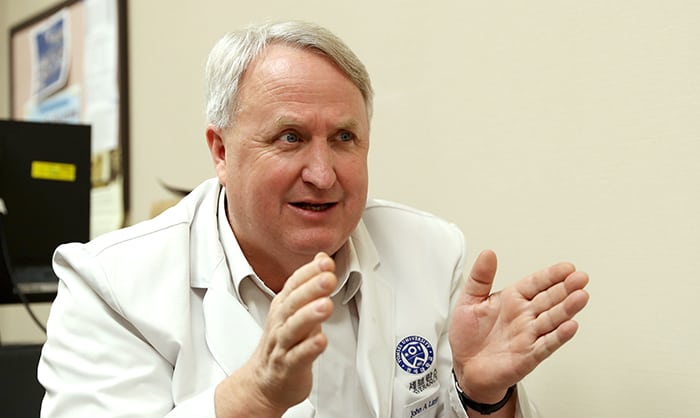 Linton expressed hope for the upcoming Inter-Korean Summit in a careful manner.
"The most urgent issue for now is missiles and nuclear weapons. Although both Koreas may have different negotiation manners, I believe they can have a bright future if the two can sit together to work out issues one-by-one, not hesitating to solve them altogether, at once."
He also urged that Korean society needs to change, too.
"I hope Koreans to try to understand the circumstances from the North Korean perspective. If we were to treat North Korean defectors and ethnic Koreans from mainland China in a warmer, more touching manner, all these good deeds would go viral, even to Pyeongyang," said Linton.
"We need to embrace them as a warmer, more accepting country," he added.
Linton concluded his remark by recalling the most memorable moments he has had from among his North Korea visits.
"I cannot forget the moment I visited the North right after the first Inter-Korean Summit in June 2000. The border inspection was so short and simple. The air was totally different. The photo of the two leaders — former President Kim Dae-jung and Chairman Kim Jong Il — were spotted on every corner and street. It was a symbol of harmony and peace. I hope to see such scenes of peace, of the two leaders holding hands together, after the upcoming summit."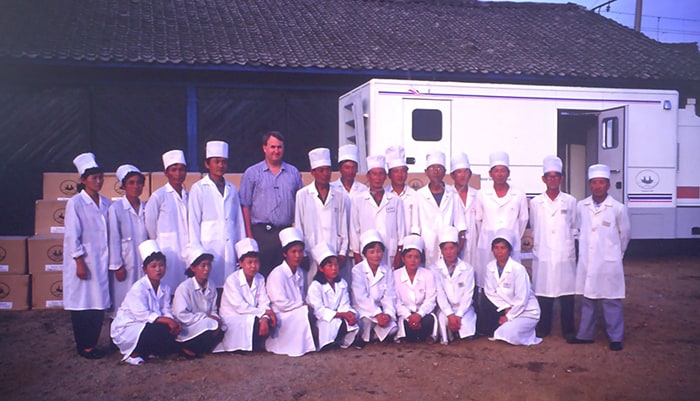 arete@korea.kr