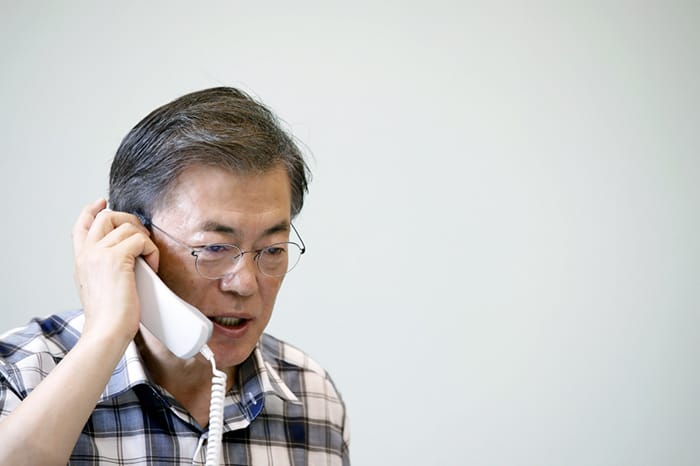 By Yoon Sojung
President Moon Jae-in held a telephone conversation with U.S. President Donald Trump on Aug. 7. The two leaders discussed ways to cooperate and how to jointly respond to North Korea.
President Moon said, "We will never accept the recurrence of a second tragedy of war on the Korean Peninsula."
"The North Korean nuclear weapons issue needs to ultimately be resolved in a peaceful, diplomatic manner based on close cooperation between the Republic of Korea and the U.S.," said the president.
"Through strong pressure and sanctions backed by the strong Korea-U.S. alliance, we need to work together to lead the North down the path toward dialogue," said President Moon.
"We should also show Pyongyang that the door to dialogue remains opened whenever it chooses to give up its nuclear weapons and make the right decision," he added.
Regarding the new resolution adopted by the U.N. Security Council on Aug. 5 in New York, President Moon said, "The council passed the — unprecedented — strongest-ever resolution on North Korea thanks to the cooperation of China and Russia."
"I hope this latest resolution can offer the opportunity to lead North Korea to make a change in its attitude," he added.
U.S. President Donald Trump also valued the resolution, saying that, "An important change has been made as members of the U.N. Security Council, including China and Russia, unanimously adopted the strongest-ever, comprehensive resolution to sanction North Korea."
"To lead Pyongyang to make changes in attitude, it's necessary to make a steadfast stand by giving strong pressure and sanctions," said President Trump according to Cheong Wa Dae.
arete@korea.kr