By Lee Hana 
The Olympic torch for the PyeongChang 2018 Olympic and Paralympic Winter Games has completed its journey across some of the major cities in Chungcheongbuk-do Province.
The torch began its Chungcheongbuk-do trip at the province's government building in Cheongju on Dec. 18. The following day, the torch lit up the exhibition halls of the Cheongju Historic Museum of Baekje, home to some of the major relics from the ancient Baekje kingdom.
On Dec. 20, the torch travelled to the Jincheon National Training Center, the new base for Korean national team athletes that opened this year. There, the torch made its way across a number of sporting facilities, handed from one athlete to the next.
Inside the velodrome, the flame was carried by Korean national cycling team coach Cho Ho-sung, escorted by 38 other riders. The torch then illuminated the weight room, where a group of wrestlers performed some rope climbing exercises.
Finally, the torch was passed on to women's national team swimmer Ahn Se-hyeon who was waiting in the swimming pool. With the torch held above the water in her right hand, the swimmer swam 50 m in the pool doing a sidestroke, accompanied by teammates waving PyeongChang flags.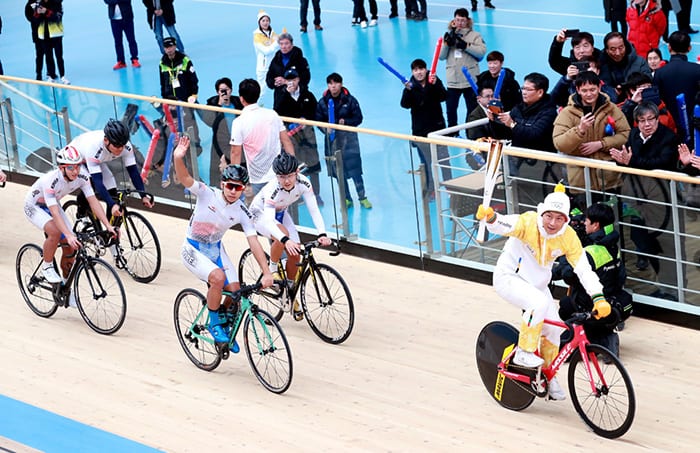 Following the torch relay at the Jincheon training center, the Olympic flame arrived at Chungju's Tangeum Lake International Rowing Center on Dec. 21.
There, the flame was handed to rowing gold medalist Kim Yeji who boarded a rowing skiff manned by the Chungju City rowing team. This way, the torch made its way across the waters of Tangeum Lake.
On Dec. 23, the torch arrived in Danyang where it paid a visit to the Dodamsambong Peaks, three rocky outcroppings that rise out of the Namhangang River. The flame also lit up Seokmun Gate, a natural stone arch that offers a view of the river and nearby villages below. Next, the torch went paragliding off the peak of Yangbangsan Mountain, some 664 m above sea level, for a bird's eye view of the entire city of Danyang.
The torch wrapped up the Chungcheongbuk-do leg of its trip in Danyang-gun County and then began its trip across Gyeongsangbuk-do Province on Dec. 24.
There, the Olympic flame will visit Yeongju, Bonghwa, Andong and Gumi. The torch will wrap up 2017 in Daegu, where it will stay for three days from Dec. 29 to 31.
hlee10@korea.kr