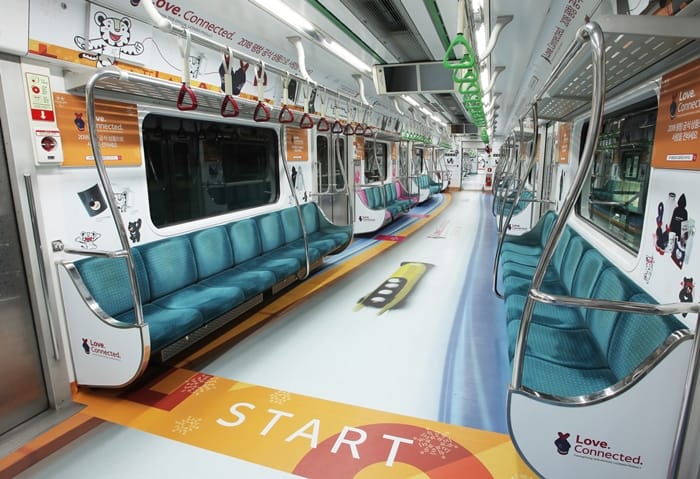 By Kang Gahui and Kim Young Shin 
Seoul l Dec. 11, 2017
On the afternoon of Dec. 11, a subway car stopped at Sadang Station aling line No. 2, as usual.
When the platform doors and the subway doors opened, however, an unusual scene unfolded. Inside, the subway car was decorated with PyeongChang 2018 Olympic and Paralympic Winter Games promotional material. Such Olympic subway cars have been operating since Nov. 23.
Olympic subway cars will operate about six times per day for three month.
The 10 cars decorated with Olympic paraphernalia are designed to make the passengers feel as if they are in the Winter Olympics arena. On the subway car walls are painted the PyeongChang official mascots Soohorang and Bandabi, and ads for official goods, such as beanies, gloves and jackets. Stickers cover the floor and describe the main venues and the Winter Games themselves.
In one car, the whole subway car floor was changed into a bobsled track. Another car was decorated as the Gangneung Curling Center.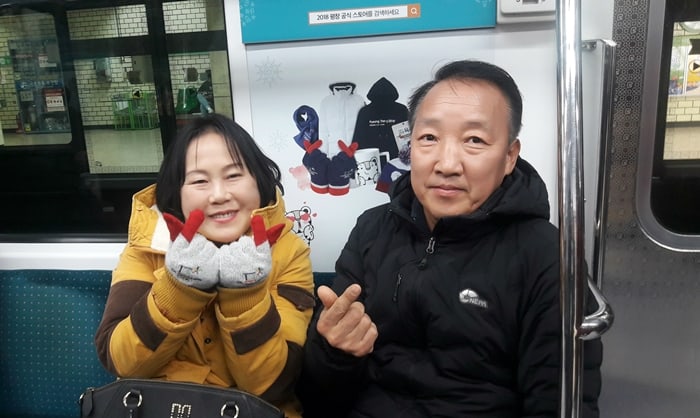 Passengers on the subway seemed amused by the surprise decorations.
"I saw the special subway cars on Facebook and though they were interesting, but I didn't expect to ride in one myself," said Jeon Min Kyung, a passenger from Gangnueng, Gangwon-do Province. She proudly held up her "finger heart" gloves, one of the official PyeongChang goods, which make a heart shape by linking the thumbs and index fingers. Her husband, Jung Yeon Chae, smiled and said that he was already a volunteer for the upcoming Winter Games.
Brian Padden, the Seoul bureau chief for Voice of America, also got on the special subway that day. "The insides are nice," he said. "I hope all the best for the PyeongChang Winter Games."
kgh89@korea.kr