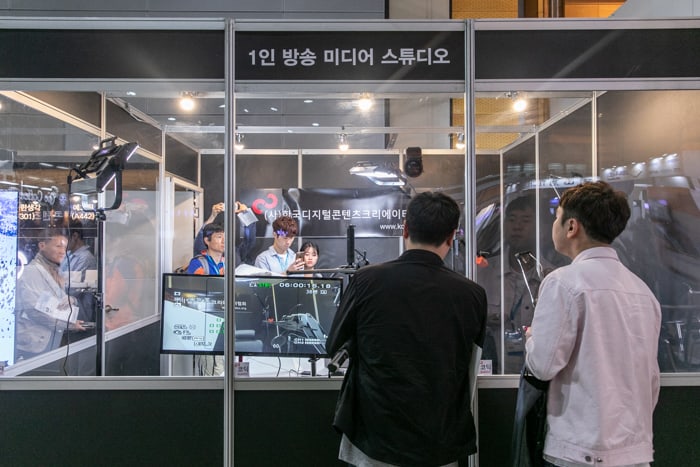 By Yoon Sojung
Photos = Kim Sunjoo
Seoul l May 16, 2018
As more and more people create their own content about everything from food and cooking, through to video games or cosmetics, and as they become popular online, video creators and vloggers are becoming the new rising online stars in the broadcasting and communications sector.
A special hall designed for video creators was among the most popular spots at the Korea International Broadcast, Audio & Lighting Equipment Show (KOBA 2018) that took place at the COEX convention center in Samseong-dong, Gangnam-gu District, Seoul, from May 15 to 18. The theme this year was "Media, connected everywhere."
A total of 927 firms from 32 countries participated in the annual exhibition, which marks its 28th year this year, to showcase their state-of-the-art broadcasting communications technology and to introduce their brand-new products and machinery. Many of the booths were visited by TV producers and video journalists, most of whom work in the broadcasting industry. Unlike those booths, there was one special booth for video creators that was crowded with amateur vloggers, ranging from teenagers to the elderly.
The studio was specially set up for video creators, and it attracted most of the visitors at the convention. They came to the studio to have a first-hand experience creating their own videos, or to just look around and to explore the equipment and machinery that was on-hand. Many of them also showed strong interest in the tools and machines, such as LED lights, special mirrors for makeup and cosmetic YouTubers, video cameras, and computer programs that help with audio and video editing.
Kim Gyeongsook, Youtuber who has also run a blog for 12 years, said that people's improved adaptability and improved access to smart devices is bringing a heyday for video creators. "Thanks to the growing number of smartphones, anyone can start making their own video content. It seems like everyone can create their own videos," said Kim.
"The change in search platforms has been moved from portal websites, such as Naver to YouTube, which shifts the latest trends to video-based form, from content-based forms, which leads existing bloggers to start making more videos," she said.
Regarding the increased number of video creators these days, Kim said, "Approximately 1,500 people, including creators and bloggers, have registered with the Korea Digital Contents Creators Association."
"The association is composed of a diverse range of people of all ages, ranging from teenagers, all the way to middle-aged people, too, as well as seniors," said Kim.
"I remember a visitor who works as a director at a hospital and hopes to run his own video channel in order to share health information with his viewers," she said.
"I see particularly a lot of ordinary visitors at this year's exhibition, and overseas visitors, too, mostly from Japan, China or other Asian countries, come here to show their interest," Kim said.
Another video creator, Lee Sanggeun, said that the development of self-broadcasting technology and machinery has attributed to the increased number of video creators.
Lee, who has been creating videos on YouTube since 2008, said, "Unlike in the past, the development of video machines, technologies and tools has allowed more people to use them in an easier manner with upgraded quality."
"Nowadays, one can operate video editing programs even on their own PC, which attracts more people to try to make videos for themselves," said Kim.
Kim Dong-Hyeon, a senior in the Hoseo University department of cultural content, said one of his close acquaintance has been creating videos.
"This exhibition makes me feel like creating my own videos with a smartphone," said Kim.
He said that he enjoyed learning more about the video creating studio at the booth, adding that the video creating machines and tech there was very impressive.
"I also found it interesting to learn about an Osmo Camera that automatically recognizes a user's face and shoots without shaking, and audio and lighting equipment," Kim said.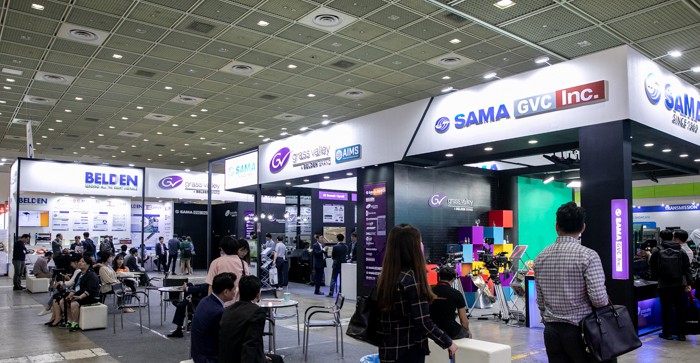 arete@korea.kr