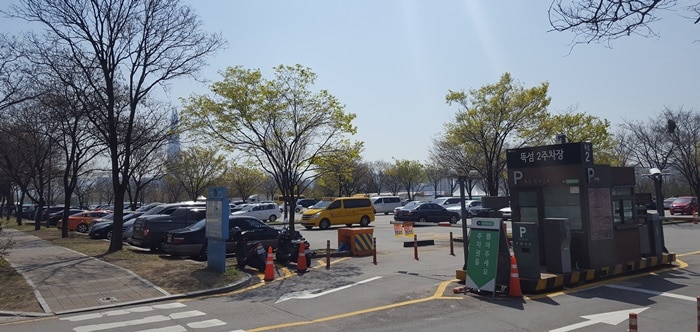 By Lee Kyoung Mi and Kim Young Shin
Drivers will be able to park their cars in a much "smarter" manner at Seoul's Hangang River parks starting next year.
The Seoul Metropolitan Government announced on April 11 that it will adopt a "smart" parking system at the 43 parking lots along the Hangang River, and apply IT to the parking spots.
The current parking system, established in 2011, requires staff at the parking lots to collect and calculate payments. As the process takes some time, it can cause jams, especially on weekends when there are more drivers visiting the parks.
All 43 parking lots will have a faster payment system so that drivers can simply swipe their transportation cards or cash cards to pay the parking fee. Also, the new system will utilize the public information sharing system provided by the Ministry of the Interior & Safety to automatically recognize any exempt vehicles by scanning the license plate.
For busier lots at Yeouido, Banpo and Nanji, drivers can simply pass through the gates, just like at wireless toll gates on the expressway.
Finally, all of this new tech will allow drivers to check available parking spots at each parking lot before showing up there.
"Seoul will adopt some of the latest technology and apply it at many different parks along our Hangang River to make sure that visitors have a convenient and pleasant experience," said Yoon Yeong-cheol, the head of Hangang River parks management at the Seoul Metropolitan Government.
km137426@korea.kr