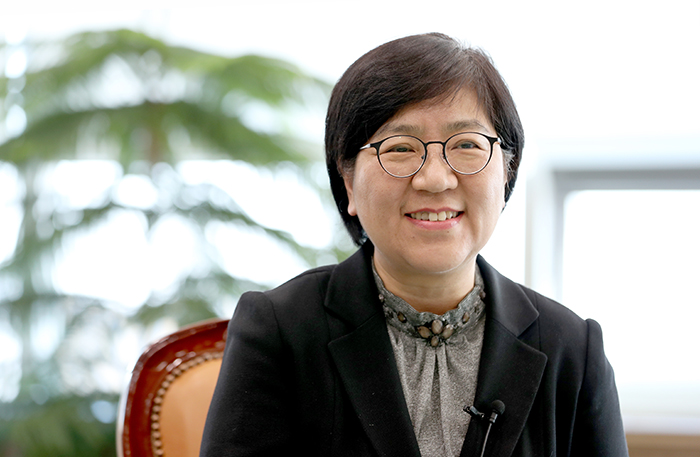 By Kim Ji Hoe and Sohn JiAe 
"We're sparing no effort to make next year's PyeongChang Olympic and Paralympic Winter Games a sporting event that is free of infectious diseases and where you can feel safe. Come visit Korea with no worries in 2018!"
Director Jeong Eun-kyeong of the Korea Centers for Disease Control & Prevention (KCDC), part of the Ministry of Health and Welfare, gave her firm pledge that the upcoming Olympic Games, less than 50 days away, would be safe, as she sat down with Korea.net on Dec. 5.
Since last September, her center has operated its Olympic task force. It's aimed at preventing and effectively responding to any type of contagious diseases that may spread at home or which may come in from other parts of the world during the PyeongChang Olympic Games.
The director stressed that, "To make the PyeongChang Games as safe as possible, we've established a system of dealing with potential diseases of all kinds through a whole-scale process of inspection, diagnosis, epidemiological investigations and patient management. We're doing our best so that anyone from anywhere in the world can come visit Korea at ease."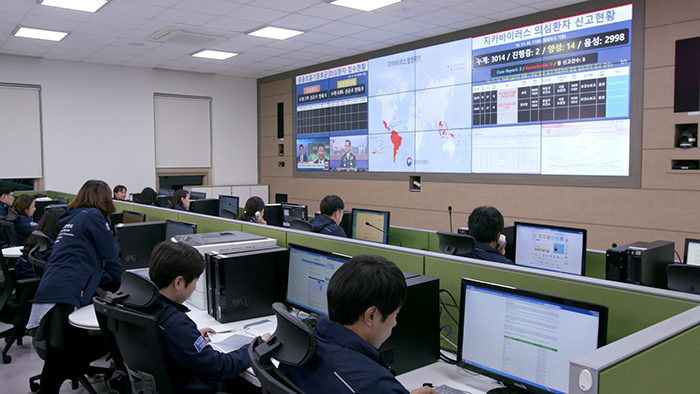 – Tell us about the composition and the role of your agency.
The main role that the center plays is to inform the public how to prevent the spread of infectious diseases, as well as how to help the public get vaccinated against such diseases.
The agency consists of six teams: a general management team, a disease response team, a quarantine team, an information analysis & evaluation team, a resources management team and a diagnosis management team.
In particular, when the Olympic Games kick off in February next year, we will dispatch an on-the-spot response team, as well as epidemiologic investigators, while running an emergency station around the clock to immediately deal with any outbreak of any disease.
– Tell us more about the quarantine system that your agency runs to prevent any influx of infectious viruses from overseas.
As we expect a massive influx of visitors from around the world before and during the Olympic Games, we require all visitors to go into quarantine that detects any abnormal heat in their body temperature, in an effort to prevent infections from coming in.
We also require those who travel here from countries that are highly exposed to any infectious diseases that the World Health Organization (WHO) has designated as requiring monitoring, that they fill in a health questionnaire so that we can figure out any related symptoms with each traveler or athlete.
We'll also look into diseases that have broken out in each participating country and share those results with medical institutions here. When visitors from each country show any certain symptoms upon their arrival, we'll put an inspection and diagnosis system into operation to swiftly detect any further symptoms or signs.
In addition to all this, efforts will be made to promote how to deal with infectious viruses, and we'll run a #1339 hot line to receive patients.
– Do you have any guidelines on how to respond if an infectious disease breaks out? 
The KCDC already has more than 120 sets of guidelines and manuals concerning infectious diseases.
By visiting our official website (http://cdc.go.kr/CDC/main.jsp), you can find information about the symptoms of various contagious diseases, as well as information about how to prevent such viruses.
During the winter in particular, we have higher onset rates of viruses such as the flu and the norovirus. That's why we are currently making special guidelines for the PyeongChang Olympic Games.
Alongside the guidelines, we plan to make multilingual promotional material for non-Korean visitors, too, that outline basic tips concerning disease prevention and measures to deal with such infections should you show any related symptoms.
– Which symptoms do you regard as being suspicious, and what measures do you ask visitors to take if they show a certain symptom?
If you show symptoms like fever, diarrhea, nausea, coughing and blood-shot eyes, just call #1339 without any prefix or area code beforehand. After a brief consultation, go visit the nearest hospital and get treatment. For non-Korean patients, we help them with interpretation services, as well.