By Kim Ji Hoe and Sohn JiAe
Seoul l Nov. 14, 2017
"The national police guarantees your safety during the upcoming PyeongChang Olympic Games. Relax, and come visit Korea in 2018."
Kim Gyo-tae, director general of the PyeongChang 2018 Olympic Winter Games Police Task Force, part of the Korean National Police Agency, assured the world that there would be full security during next year's PyeongChang Winter Games.
The National Police Agency launched its Olympic task force on Jan. 24, 2017, about one year from the Games, with the aim of establishing a structure to supervise security and safety and to prevent any act of terrorism that might occur during the Games.
In a sit-down interview with Korea.net in his Seoul office in Jung-gu District on Nov. 14, Director Kim stressed that, "Korea is a terrorism-free nation. In case any type of terrorist attack takes place, the police forces here are pulling out all stops to prevent any possible terrorist attack or any act of mass violence that may take place here using vehicles, cameras, chemical, biological and radiation safety measures, drones and other techniques. We won't allow even a 1 percent chance of anything bad happening."
– Tell us about why the PyeongChang police task force was launched.
The team is comprised of a select group of 15 members, led by a deputy commissioner — me — and is in charge of supervising, adjusting and supporting the Games. Believing strongly that "the core of the success of the Olympic Games lies in safety, in particular, the prevention of any act of terrorism," the special team does everything it can to provide the best security and counter-terrorism activities.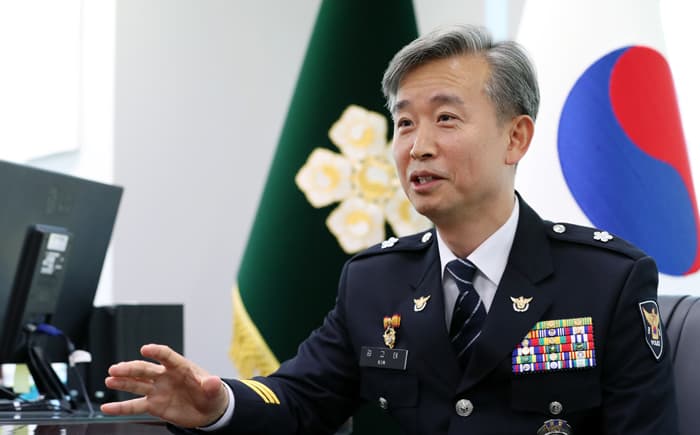 – Tell us more about what role the team plays.
In an effort to prevent any possible act of terrorism, our team is joining forces with the International Criminal Police Organization (Interpol), especially concerning information gathering. We also plan to launch an International Police Cooperation Center (unofficial title) to which police forces from around the world will be invited to share their knowhow and information on how to respond to and prevent terrorist attacks.
During next year's Olympic period, we will put in place counter-terrorism equipment and, also, dispatch special forces to venues that can rapidly respond to any crime, including by ski or snowmobile.
– Does the agency offer security services to non-Korean athletes and visitors, too?
To relieve any difficulties that they may face in communicating, we will assign mounted police and tourist police who are bilingual to Olympic venues and to sightseeing areas.
In particular, tourist police will be quite handy as it's easy to find them with their badges that indicate which language they speak. They will also make sure that the translation apps Papago and Genietalk are set up, through which they'll be able to communicate in other languages, too.
A traffic management center will be set up, too, to relieve traffic congestion, while a police service center and a lost & found will help them find lost children or belongings through a translation service.
– What's the difference between this year's PyeongChang task force and previous Olympic special security teams? 
The PyeongChang team has mapped a set of counter-terrorism measures based on modern knowhow and experiences that we've accumulated at previous international sporting events. We're using some of the best state-of-the-art tech in the world, befitting our title as a world IT power, to make next year's sporting festival a "smart" Olympic Games. We've switched the paradigm of security measures from being manpower-driven to being highly-advanced-equipment-and-tech-driven.
– What do you think about the current state of security in the Olympic host cities in Pyeongchang-gun County and in Gangneung-si?

The host cities are quite stable, security-wise, with low crime rates, even though both are some of the nation's representative tourist spots.
Throughout the Olympic Games, however, we will increase patrol activities, especially in areas home to bars and clubs, just in case, all while designating special security areas to keep the cities safe.
– Despite a higher security presence, concerns exist due to the proximity to North Korea and due to more common global terrorist attacks.
The government is trying its best to address any type of security issue quite aggressively.
Korea is best-known for its high standards of safety and security. The police forces will back efforts to make the PyeongChang Olympic Games successful by working closely with government bodies.
– Any final words before we finish, for Olympic fans around the world?
Like I said, Korea is the best country in the world in terms of personal security.
We'll be doing our best to help visitors from around the world enjoy the Olympic Games safely and securely.
If you face any trouble at all, please call 112. Don't worry, because there's a bilingual receiver on the line. Then you'll have police forces rapidly respond to your needs, anytime and anywhere.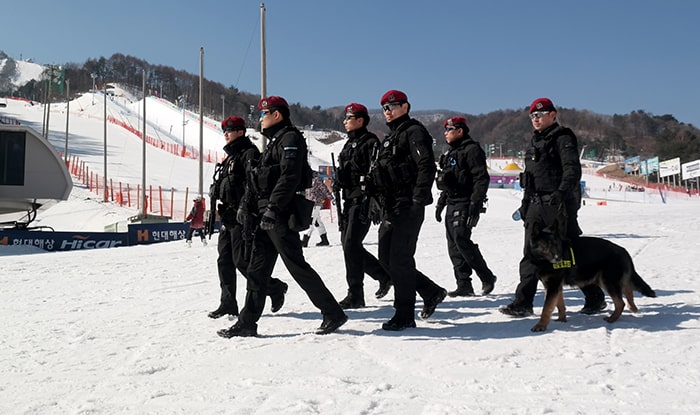 sofia2426@korea.kr