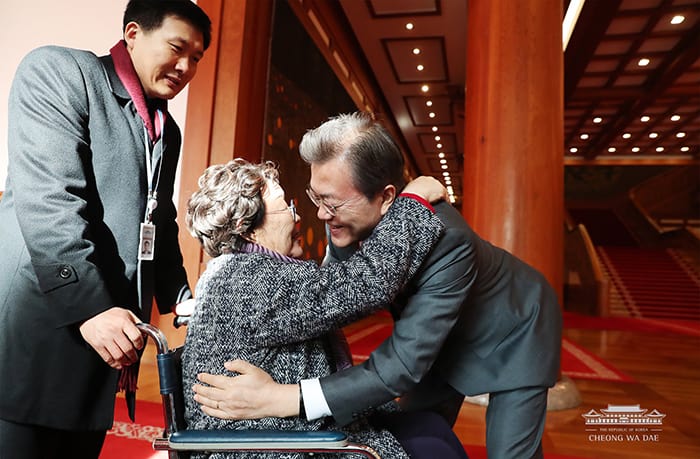 By Min Yea-Ji and Kim Young Shin
Photos = Cheong Wa Dae
President Moon Jae-in invited eight former victims of sexual slavery, who had been incarcerated by Imperial Japan during colonial times and World War II, to Cheong Wa Dae on Jan. 4.
President Moon treated the victims as honored national guests as they entered Cheong Wa Dae. "We couldn't protect you when we lost our country and you had to suffer quite severely. After winning independence, we should have embraced your pain and resolved your sorrow, but we weren't able to do so," said President Moon.
Regarding the 2015 negotiations with Japan concerning Korean women forced into sexual slavery during colonial times and World War II, he said, "As president, I apologize to you for not having listened to your opinions and for this agreement to have been made against your will."
"Past negotiations are contrary to the truth and to the principles of justice. The government did not take the victim's voices into account and unilaterally pushed ahead with an agreement. The content and process were both flawed," said the president. "As the president, I cannot deny the fact that it was an official agreement made between two countries. However, I also clarified that I cannot agree that it resolved the issue of colonial and wartime sexual slavery."
"After the agreement made on Dec. 28, 2015, every day I felt regretful suffocation, as if I had an upset stomach," said Lee Yong-su, one of the victims. "When the president made clear that the agreement was flawed, clause by clause, my heart was relieved. I felt so thankful that I cried all day."
"Japan wants to take away the Statue of Peace. If they are afraid of the statue, they can apologize," Lee continued. "People in Korea are the families of the victims. When the issue of colonial and wartime sexual slavery is finally resolved, world peace will be established."
"They dragged out little children and shot them, slaughtered them with swords and beat them. It doesn't make sense that they deny the fact now," said Lee Ok-Seon, another victim. "We don't have much time left in our lives, so just let us get the apology. We count on the president and his administration."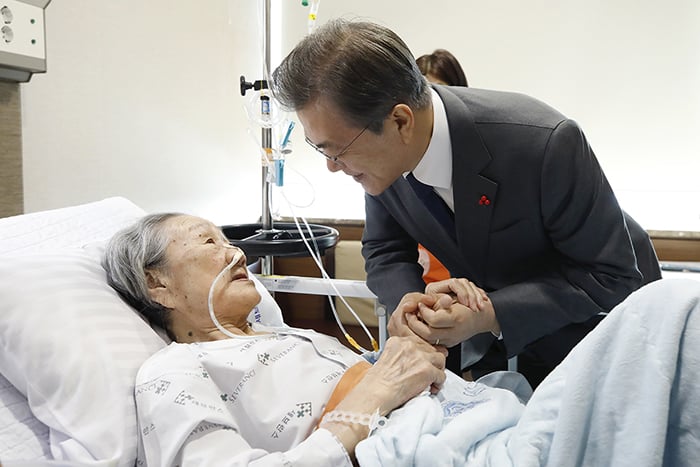 President Moon has previously visited many countries to publicize the issues surrounding the victims of colonial and wartime sexual slavery that was put in place by the Imperial Japanese government.
On the same day, the president also visited Kim Bok-dong, one of the victims, who is currently in hospital.
"We need to return the money to Tokyo. The matter can then be solved with a legal apology and proper compensation," Kim emphasized. "We have to trust the government and wait, but we are very old. I urge the president to solve this problem."
jesimin@korea.kr