By Sohn JiAe 
Photos = Cheong Wa Dae
President Moon Jae-in invited the national WorldSkills team to Cheong Wa Dae on Dec. 1 to give its members his words of encouragement. The team recently finished second in the 44th WorldSkills competition that took place in Abu Dhabi.
At the vocational skills competition that ran from Oct. 14 to 18 in the UAE capital, a total of 46 young Koreans competed across 49 fields and won eight gold medals, eight silver medals and eight bronze medals. With a total of 24 medals, Team Korea came in second place, just after the Chinese team.
"In the Middle East, where tenacious young Koreans shed sweat and tears on construction sites some four decades ago, you guys have now implanted an image in the mind of the world that Korea is a technically developed power," said President Moon.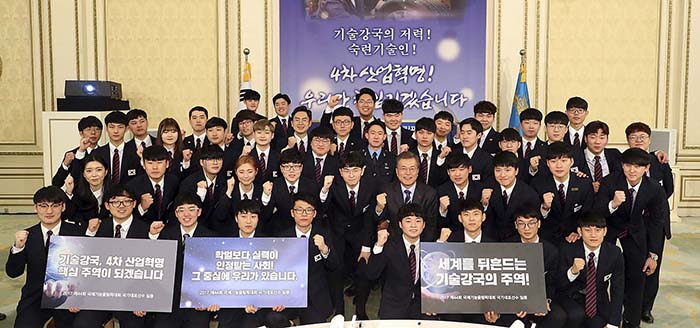 "When I see you here today, I know that success in the fourth industrial revolution lies ahead of us. We've already proven ourselves successful in the previous second and third industrial revolutions," the president said. "As previous generations led our country to become a global power in terms of manufacturing and digital industries, you are now the ones to make the blueprint for a brighter future in the era of the upcoming fourth industrial revolution."
jiae5853@korea.kr