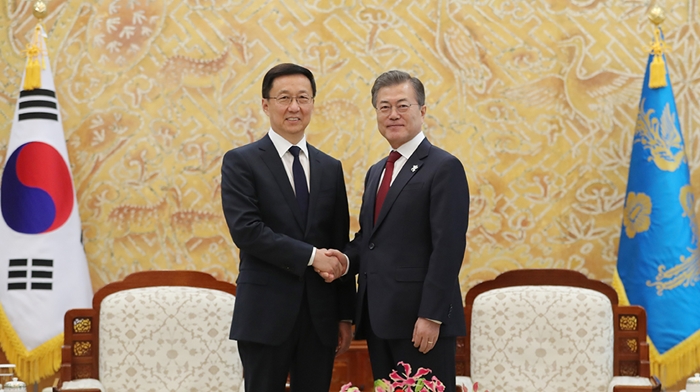 By Kang Gahui and Kim Young Shin 
President Moon Jae-in held a meeting with a special envoy for Chinese President Xi Jinping, Han Zheng, who is also a member of the Politburo Standing Committee of the Communist Party of China, at Cheong Wa Dae on Feb. 8. They talked about cooperation between Seoul and Beijing and ways to mutually assist each other on the PyeongChang 2018 Olympic Winter Games and on North Korea policies.
President Moon wished all the best for the Chinese athletes competing in the PyeongChang Winter Olympics, and said, "Korea has been trying to make the PyeongChang Olympics into Olympics of Peace and I'm grateful that China, a close neighbor and the host of the next Winter Games, has given us its active support."
"I believe that the PyeongChang Olympics are a good example and a chance to learn know-how for us when we host the Beijing Winter Olympics in four years," said Han as he wished for the success of the PyeongChang 2018 Olympics.
Regarding North Korea issues, President Moon said, "The two countries must find an interface of mutual interest on the denuclearization of the Korean Peninsula and on establishing a peace regime. Even after the PyeongChang Olympics, Seoul and Beijing must keep up their close cooperation to ultimately lead the conversation with the North toward a conversation that could solve North Korea's nuclear weapons issues."
Regarding the relationship between Korea and China, President Moon said, "This year marks the 10th anniversary of upgrading our relationship to a strategic cooperative partnership. Let us work together to start a new era with a mature cooperative partnership this year."
kgh89@korea.kr