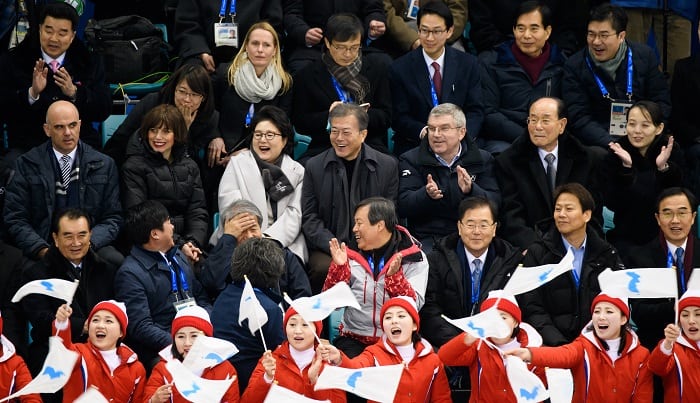 By Sohn JiAe
President Moon Jae-in, President Kim Yong-nam of North Korea's Presidium of the Supreme People's Assembly and Kim Yo-jong, deputy director of the ruling Workers' Party's Department of Propaganda and Agitation, joined in with the chants and claps of the crowd that gathered to watch a historic Olympic ice hockey match unfold at the PyeongChang 2018 Olympic Winter Games on Feb. 10.
President Moon and the North Korean delegation, including Choi Hwi, chairman of the National Sports Guidance Committee, and Ri Son-gwon, chairman of the Central Committee of the Peaceful Reunification of the Country of the Democratic People's Republic of Korea, watched together the inter-Korean women's ice hockey team play in its first historic Olympic match against Switzerland, at the Kwandong Hockey Center in Gangneung, Gangwon-do Province.
As the joint team took to the ice, decked in jerseys with the five English letters of "KOREA" and a light blue Korean Peninsula emblazoned on their uniforms, President Moon and the North Korean delegates cheered and clapped together.
Sitting behind a squadron of identically dressed North Korean cheerleaders, all waving the united Korea flag and chanting for both the South and North Korean athletes, and "Go Korea!" the president and the North Korean delegation rooted for the joint team as they gracefully slid close to the net, and reacted with great sighs when the team failed to score.
Although the unified Korean team was hammered 8-0 (3-0, 3-0, 2-0) by the Swiss team, ranked sixth in the world, President Moon and the North Korean delegation rose from their seats and continued to clap for the dispirited athletes. They then stepped down to the ice to meet the Korean players and to give them some words of encouragement in-person.
Shaking hands with each player, President Moon said, "Take a good rest for the next game. Please stay hopeful and give us hope."
The inter-Korean team will face off against Sweden on Feb. 12 and then Japan on Feb. 14.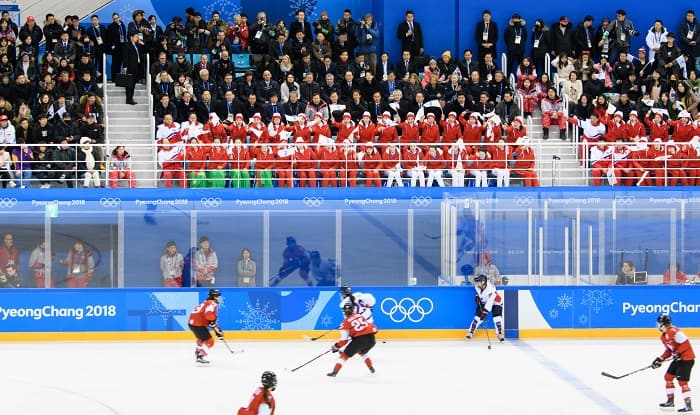 jiae5853@korea.kr