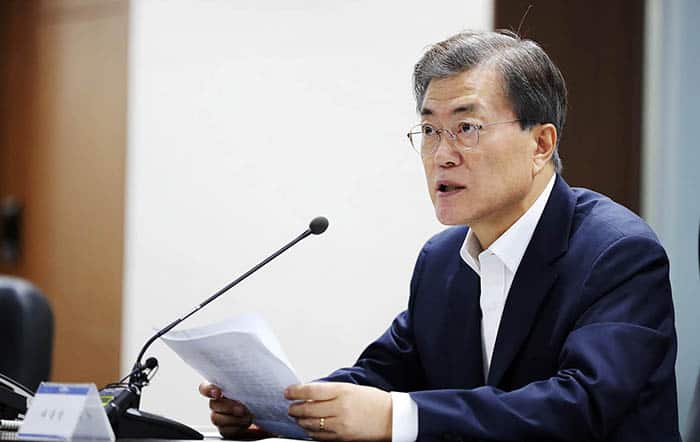 By Sohn JiAe
Photos = Cheong Wa Dae
President Moon Jae-in called for a "stern response to North Korea's ceaseless provocations with nuclear missile test launches" to be put into action, "not just words alone."
His remarks came during an emergency meeting of the National Security Council (NSC) on July 29 held immediately after the North's launch in Mupyong-ri, Jagang-do Province, of what's believed to have been an intercontinental ballistic missile (ICBM). The president urged the government to do a multifaceted review of Korea's "strong and effective measures" to address the North Korean threats, measures of whose gravity the regime would realize.
President Moon instructed four measures against the North: augment forces, like the Korea-U.S. combined launch of a ballistic missile; immediately negotiate ways to strengthen Korea-U.S. strategic deterrence against North Korea, including the deployment of additional THAAD (terminal high altitude area defense) launchers; pursue firm resolutions against the North in cooperation with the U.N. Security Council; and, lastly, ramp up its security posture against any possible provocations from the North.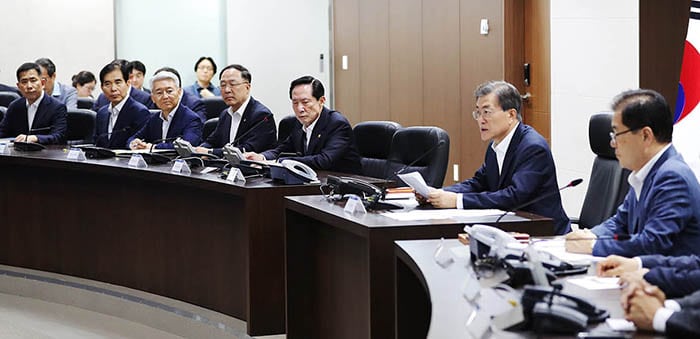 "This missile launch could bring about a fundamental change to the security landscape in Northeast Asia," said the president. "Taking into consideration all possibilities that could occur, we must make a stern response to the North's provocations, while at the same time maintaining the momentum for a peace initiative for the Korean Peninsula that I made in Berlin."
The president directed the foreign affairs and security ministries to cooperate with allied nations, including the U.S., so that the international community could come together to deal with the North Korean issues with stronger measures at the U.N. Security Council. "We will consider carrying out sanctions against the North independently, if necessary, too," he said.
jiae5853@korea.kr