By Sohn JiAe
Photos = Cheong Wa Dae
President Moon Jae-in and leaders of four ruling and opposition parties stressed with one voice their "bipartisan cooperation" to cooperate on dealing with the security crisis on the Korean Peninsula.
On Sept. 27, President Moon held cross-party talks with Rep. Choo Mi-ae of the ruling Democratic Party, Ahn Cheol-soo of the liberal People's Party, acting chief of the splinter Bareun Party Joo Ho-young, and Rep. Lee jeong-mi of the progressive Justice Party.
They also agreed on the need to "break through the severe security state on the peninsula and take a non-partisan approach to bringing peace back to the region." The president and the four leaders addressed a joint statement that stipulated five action plans.
The statement said, "We strongly condemn North Korea's provocations with nuclear weapons and missiles, which pose a grave threat to peace and security in the region. We urge the regime to stop its threats and return to the path of peace and denuclearization."
It continued to say that the Korean government will thoroughly carry out U.N. Security Council sanctions against Pyongyang, and that it will further strengthen the Korea-U.S. alliance so as to enhance deterrence against the Pyongyang regime.
"We pursue a zero-tolerance policy to war on the peninsula and reaffirm the principle of resolving security issues, including the North's nuclear weapons, in a peaceful manner," the statement said.
"The National Assembly should play a bipartisan role in relieving tension on the peninsula, which is very crucial, and the government, too, fully supports this," it said. Lastly, they agreed to accelerate plans to launch a state consultative body for both the ruling and opposition parties.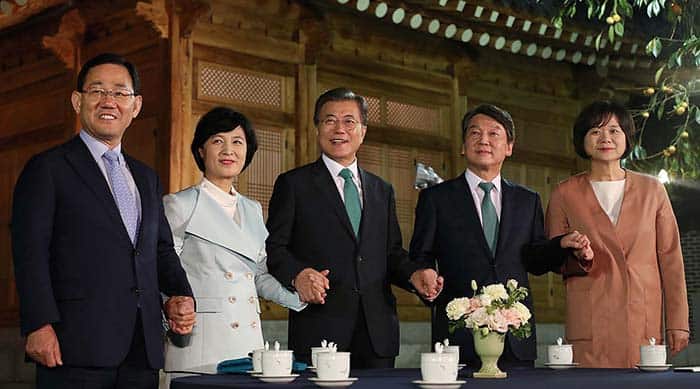 President Moon said, "If the political parties and the government join forces to address the security crisis facing the country, which is very grave, it will bring hope to the people of our nation and also will boost our economy. I hope the leaders here will put together their thoughts and wisdom to solve this issue."
Following the meeting, the president led the party leaders to the National Crisis Management Center for the National Security Council at the presidential office, where they were briefed on the latest security situation on the peninsula from the head of the center, Kwon Young-ho.
jiae5853@korea.kr