By Kang Gahui and Lee Hana
Photos = Kim Sunjoo
Daejeon | Jan. 17, 2018
Visitors to the upcoming PyeongChang 2018 Olympic and Paralympic Winter Games are in for a treat when it comes to robot technology.
From navigator robots that give directions to robots that pick up litter and serve beverages to customers nearby, PyeongChang's robots have functions that are both varied and diverse.
These robots, located at Incheon International Airport and across all the major Olympic venues, will be the leading force behind the rendering of a state-of-the-art Olympics.
At the head of this operation is KAIST chair professor Oh Jun Ho, who was appointed to take charge of PyeongChang's robot support team back in July 2016. It was Oh that handpicked the robots that would partake in the Olympics, and he who assigned them to their positions.
Oh is a robotics engineer and he developed Korea's first-ever humanoid robot, HUBO, back in 2004. Last year on Dec. 11, two robots created by Oh's HUBO Lab — the DRC HUBO-2 and the mountable FX-2 — were given the honor of carrying the Olympic torch ahead of the Winter Games.
Korea.net was able to meet with Oh at his lab on KAIST's campus on Jan. 17 to learn more about PyeongChang's robots and the future of Korean robotics.
– What's the role of the PyeongChang robot support team?
Our team is responsible for running performance tests on PyeongChang's robots and to make sure they're ready for the Games. We also decide on the placement of each of the selected robots.
– We heard that a wide selection of Korean robots will be used. What kinds of robots are they, and what are their functions?
Robots stationed at the airport will greet incoming travelers. They're equipped with artificial intelligence (AI) and are able to communicate in Korean, English, Mandarin and Japanese. They will be positioned around Incheon International Airport from Feb. 1 to 9, the day of the Opening Ceremony. They will be able to provide information about transportation and about the Olympics.
At the main press center, visiting press from around the world will be able to enjoy coffee delivered to them by autonomous robots.
If you look carefully, you will notice that the fish in the aquariums are robots, too. The aquariums located at the PyeongChang Olympic Plaza and the International Broadcast Center are home to robot carp and snapper fish that are able to swim freely between and around surrounding objects.
– What are some robot-related sights to see during the PyeongChang Games?
During the PyeongChang Winter Games, we will be holding a ski competition for a group of mini robots on Feb. 11 and 12 at the Welli Hilli Park in Hoengseong-gun County, Gangwon-do Province.
It's called the Ski Robot Challenge and will feature humanoid robots that are between 50 cm and 1 m tall, developed by eight different Korean university teams.
As these mini robots will experience their first winter at this competition, there are sure to be some faults, but in two or three years' time, I'm positive it'll become an amazing challenge.
– What are your hopes as the head of operations?
Korea may not be an industry leader in robotics, but the world does hold Korea to a higher standard in terms of robotics because of our strength in the IT industry.
Given our current technology, I'm pleased with the robots that we've managed to create for the Olympic Games.
– What lies ahead for Korea's robotics industry?
Similar to global trends, Korean robots are starting to make the transition from industrial spaces into the comfort of our homes.
Ordinary people on the street still bring to mind Mazinger Z and Astro Boy, humanoid robots from well-known cartoons, when they think about robots. A world with home robots, where robots help with household chores and perform a wide variety of tasks, is still far from being realized.
However, we should acknowledge that the era of robots has already begun. Most people don't make the connection between robotics technology and the latest tools, like drones, smart speakers, autonomous vehicles or artificial intelligence.
In another three to five years, we'll be able to spot robots all around us. Simple tasks like making pizza, managing parking spaces and self service shops will be performed by our future robots.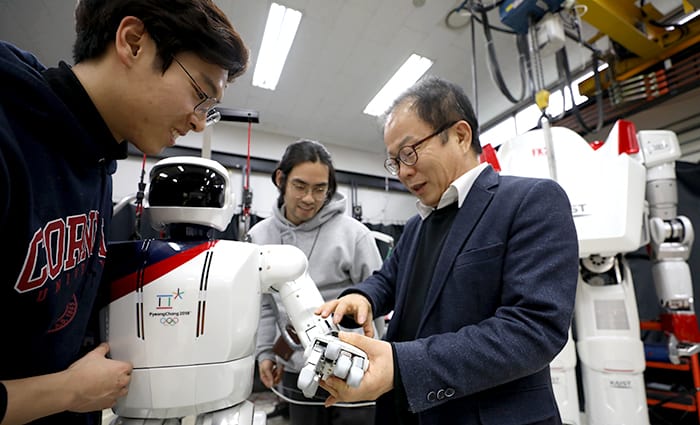 kgh89@korea.kr