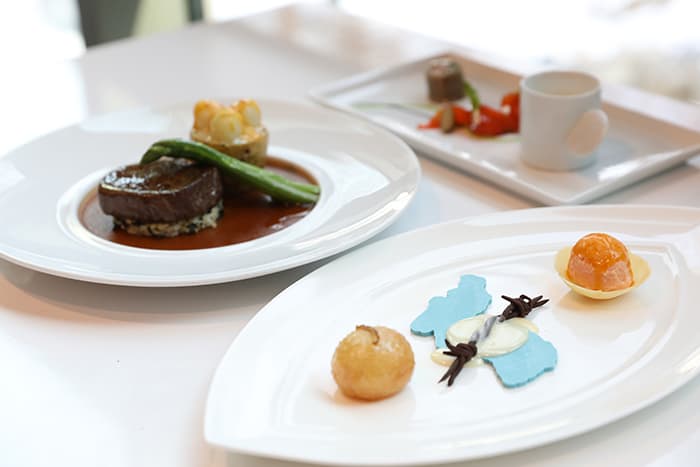 By Lee Hana
Photos = Kim Sunjoo 
Pyeongchang | Feb. 9, 2018
A pre-Opening Ceremony reception for the PyeongChang 2018 Winter Games has harnessed the Olympic spirit in every dish served.
Hosted by President Moon Jae-in, the reception took place at the Yongpyong Resort in Pyeongchang on Feb. 9.
The three-course meal embodied the Olympic aspirations of celebration, harmony and hope.
The appetizer, "A Plate of Celebration," featured buckwheat crepe rolls filled with kimchi, zucchini, yellow paprika, crab meat and beef, ingredients whose colors represent the colors of the Olympic rings. Smoked rainbow trout, fresh from Gangwon-do Province, as well as soft chodang sunbudu tofu accompanied the dish.
The main dish, "A Plate of Harmony," had grilled local beef tenderloin steaks, with baked potatoes and asparagus from Gangwon-do as sides. Rice with seasoned thistle from Taebaeksan Mountain and soy sauce with horseradish grown in the Demilitarized Zone (DMZ) were also served.
Finally, for dessert, "A Plate of Hope" was brought to the table. A blue chocolate in the shape of the Korean Peninsula took center stage in the middle of the dish, on top of which was placed a wired fence made of dark chocolate, representing the DMZ demarcation line. Gaeseongjuak, a type of North Korean fried sweet cake, and a sorbet made from Korean persimmons were served on either side of the centerpiece.
Before the dessert was plated, hot white chocolate was poured on top of the symbolic wired fence dividing the Korean Peninsula so that guests could watch the division melt away before their eyes at the dinner table. This special performance symbolized the hope for inter-Korean peace and harmony in the days to come.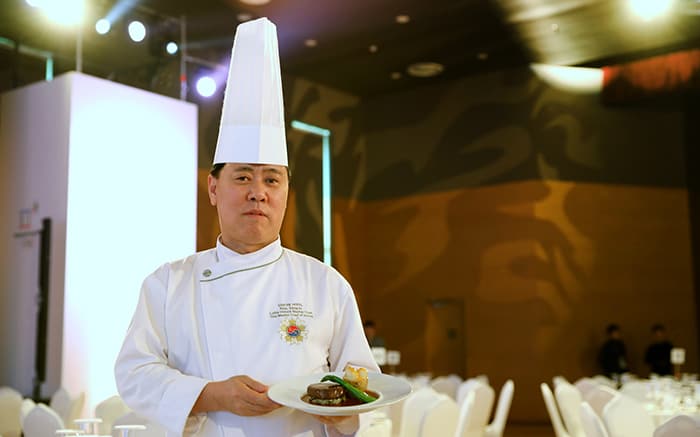 Head Chef Kim Song Ki, kitchen director for Lotte Hotels & Resorts, the mastermind behind the three-course meal, said that his team devoted a lot of time and effort to developing a menu that truly embodied the Olympic Spirit. "In preparing the dishes, we paid close attention to keywords, like harmony and prosperity," he said.
"It was a great honor to take part in creating the dinner menu for the reception. I've taken part in many VIP events in the past, but this one was especially meaningful, given that the PyeongChang Olympics were a cherished event for the whole country. I'm happy to participate and to be able to showcase Korean cuisine to so many esteemed guests from around the world," he added.
President Moon and first lady Kim Jung-sook, International Olympic Committee (IOC) President Thomas Bach, U.N. Secretary General Antonio Guterres, Japanese Prime Minister Shinzo Abe and President Kim Yong-nam of North Korea's Presidium of the Supreme People's Assembly, among other guests, attended the reception.
hlee10@korea.kr