By Kim Eun-young and Kim Young Shin
Photos = Cultural Heritage Administration
The Royal Culture Festival, which celebrates court rituals from the late 1300s to the early 1900s, will be held over 10 days at Seoul's four palaces — Gyeongbokgung, Changdeokgung, Changgyeonggung and Deoksugung — and at the Jongmyo Shrine.
From the opening ceremony on April 28 to the closing ceremony on May 7, a total of 29 events, including an exhibition, performances and hands-on activities, will be held at the five festival venues.
One of the most noteworthy events is the "Korean Empire Coronation" that will be reenacted in the Junghwajeon Hall (중화전) at Deoksugung Palace every day for three days starting April 29. The ceremony celebrates the 120th anniversary of the declaration of the Daehan Empire (1897-1910). This is the first time for the festival to reenact the coronation of Emperor Gojong (고종, 高宗) (1852-1919), which took place in 1897.
Other than the reenactment of the coronation ceremony, Deoksugung Palace will also host many other events related to those times.
From May 2 to 7, actors playing Emperor Gojong and a foreign diplomat will present the "Diplomatic Reception for Envoys to the Korean Empire" in the Jeonggwanehon Pavilion (정관헌). Visitors will be able to visit a booth called the "Korean Empire and Coffee" in front of the Seokjojeon Hall (석조전) from April 29 to May 7, and will even be able to sample what is said to have been Gojong's favorite type of coffee. Also, in the Junghwajeon Hall, a "Korean Empire Concert" will be performed on May 4, 5 and 7.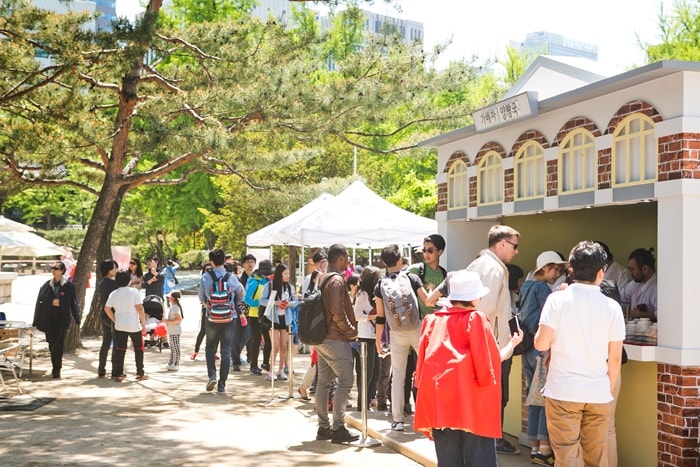 The festival has many other events, too, related to Korea's ancient royal household.
In the Sojubang, the royal kitchens at Gyeongbokgung Palace, tourists can taste official royal cuisine from April 29 to May 7. A historical play about Gojong, his wife Empress Myeongseong and the Heungseon Daewongun Yi Ha-eung, the father of Emperor Gojong, will take place in the Munjeongjeon Hall at Changgyeonggung Palace from May 3 to May 6.
Most of the festival is free. For more information, please click on the link below.
http://www.royalculturefestival.org/
eykim86@korea.kr