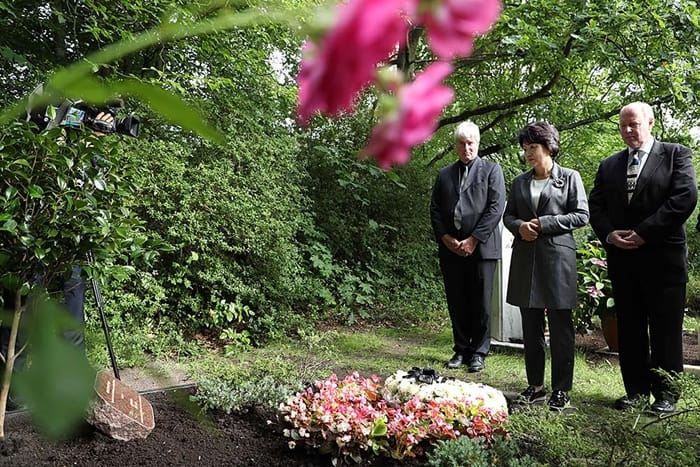 By Min Yea-Ji and Kim Young Shin 
On Dec. 19, Korea honored nine people who have enhanced Korea's national image around the world and who have promoted Korea overseas.
The Korean Culture and Information Service (KOCIS), part of the Ministry of Culture, Sports and Tourism, unveiled the achievements of the nine recipients, who hailed from eight countries: Korea, Germany, the U.S., France, Belgium, China, Indonesia and Japan.
Among the nine, Walter-Wolfgang Sparrer from Germany was rewarded for his commitment to honoring and promoting the works of the late Korean composer Yun Isang.
Sparrer played a key role in getting the composer interred in a grave of honor provided by the city of Berlin. The grave site was visited by first lady Kim Jung-sook during her official visit to Germany in July. He also founded the International Isang Yun Society in 1996 and has been the head of the organization ever since.
In sports, Martin E. Kim, the interpreter for Los Angeles Dodgers pitcher Ryu Hyun-jin, was selected for introducing various aspects of Korean heritage to the LA public, and for promoting Korean heritage and arts through creative marketing campaigns.
Other awardees include Hervé Péjaudier from France, who translated some Korean works into French, Freddy Bozzo from Belgium who introduced Korean movies there, Li Xincao from China who contributed to the development of a Korean orchestra, Franki Raden from Indonesia who helped to boost Korea-Indonesia cultural exchanges, Shimizu Moeco from Japan who promoted Korean culture and language there, Kim Hyesun, head of the U.K.-Korea Season 2017-18, and, finally, Ahn Tae-Jun, the head of Studios Architecture.
"There are many people around the world who protect and promote the value of Korean heritage, arts and sports, while working assiduously in their fields, such as Walter-Wolfgang Sparrer and Martin Kim. They play such a huge role in spreading Korean things outside of Korea," said KOCIS Director Kim Tae-hoon.
jesimin@korea.kr