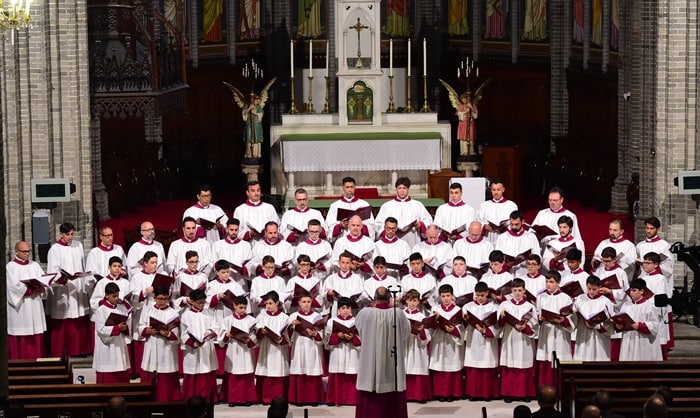 By Kang Gahui and Lee Hana
The Sistine Chapel Choir, one of the oldest religious choirs in the world and based in Vatican City, has made its first ever visit to Korea, celebrating three years since Pope Francis visited the country back in 2014.
The choir will comprise of 24 adult male singers and 35 boy choristers during this tour. The group, whose records date back to as early as the 5th and 6th centuries, has been singing in the unaccompanied a cappella style since it was installed in the Sistine Chapel in the 15th century.
The choir kicked off the tour at Seoul's Myeongdong Cathedral on July 5. The group sang pieces by Giovanni Pierluigi da Palestrina (1525-1594), an Italian Renaissance composer of sacred music, including "Misere mei, Deus," "Magnificat Octavi Toni" and "Super flumina Babylonis."
"We came to Korea to spread the evangelical mission of the Roman Catholic church through the beauty of music," said Monsignor Massimo Palombella, director of the choir. "Through our music, we hope to deepen the faith of Korean Catholics and bring even the non-believers closer to the Holy Father."
The group, having completed the Seoul leg of the tour, will perform nationwide in Daejeon, Gwangju, Busan and Daegu until July 15.
kgh89@korea.kr