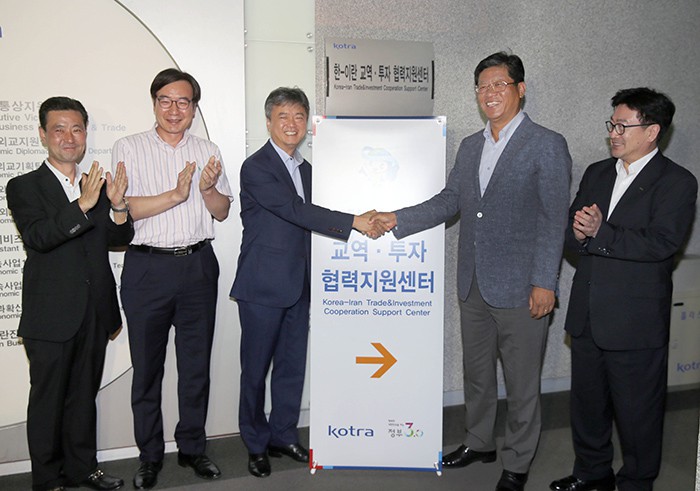 To revitalize trade and investment between Korea and Iran, the Korea-Iran Trade & Investment Cooperation Support Center opened in Seoul on Aug. 8.
The establishment of the center is part of follow-up measures to the Korea-Iran summit that took place earlier this year in May in Tehran.
At the center, all organizations related to trade and investment between Korea and Iran will work together to help solve difficulties and provide support and necessary information to both Korean and Iranian businesspeople.
In the past, businesses from both countries had no option but to ask trade or investment-related organizations individually in order to get information they needed. Thanks to the opening of this center, however, they can now receive integrated information in one place and more easily solve any difficulties or answer any questions.
For Iranians interested in trade and investing in Korea, the center will provide information related to imports, exports and foreign investment, such as information about related systems, legal procedures, or popular and promising goods in the Korean market. They can also get information about Korean firms that are interested in entering into the Iranian market.
The center also provides tailored information for Korean businesses that plan to do business in the Iranian market. It offers information about financial support related to trade and investment, Iranian legal procedures and other systems that are related to trade and investment there. It also provides information about orders for construction projects made by the Iranian government, and by public and private organizations there. Korean businesses can also learn more about prohibited items in regard to trade in Iran and certain cautions related to trade with Iranian counterparts.
"Korea and Iran established a systematic framework for the expansion of bilateral trade and investment through the Korea-Iran summit this past May," said Lee In-ho, deputy minister for international trade and investment, part of the Ministry of Trade, Industry and Energy.
"This support center is the outcome of such a systematic framework. It will help revitalize bilateral trade and investment in the future," Lee said.
For more information, please contact the center directly, in either Korean, Persian or English.
Tel: 82-2-3460-3383 for Koreans, 82-2-3460-3387 for Iranians
For consultation support, please visit: tradedoctor.kotra.or.kr.
For information about the Iranian market, please visit: www.globalwindow.org.
By Yoon Sojung
Korea.net Staff Writer
Photos: Ministry of Trade, Industry and Energy
arete@korea.kr