By Korea.net PyeongChang Olympics Team 
Photos = Jeon Han
Gangneung | Feb. 10, 2018
"We are one!"
Crowds cheering for the inter-Korean women's ice hockey team during its first Olympic match were just as passionate outside the walls of the stadium.
Over 1,000 supporters gathered at Gangneung's Hwang Young-cho Gymnasium to watch live the match between Team Korea and Switzerland, which took place at the Kwandong Hockey Center on Feb. 10.
The impassioned cheers of these supporters echoed across the gymnasium as they raised their flags, yelling words of encouragement to their team.
Among the crowd were local residents of Gangneung, families with relatives across the border in North Korea, and Koreans who live abroad in places like the U.S. or Japan.
As their voices all joined in unison, in support of a common goal, people shared smiles as well as happy tears.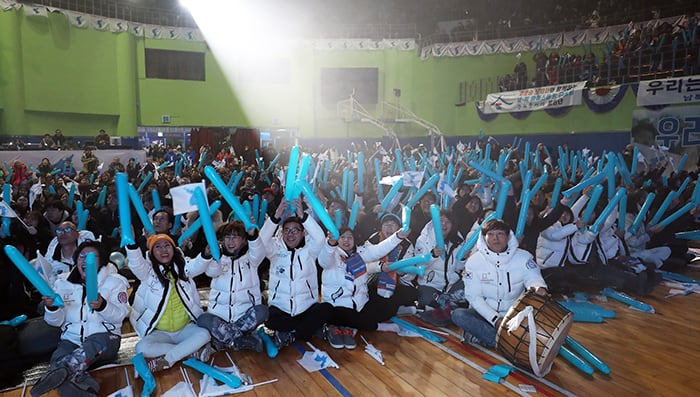 "The last time I came to Korea was back in 2002, during the Busan Asian Games. Back then, I entered the stadium waving the unification flag, too," said Kim Jonghae, a member of Chong Ryon, a group for North Korean residents in Japan.
"I visited South Korea this time because I wanted to be a part of a festival that will unlock the door to unification," said Kim, saying that the inter-Korean hockey team would be capable of achieving great things if they combine their strengths.
Kim Kong Su, another member of the Chong Ryon group, said, "The creation of an inter-Korean team is a historic event, and ethnic Koreans living in Japan are definitely paying attention. Now that I'm here in South Korea, I feel that unification is drawing near."
"As a Korean-American living in the U.S., I came to the Olympics because I could feel an atmosphere of reconciliation between the two Koreas," said Kang Chuleun, co-head of the Washington branch of 615, a private organization that campaigns for Korean unification. "I'm thankful for the new administration, and the efforts that have been made to make inter-Korean dialogue possible," he said.
In the days ahead, inter-Korean cheering squads will get together at locations all over Gangneung in support of the inter-Korean women's ice hockey team. Upcoming matches include a game against Sweden on Feb. 12, and one against Japan on Feb. 14.
xuaiy@korea.kr