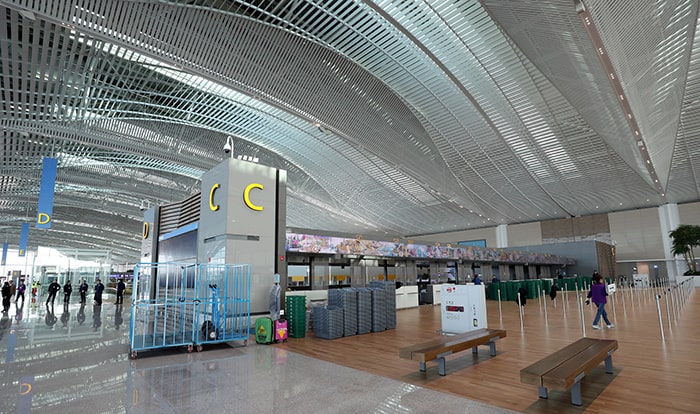 By Lee Kyong Mi and Yoon Sojung
Tourists visiting Korea will have easier immigration procedures during the PyeongChang 2018 Olympic and Paralympic Winter Games.
The government will also offer a special visa waiver to Chinese tourists who visit Korea around the Winter Games.
The Ministry of Justice announced on Nov. 30 that it will offer a visa waiver for 15 days to mainland Chinese tourists who fit the required criteria between Dec. 1 and March 31 next year. During that period, Chinese visitors with proper immigration and departures records will be eligible for a multiple entry visa over the next five years.
The successful applicant must be a citizen of mainland China with a record of proper arrivals and departures in and out of Korea, with a legal prior visa issued by Korean authorities sometime over the past five years. The applicant also needs to have a ticket to a PyeongChang Winter Olympic or Paralympic event that is priced above KRW 200,000 and that was issued through a registered travel agency, or they need to hold a Chinese government passport for public affairs. Anyone convicted of a crime in of Korea, such as prior illegal immigration or illegal employment, will not be able to use the visa waiver. This is the first time for the justice ministry to offer such a visa waiver program during an international sporting event.
The ministry will allow individual Chinese tourists on cruise ships to land throughout 2018. Currently, the landing permit was only applicable to cruise ship tourists who were on group tours. The ministry also extended the length of stay for cruise ship tourists disembarking in Donghae or Sokcho, increasing it to five days, from the current three, during the Winter Olympic and Paralympic Games.
The ministry will also provide quicker and more convenient immigration and customs clearance for athletes, Games personnel and tourists coming to Korea for the Winter Games. Those who hold official Olympic or Paralympic Games cards will get free entry and departure for one month before and after the games. Athletes, Games officials and journalists will get visa-free entry for 90 days. Those who will stay more than 90 days will be exempt from requiring an alien registration card. They will also be exempt from paying any visa fees or other fees to receive permission to stay.
To provide better immigration services, the ministry will allocate a total of 198 immigration officers to the second passenger terminal at Incheon International Airport, scheduled to open on Jan. 18 next year. These officials will issue a landing slip instead of the current immigration procedure of stamping a passport in order to simplify the procedure.
km137426@korea.kr