There's no more excuse to not visit Korea, as you don't have to wait for a midnight seat sale!
The Korea Pavilion at the recent Philippine Travel Tour Expo, held at the SMX Convention Center, gave a glimpse of what Korea might offer to its tourist. Here's what the Korean Tourism Organization in Manila, with its partner organizations, prepared for attendees.
The KTO Manila booth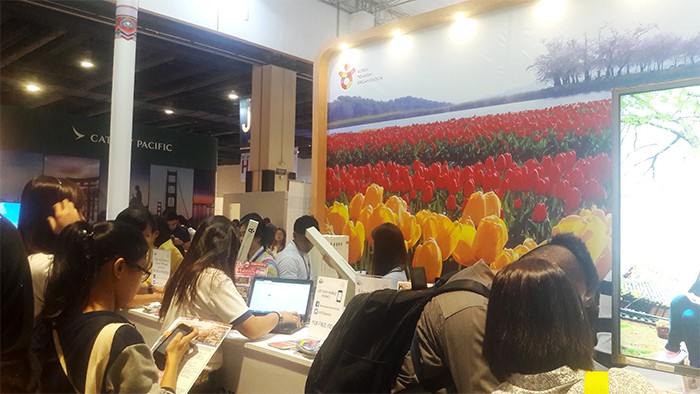 The three-day event provided a jam-packed list of informative activities and booths that will surely lure you to Korea soon. Once you enter the venue, you're welcomed by one of the busiest booths, the KTO Manila's help desk and information center. This is where you get stamp cards for their promotional activities. You only need to get four stamps and you'll get a pretty cool iRing for your phone! There's also a full-sized cardboard cutout of Song Joong Ki waiting for you. Aside from that, just a few seconds of liking the official page of the KTO Manila entitles you to a free poster that would definitely fit in your Korean autumn-inspired room décor.
Korea Pavilion Activity Stage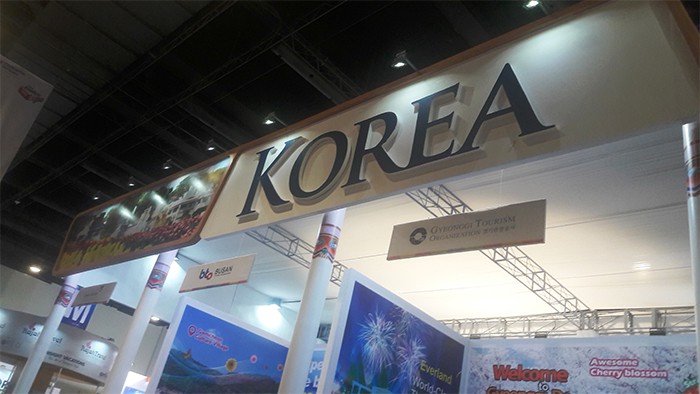 A rundown of the what's and how's of Korea caught the attention of everyone at the pavilion. Must-visit tourist spots, the visa application process and other important matters were discussed during the Q&A session. Also, a special cooking demonstration and a "food trial" were handed out to attendees. There's no quick break for the activity stage, as presentations from regional tourism organizations, including ones from Jeju Island, Busan, Gangwon-do and Gyeonggi-do provinces, discussed their provincial itineraries and must-try activities in their respective places.
After a while, the wave of activity conquered the stage through a dance performance. One of the audience members got the chance to try dancing to a popular Korean song, with one-on-one mentoring from a Philippine K-pop cover group.
Celebrity Guests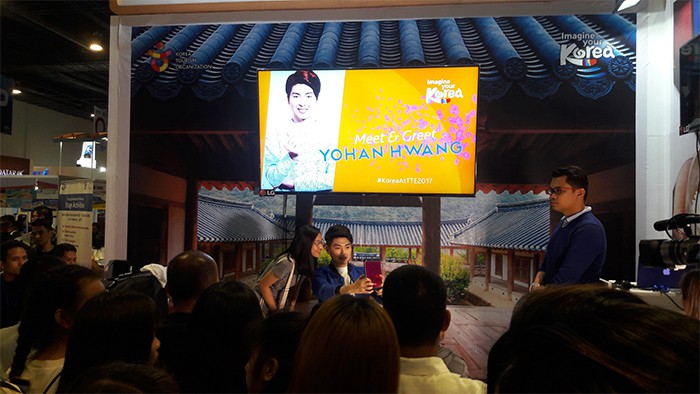 One of the highlights of the pavilion was the special celebrity guests. The first two days saw Ryan Bang, a Korean who's a noontime host in the Philippines. The second day saw Sue Ramirez, the newly appointed KTO Manila Ambassadress, and the last day saw Yohan Hwang, the grand winner of "I Love OPM," a talent show for non-Filipinos who love Philippine music.
Makeup & Cosmetics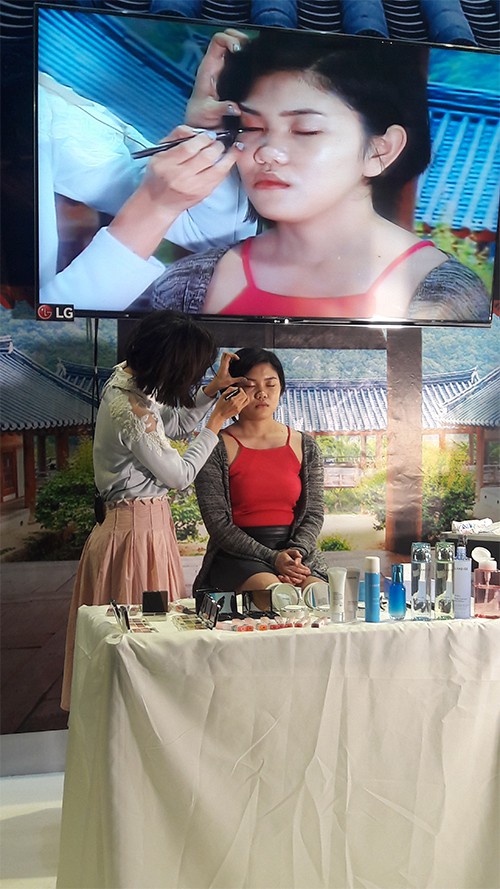 There's no need for a magic wand or a fairy god mother. Lucky visitors got the chance to have an ambush makeover and in an instant they were stylized just like a Korean! Have you ever thought of becoming a K-pop star solely through makeup?
Seat Sales & Travel Tours
What else could cap off your best travel tour expo experience than finding a cheap seat for your next trip to Korea? Huge airline companies from both Korea and the Philippines have it covered! They offer a wide range of tour itineraries and discount deals if you book your flight well ahead of your desired travel dates.
Finally, since it's just under one year away from the PyeongChang 2018 Olympic and Paralympic Winter Games, one of the most eye-catching booth was that from Gangwon-do Province. The welcoming mascots that represent the upcoming Olympics and Paralympics will surely attract you to take cute selfies with them! If you're lucky enough, a competition could give you a cute Soohorang and Bandabi stuffed animal, too!
It's still a pretty long way before the end of the year, so there could be more travel tour expos in Manila! Nonetheless, this has been a great first step to your Korean dreams, so don't miss the chance!
By Mikhaela Javier
Korea.net Honorary Reporter
Photos: Mari Mikhaela Javier
http://koreanetblog.blogspot.kr/2017/03/visiting-korea-pavilion-at-philippine.html