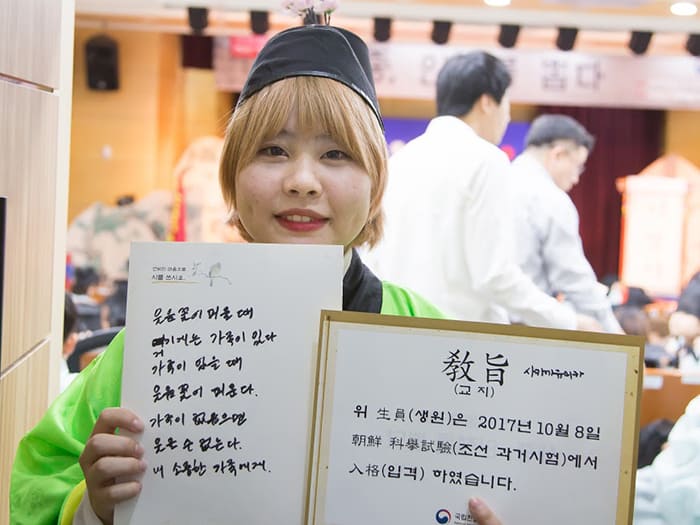 By Kim Eun-young, Kim Tae Won and Kim Young Shin 
Photos = Kim Eun-young and Kim Tae Won 
Seoul l Oct. 8, 2017
The National Hangeul Museum hosted a festival for both Koreans and non-Koreans to celebrate the Hangeul Korean alphabet on Oct. 8, one day before Hangeul Day. This year marks the 571st anniversary of the creation of Korea's indigenous writing system.
Many smaller events, including a play based on a folktale, magic shows and Hangeul-related competitions, are also honoring Hangeul.
A total of 29 non-Koreans from five nations took part in the Korean writing competition. Contestants were asked to write about their feelings for their family. Wearing a black yugeon hat (유건) and a light blue dopo gown (도포), the general outfits worn by Joseon Confucian scholars, the non-Korean competitors wrote in Hangeul about their families far away, somewhat clumsily in some cases, but always quite solemnly.
"In Japanese, there are three alphabets: Kanji, Hiragana and Katakana. However, Korean only requires one, Hangeul. This simplicity is the charm of Hangeul," said Sakae Yumika (榮由海夏), the only non-Korean among the six winners. "I like how the Korean word for flower, 'ggot' (꽃), makes me imagine a real flower neatly arranged."
In the Hangeul T-shirt design competition that followed the writing competition, 80 non-Koreans from nine nations took part.
The participants gathered on the grass outside the museum and wrote their own Hangeul phrases or letters on a white T-shirt under the warm autumn sun. Even though some of the writing was a tad clumsy, they showed off their Korean writing skills and honored the true value of Hangeul.
"I got the motif from the preface of the 'Hunminjeongeum' (훈민정음) (1446), the original manuscript about the rules and structure of Hangeul, which said that, 'There are lots of people who cannot express what they mean even though they have something they want to talk about'," said Luo Danbin (罗丹滨), a Chinese participant. He wrote, "Malhagoja" (말하고자) on his T-shirt, which means "to talk about." "The design carries the hope that even a non-Korean like me may write and speak Korean easily after more learning."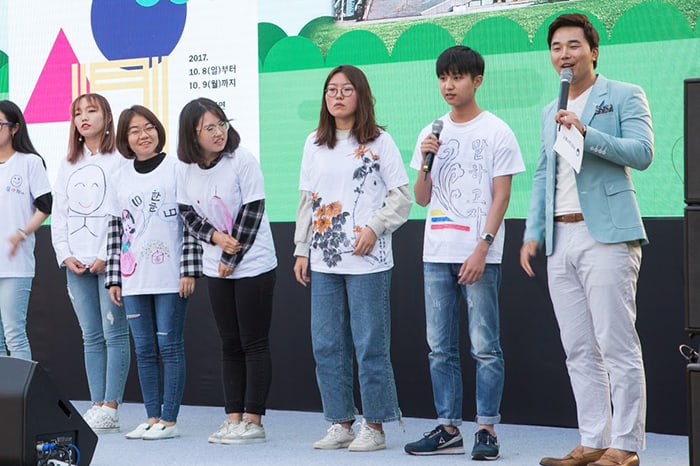 "We organized this festival to celebrate the world heritage aspects of Hangeul, and to share them all with the world," said Seo Young-cheol, the organizer of the event.
The festival continues at the National Hangeul Museum on Hangeul Day itself, Oct. 9. A video made by students at King Sejong Institute learning centers all around the world will be shown, and a special lecture about Hangeul and King Sejong, the creator of Korean alphabet, will be given to visitors, too.
eykim86@korea.kr