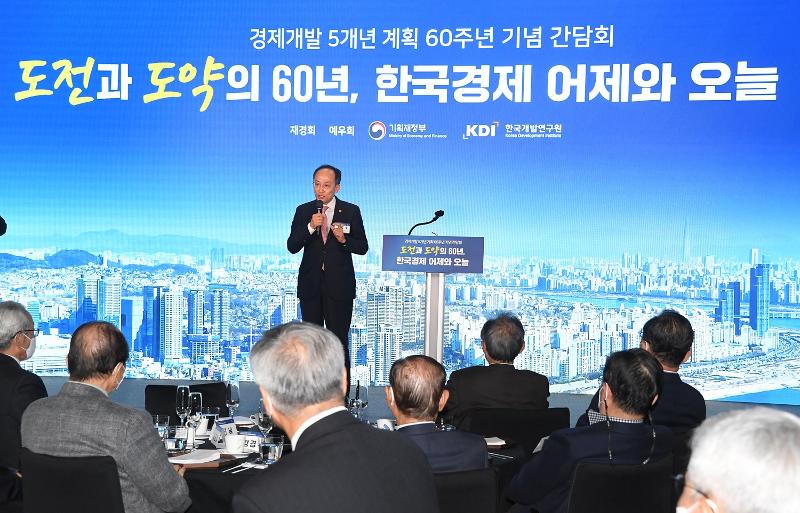 By Jung Joo-ri
Since 1962, the government's five-year development plan has led six decades of dramatic economic growth for the country.
The Bank of Korea's Economic Statistics System on Nov. 22 said per capita GDP jumped from KRW 13,800 in 1962 to over KRW 40 million last year. The statistic, which measures a nation's standard of living, jumped nearly 3,000 fold over the past 60 years.
The five-year plan is the country's official blueprint for economic development. Based on government-led policy measures for exports and foreign capital, the national economy has expanded from labor-intensive sectors to the heavy and chemical industries, achieving unprecedentedly fast growth commonly known as the "Miracle on the Hangang River."
Excluding tax on household revenue, gross personal disposable income per capita grew around 100 fold from KRW 231,000 in 1970 to KRW 22.31 million last year.
Exports, the main engine of national economic growth, also jumped 3,680 times from USD 175.08 million in 1965 to USD 644.43 billion last year.
The number of registered cars also saw an incredible ascent. The Ministry of Land, Infrastructure and Transport's Statistics System said the number jump 487-fold from just 50,000 in 1966 to 24.37 million in 2020.
Along with economic development, the average life expectancy rose from an average of 62.3 years in 1970 to 83.5 in 2020. That for men jumped to 80.5 years from 58.7 over the period, while the figure for women rose to 86.5 from 65.8 as each gender saw an average increase of over 20 years.
Deputy Prime Minister and Minister of Economy and Finance Choo Kyungho on Nov. 21 attended a conference to mark the 60th anniversary of the five-year plan at the Global Knowledge Exchange and Development Center in Seoul's Dongdaemun-gu District.
"The Korean economy achieved growth never before seen in world history," he said. "Through seven five-year economic development plans, the country devised a blueprint for national development and all the people including the private sector and workers united to wisely overcome crises such as those involving oil, foreign exchange and global finance."
etoilejr@korea.kr