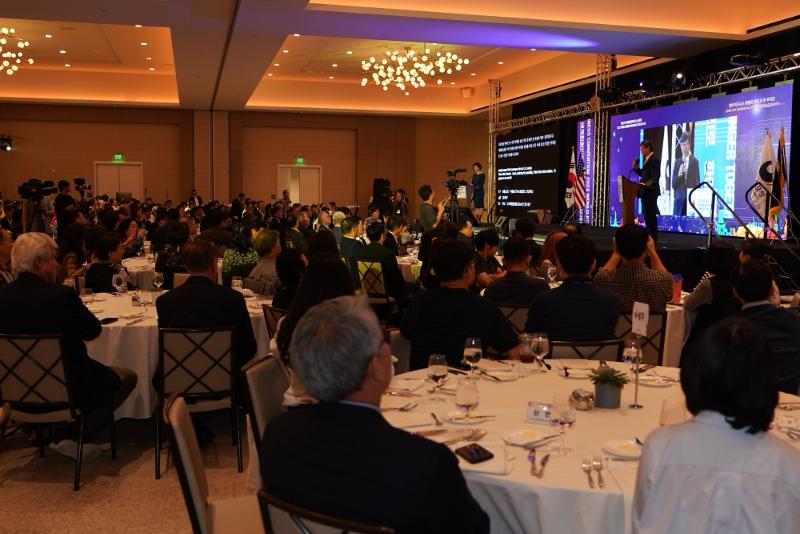 By Lee Dasom
This year's World Korean Business Convention, which was held outside of Korea for the first time, has achieved the best results in the event's history.

The Overseas Koreans Agency (OKA) on Oct. 16 at the conference's 21st edition, which ran from Oct. 11-14 at Anaheim Convention Center in Anaheim, California, reported the best results in the event's 20-year history in all indicators including the number of participating entrepreneurs, those running booths, consultations, contracted consultation amount and expected value of final deals.

A combined 7,825 businesspeople from 31 countries attended the four-day event, nearly four times the figure of 2,046 last year. Participating companies included not only small and mid-size businesses but also major corporations such as Samsung Electronics, Hyundai Motor, Posco and Emart.
The sectoral scope also expanded from trade and commerce to finance, the environment, culture and the smart industry.

Five hundred companies ran 600 booths and 17,183 investment consultations were conducted through one-on-one business talks and related consultation programs. The combined contracted value of on-site consultations reached an estimated USD 19.4 million and that of contract consultations USD 572.6 million.

"I am delighted to hear that the 21st convention, which was held overseas for the first time, received reviews from many people saying it was a great success," OKA Commissioner Lee Key Cheol said. "We will do our best to help our companies and all those participating to achieve win-win success through actual signings and implementation of contracts."

dlektha0319@korea.kr