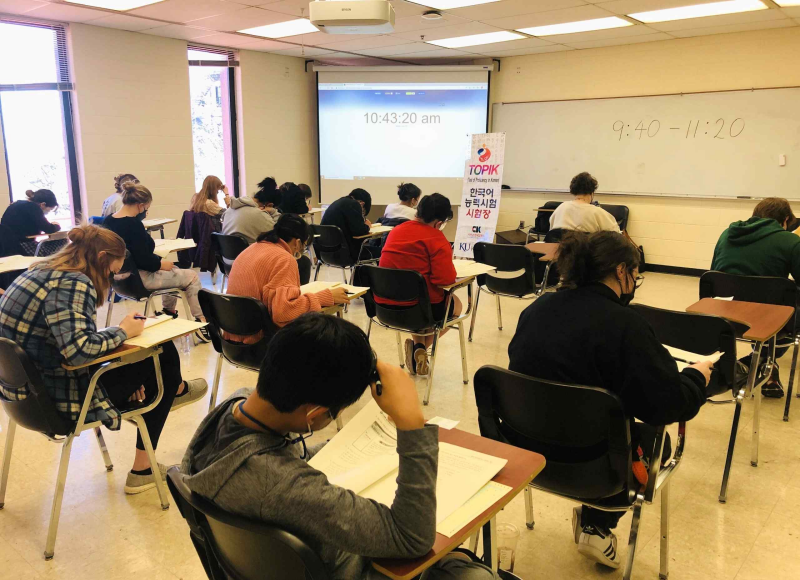 By Hong Angie

The number of times the Test of Proficiency in Korean (TOPIK) will be held abroad could be doubled next year.

The Ministry of Education on Oct. 11 announced this in releasing next year's implementation plan for TOPIK, including the schedule and administration of the exam.
The ministry will raise the number of times TOPIK is held overseas from four to up to eight next year. It will also gradually increase the number of countries that provide the paper-based TOPIK, which requires going to a test center, to 90 and the internet-based version administered online to 10.
This decision is a follow-up measure to the Study Korea 300K Project announced in August amid criticism that the number of instances in which TOPIK is offered worldwide falls short of rising demand for it.
The paper-based test next year will be held five times from April 13-14, May 12, July 13-14, Oct. 12-13 and Nov. 10 and the internet version three times from March 22-23, June 7-8 and Sept. 27-28.

Introduced in 1997, TOPIK assesses the proficiency of non-native speakers and ethnic Koreans abroad for the purposes of studying at a Korean university, gaining employment in the country or applying for an entry visa.
TOPIK I tests listening and reading comprehension and its grades are Levels 1 and 2. TOPIK II includes a writing test and grades Levels 3-6.
The number of applicants for TOPIK shot up from 206,778 in 2015 to 375,871 in 2019. Though dropping to 218,869 in 2020 due to the COVID-19 pandemic, the figure has risen again since 2021, reaching 417,800 this year.

Shin Moon-kyu, director general of the ministry's Planning and Coordination Bureau, said, "We will greatly expand testing abroad especially in countries with rising demand for study abroad like Vietnam, Indonesia and India and take thorough measures to ensure that students who want to study in Korea can enter universities here without a hitch."
shong9412@korea.kr