By Lee Kyoung Mi and Kim Minji
Photos = Jeon Han
Videos = Kim Sunjoo and Choi Tae-soon
Seoul | July 5, 2019
Trying too hard while playing an instrument can sometimes spoil the music, and harmonica performances work in the same way, according to acclaimed harmonicist Park Jong-seong.
"Blowing on a harmonica too much or applying too much pressure can spoil the music. It sounds awkward. The harmonica plays more beautifully when done softly with comfortable breath," he said.
In 2009, Park became the first Korean to claim first prize in tremolo solo at the quadrennial World Harmonica Festival, the so-called harmonica Olympics held in Germany. He also won the solo performance, duo and ensemble categories at the Asia Pacific Harmonica Festival in China in 2008 and the gold prize for tremolo performance in the same event's teen division in 2002.
Korea.net on July 5 interviewed Park at a concert hall in Seoul's Seocho-dong neighborhood on his top-notch performing skills and his rise as a world-class harmonicist.
The maestro's big bag on the table was full of harmonicas of varying sizes and purposes. He showed the most common model tremolo and the mini harmonica, which was the size of a USB. A meter-long chord harmonica among them is mostly used for instrumental accompaniment since its sound is similar to guitar chords, he said.
Citing the existence of over 150 types of harmonicas, Park said, "The harmonica has a wider alt than most people expect and its tone can be changed in diverse ways. It's a good instrument for playing various genres."
Park's repertoire includes classical, jazz, pop, tango and gugak (traditional Korean music).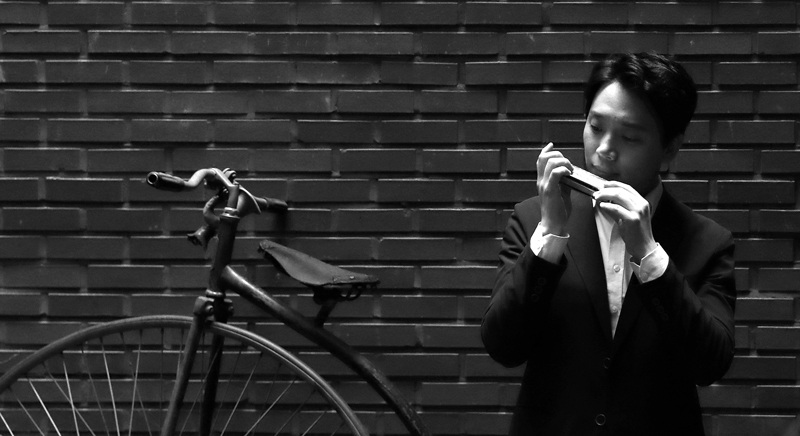 Each note of his performance seemed to convey a message, something that stems from his emphasis on study over practice. "Practice is, of course, necessary, but knowing how to convey a feeling or idea is more important. To get to where I am, I did a lot of research to finally produce the sound I want," he added.
Park said he shares stories through the music he composes. "My dream is to keep performing the harmonica when I get older or obtain a higher position," he said. "The harmonica has shorter history than other musical instruments, so it needs further improvement."
His dream, he said, is to assume a crucial role in harmonica history by both composing music and developing educational methods for the instrument. In an exclusive for Korea.net, he played the BTS hit "Spring Day" with piano accompaniment.
"I think the harmonica is a symbol of hope because it has the power to move people and can produce beautiful melody nobody ever expected," he said. "I'll keep performing until the harmonica is free from prejudice as being a toy or hobby instrument and stands tall as the main feature on stage."