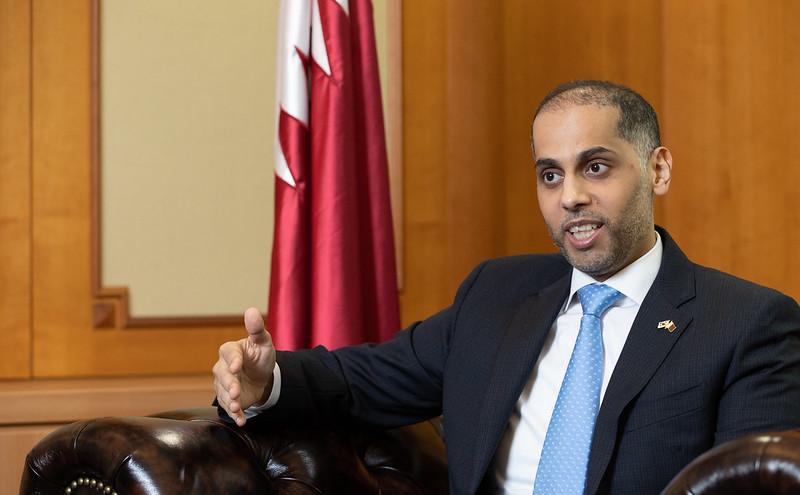 By Israa Mohamed and Yoo Yeon Gyeong
Photo = Kim Sunjoo
Video = Lee Jun Young
Qatari Ambassador to Korea Khalid E. Al-Hamar says, "The stadiums in Qatar for the World Cup are close to each other, so you can watch multiple games in one area on the same day. So this year's World Cup can be a special one."
In an exclusive interview with Korea.net on Sept. 8 at the Qatari Embassy in Seoul's Yongsan-gu District, the diplomat said, "We are proud to be the first nation in the Middle East and Arab world to host the World Cup."
Having assumed office in Seoul last October, he said, "We are searching for new opportunities for cooperation in sectors like smart farm, networks, technological development, communications, cybersecurity, defense and public safety."
As a person "who loves Korea," the ambassador is a diplomat through and through. He worked at the office of the Qatari foreign minister from 2001-05 and as a Qatari representative to the Arab League from 2005-07. He later returned to the Department of Arab Affairs at Qatar's Ministry of Foreign Affairs and led the ministry's Department of Asian Affairs for seven years before being named ambassador to Seoul.
The following are excerpts from the interview.
Qatar is a major partner of Korea in the Middle East, with both nations forming diplomatic ties in 1974. What do you consider the most important issue for improving bilateral relations?
The Korea-Qatar relationship is important more than ever before. The country's ties are both historic and strategic. They began in economy, trade and energy and have now spread to other sectors. We will actively push ahead with the expansion of bilateral cooperation in sectors like public health, education, medicine, tourism and public safety.
In what sectors do you hope that both sides expand cooperation?
We are going beyond cooperation in investment, energy and trade to opening doors in new sectors such as technological development, public health and tourism. We plan to continuously develop bilateral relations in more sectors such as cybersecurity and public safety. The conclusion of several key bilateral agreements is underway in multiple sectors, so they will offer an opportunity to continue bilateral cooperation.
Negotiations on a free trade agreement (FTA) between Korea and the Gulf Cooperation Council (GCC), a group of six Gulf-region countries, were officially resumed early this year. What progress has been made?
We actively support these negotiations as the FTA is incredibly important for all Middle Eastern countries like Qatar. Several working-level talks with Korea were held at the recent GCC working-level committee, and I believe they went in a positive direction. Through the conclusion of the agreement, I believe that cooperation between the GCC and Korea will expand in all sectors and further strengthen.
As an ambassador to Korea, what is your most important task?
I'm putting in a lot of effort to elevate bilateral relations from an "omnidirectional cooperative partnership" to a "strategic cooperative partnership." We are continuously striving to develop traditional sectors of cooperation and seek new opportunities for collaboration in sectors like public safety, smart farm, networks, technological development, communications and cybersecurity.
Bilateral relations have developed in several stages and involved mutual visits. The latest visit was in 2019 by Amir Sheikh Tamim bin Hamad Al-Thani to Korea, and this was one of the most important trips for the development of bilateral ties in several sectors. Through this visit, we concluded many agreements in a variety of areas. Other agreements are under review, and we are seeking new sectors for cooperation.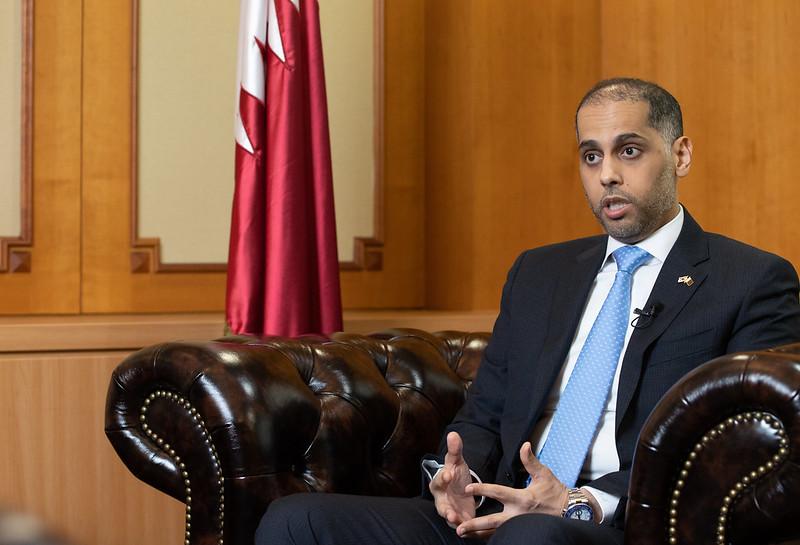 As the COVID-19 pandemic has shifted to endemic status, human exchanges are expected to grow. What plans do both nations have for this?
I want to express respect for the measures Korea took to prevent the spread of COVID-19. As you know, COVID-19 spread to all countries but Korea stemmed the spread well and gradually returned to everyday life. Similarly, Qatar put in a lot of effort, and through close bilateral cooperation in quarantine and medicine, we concluded several agreements. We hope to increase bilateral cooperation not only in the medical sector but also in human exchange. We also hope for more cooperation through the use of Korea's experience in bilateral exchange.
Qatar will host the World Cup in November. How is your nation trying to differentiate this tournament from previous ones?
We are proud to be the first nation in the Middle East and Arab world to host the World Cup. The Qatar World Cup will start on Nov. 20 and it will be a special World Cup. Because the stadiums in Qatar for the tournament are close to each other, you can watch multiple games in one area on the same day. Qatar has prepared programs for the World Cup like those of entertainment and culture so that soccer fans worldwide can see all world cultures at a glance. Qatar has built eight stadiums in its preparation to host the World Cup. The stadiums have cutting-edge equipment and are eco-friendly, state of the art and modern. Major Korean construction companies played a huge role in the process of building the stadiums. The Qatari Embassy also arranged activities to promote the Qatar World Cup such as the 15th Arab Cultural Festival: Qatar World Cup Pavilion this month at the Seoul COEX.
Media reports indicate the high popularity of Hallyu (Korean Wave) in Qatar. What aspect of Qatari culture or food would you like to introduce to Koreans?
Just as Korean culture is diverse, Qatari culture is also diverse in many ways. Since Qatar is a peninsular country, it has variety of seafood and meat dishes and Qatari cuisine adds Arab spices to varieties of rice for cooking. People can choose from Qatar's rich culinary culture, as during Ramadan, we eat harees, (traditional Qatari food made of cooked wheat) and luqaimat (traditional Qatari doughnut) on holidays. Just as rice is a staple in Korea, we cannot leave out rice in Qatari culture.
What about Koreans and their culture would you like to introduce to the Qatari people?
Korea is a country with a diverse culture and deep history. During my time with my wife in Korea, I witnessed many aspects of Korean culture and found commonalities between Korean and Qatari culture. The biggest commonalities are that both cultures are family-centric, honors elders, welcomes guests and respects people. I respect how the two cultures are similar in several ways.
What is your concluding message to Korea.net readers?
Qatar is happy to welcome the Korean national team at this year's World Cup. I hope that the Qatar World Cup is an occasion for Koreans to visit Qatar and support the Korean national team.
ess8@korea.kr