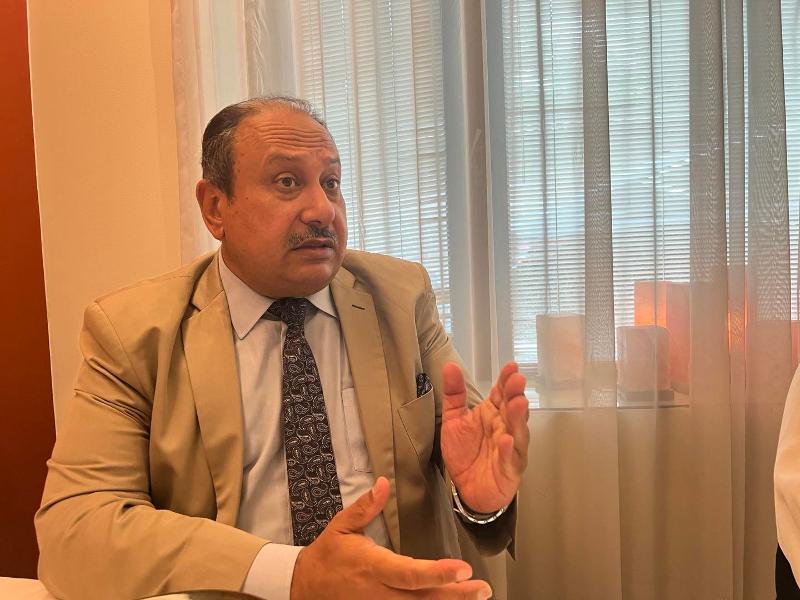 By Yoo Yeon Gyeong and Israa Mohamed

Thirty minutes passed but Hisham Ibrahim, vice president of Egypt's Academy of Arts, did not show up for his interview.

After arriving at the venue, he said he was late because he took photos of protests in downtown Seoul. "I was surprised to see Korea's protest culture of holding banners and printed materials expressing demonstrators' demands and opinions while they sat in line at the permitted place during a permitted time," he said. "It was impressive to see police dispatched to protect citizens and orderly protesters coexisting in one space," he added.

The official from Egypt's large educational complex visited Korea from June 16-22 as an influential foreign figure invited to visit Korea by the Korean Culture and Information and Service (KOCIS). Having worked in Egyptian film and media for 30 years, he earned a bachelor's degree in theater and film at the Academy of Arts and went on to receive a master's and Ph.D. in film production from his alma mater.
Now a full-time professor at the academy's theater and film department and vice president, Ibrahim during his weeklong trip visited leading domestic organizations in culture and arts such as Korean Film Archive and Korea National University of Arts and experienced Korean culture firsthand at Eunpyeong Hanok Village and Gyeongbokgung Palace.
Korea.net on June 21 held an interview with him over lunch at the conference house Dalgaebi in Seoul's Jung-gu District.

On Korean food he was served, Ibrahim praised myeolchi bokkeum (fried dried anchovies), saying it is full of omega 3 and that the more he ate, the healthier he felt. Having tried a variety of Korean dishes during his trip, he told his daughter, a student in the U.K., to try kimchi and gimbap (seaweed roll) as must-have Korean food.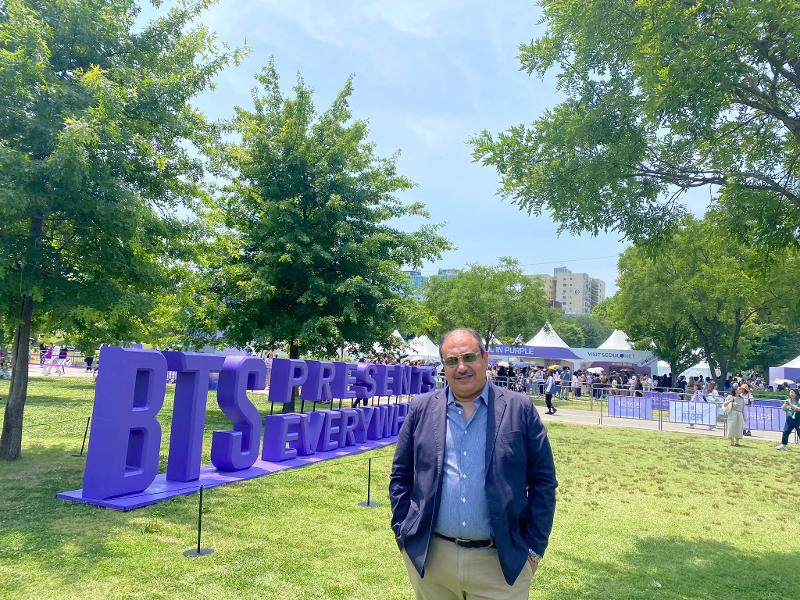 "Interest in Korean content from Egypt's younger generation is hot," Ibrahim said. "The popularity of Korean content has exceeded that of American or Arabic content, which had long established a firm foothold."
"Cinema is a language that connects everyone around the world and helps people from various backgrounds to empathize and communicate, thus Korean culture and content have enormous influence in this regard."

When his Korea visit was announced at the academy, Ibrahim said, staff there all asked him for a month if he was really going or if he could bring them with him, all because of the high popularity of Korean content in Egypt.
Even his BTS-loving niece contacted him with a threat-laced request to attend BTS 10th Anniversary Festa while in Korea. On the evening of June 17, Ibrahim went to the event and saw fireworks at Yeouido Hangang River Park, adding that he again realized the boy band's overwhelming popularity and influence after seeing crowds of fans of all ages and nationalities.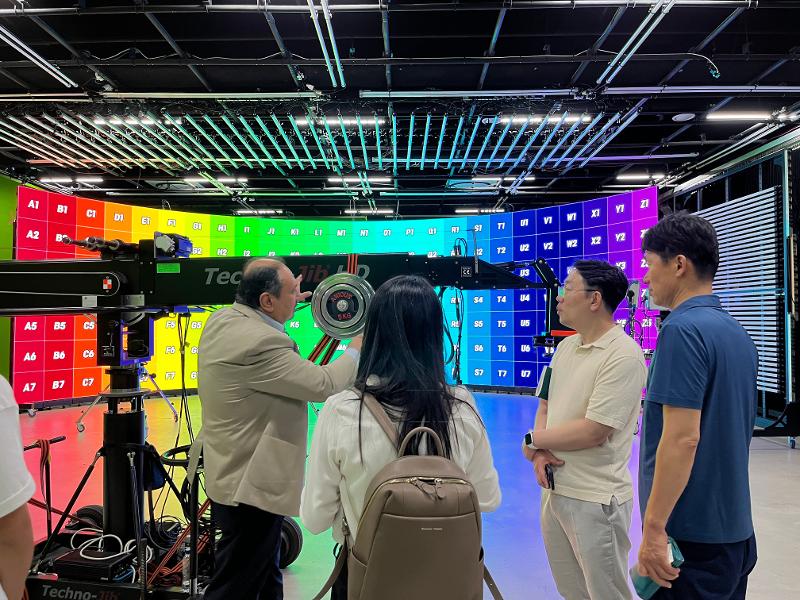 In Busan, the highlights of his trip were visits to Busan Post Lab, Busan Cinema Studios, Busan Asian Film School and Busan Film Academy. "I could see firsthand the various filming processes like lighting, production, sound and editing," he said "I took notes of certain Korean techniques for use in my classes when I return to Egypt."

"I wish that Egypt uses the Korean method of promoting its culture as a role model," he added. "Instead of pursuing popularity, Korea cherishes its traditions and promotes them in a modern manner. Using strategies of showing tradition and modernity together, this approach conveys important values to people around the world."

"In Egypt, we have international universities built by the U.S., Germany, U.K. and Japan but we hope to get a Korean one, too," he added. "Considering Korea's popularity in Egypt, I believe we have sufficient demand."
"If a Korean university is set up, people will line up to enter there."

"I hope Egyptian and Korean filmmakers jointly produce movies or TV dramas," he said. "The Egyptian public would love to see its beloved Korean and Egyptian actors in one movie."
Ibrahim said he hopes his visit is an opportunity for both countries to expand cultural exchange through the signing of a new memorandum of understanding.

Recalling that everywhere he went in Korea was beautiful like film or drama shooting sites, he said, "Based on continuous communication with staff from the Korean Ministry of Culture, Sports and Tourism, I'll do my best to serve as a bridge so that both countries can implement bilateral projects in cultural cooperation."
To expand its global cooperation network and promote the diverse appeal of Korean culture, KOCIS runs an invitational project targeting influential figures abroad in culture and arts. This year, 15 figures from culture, arts and content like performing arts, fine art, broadcasting and games from 13 countries will visit Korea at the invitation of KOCIS. Ibrahim is the second person this year to visit the country under the program.
dusrud21@korea.kr