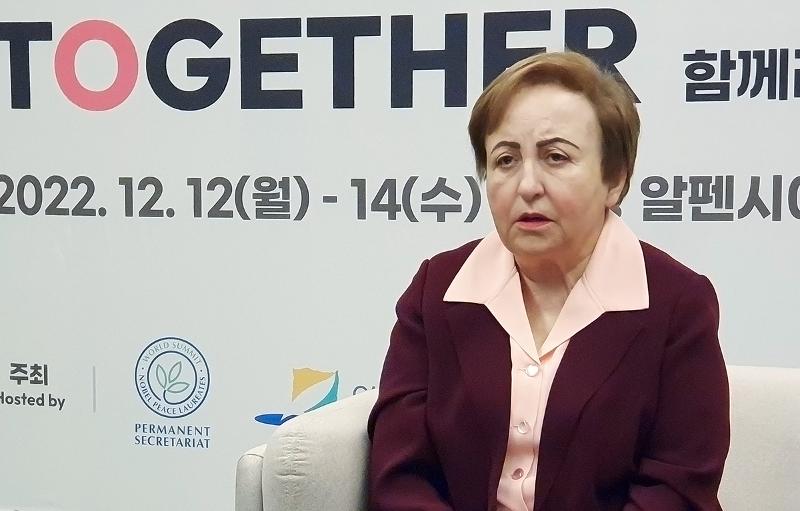 By Kim Hayeon and Yun Dahee
Lawyer Shirin Ebadi, the first Muslim woman to win the Nobel Peace Prize, says Hallyu (Korean Wave) is influencing the improvement of women's human rights and spread of gender equality in the Middle East.
In an interview on Dec. 12 with Korea.net at Alpensia Convention Center in Pyeongchang-gun County, Gangwon-do Province, she said the cultural industry including contemporary and popular arts has great influence.
In the 19th century, books were important in changing culture, while the 21st century has seen movies and arts play a crucial role in change, she said, stressing the importance of keeping up with the times.
Ebadi won Nobel Peace Prize in 2003 for her contributions to the human rights of women and children and development of democracy. She was in Pyeongchang-gun to speak at the 18th World Summit of Nobel Peace Laureates that ran from Dec. 12-14.
The event was hosted by Gangwon Provincial Government, Pyeongchang County Office and the summit's Permanent Secretariat and organized by the Pyeongchang 2018 Legacy Foundation with the provincial daily Kangwon Ilbo. The estimated 500 participants included Nobel Peace Prize winners, leaders of global peace, youth and scholars to reexamine the value of integration and discuss human coexistence and cooperation under the theme "Stronger Together."
"I've always been interested in human rights and those of women," Ebadi said. When fighting for women's and human rights, she said, people can protect human dignity, talk freely and serve any god they want; she also stressed minimum welfare for everyone.
Born in 1947, Ebadi was appointed in 1974 as Iran's first female judge and later earned promotion to chief magistrate of a district court in Tehran. She was demoted to magistrate's clerk after the 1979 Iranian Revolution, however, as the new government considered women unsuitable to serve on the bench.
She has since devoted herself to championing women's human rights in the Middle Eastern region as a lawyer and human rights activist.
Reminiscing about the past, she said, "(Back then) I was thinking about all the young girls who were in law school, dreaming of becoming a judge but would not have the opportunity."
On winning the Nobel Prize, she said she felt both happy and honored but that her life completely changed afterwards. "But what counts is that this prize provided me loudspeakers so that I could speak louder and represent the voice of women in Iran," she added.
She emphasized the importance of education, calling it the best way to empower women. "I mean education that can bring (women) to the (job) market so that they can be financially independent," she added.
"When women don't have financial independence, it's obvious that they can be oppressed either by their husband or their own family," Ebadi said. "So I think that knowledge and financial independence are the first steps to do away with discrimination against women."
On what advice she has for women around the world, she said, "The first thing that I can tell any woman is to continue (her) education to its highest level. The second and more important thing is to have dreams and to follow (them). And not be scared of failure."