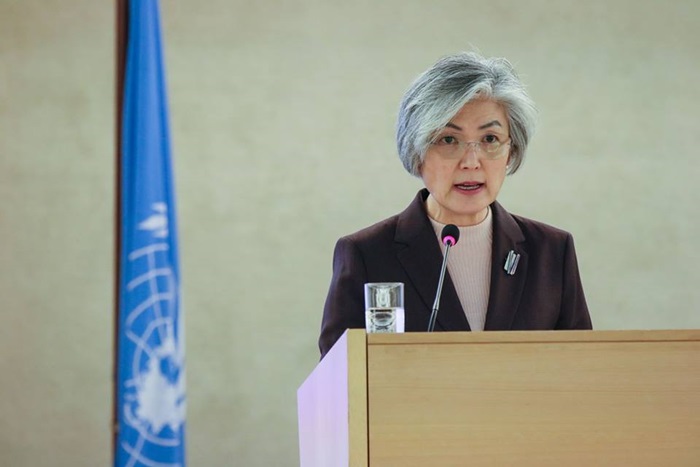 By Oh Hyun-woo and Yoon Jihye
Minister of Foreign Affairs Kang Kyung-wha on Feb. 25 mentioned the "comfort women" issue, or women forced to serve as sex slaves for the Japanese military, in her keynote speech at the High-Level Segment of the 40th Session of the United Nations Human Rights Council in Geneva, Switzerland.
"Grandma Kim Bok-dong, one of the two dozen surviving victims of the comfort women during World War II and a fierce advocate for human rights, passed away in late January this year at the age of 93. Now, only 23 registered survivors remain. The knowledge that they are departing from us without having their lifelong pain fully addressed is sad and deeply frustrating," the minister said.
"Last year, the Committee on the Elimination of Racial Discrimination once again underlined the significance of a victim-centered approach with regard to the issue of comfort women. My government has humbly acknowledged that previous efforts on this issue had been grossly lacking in this regard. We are also honoring them by ensuring that their stories are not lost."
Kang urged more global attention to vulnerable groups including women and girls, children and refugees, and said the Korean government is ready to join international efforts to protect and promote their human rights.
"The Republic of Korea has worked incessantly to build and improve institutions to protect and promote human rights and to nurture a culture of human rights in the everyday lives of our people. My country submitted its candidature for membership in the Council for the 2020-2022 term. We certainly count on the support of all delegations," she added.