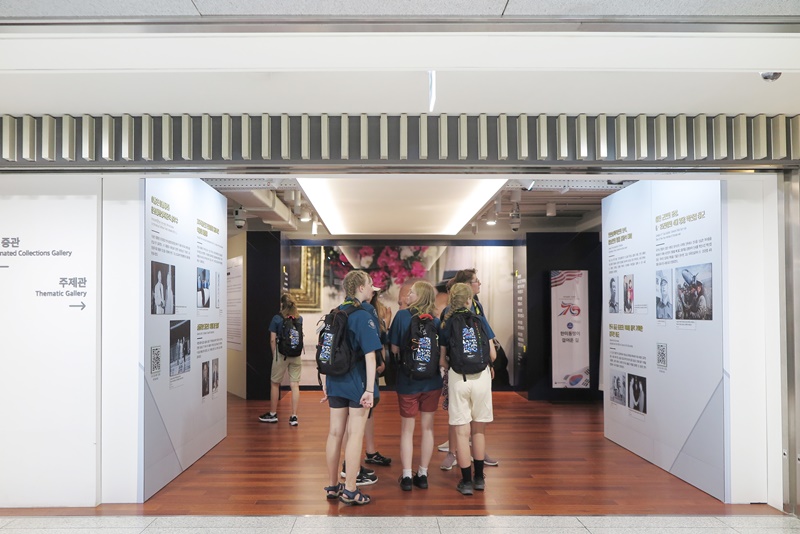 By Wu Jinhua
Photos = Ministry of Culture, Sports and Tourism
The Ministry of Culture, Sports and Tourism on Aug. 7 pledged support for participants in the 25th World Scout Jamboree in Korea to allow them to get firsthand experience in Korean culture through iconic landmarks like Cheong Wa Dae and national museums.
"The Jamboree goes together with Korean culture," Minister Park Bo Gyoon said. "We will support scouts so that they can feel and experience Korean culture in areas outside of the event venue of Saemangeum like the Seoul metropolitan area."
The ministry will provide convenient services like on-site ticket purchases for scouts when they visit Cheong Wa Dae and propose a tour for exploring modern and contemporary Korean history spanning cultural facilities such as Cheong Wa Dae, Gyeongbokgung Palace and the National Museum of Korean Contemporary History.
At the National Museum of Korea, curation in English allows visiting scouts to better understand Korean history and culture. They can also take part in interactive programs such as pottery making.
At the history museum, American scouts can see an exhibition themed on the 70th anniversary of their country's bilateral alliance with Korea that shares the meaning of the partnership with the younger generation.
The Seoul Calligraphy Art Museum of the Seoul Arts Center is hosting an exhibition on modern Korean calligraphy for Jamboree participants with commentary in other languages. The National Gugak Center has scheduled a gugak (traditional music) performance for them.
HiKR Ground, an immersive interactive center in Seoul promoting Korean content and tourism, offers a docent tour and K-pop dance class.
The ministry said, "So that the over 43,000 Jamboree participants from around the world explore the appeal of Korean culture and leave with good memories of their Korea visit, we will continue to support them throughout the event period and until they leave after their tours."