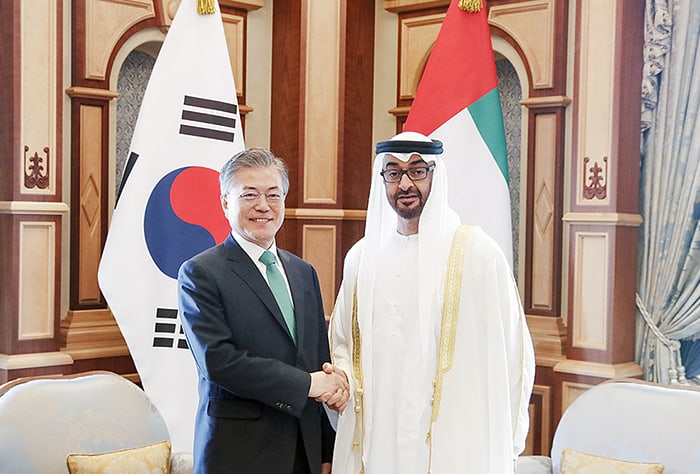 By Sohn JiAe
Photos = Cheong Wa Dae
President Moon Jae-in, currently on a visit to the United Arab Emirates (UAE), met with Crown Prince of Abu Dhabi Mohammed bin Zayed Al-Nahyan on March 25. During the summit, the two leaders agreed to upgrade the Korea-UAE strategic relationship into a "special strategic partnership."
The president and the crown prince acknowledged that the two countries have been engaged actively as strategic partners since 2009 across various areas of both the economy and industry, ever since the establishment of diplomatic ties in 1980. The two leaders agreed that bilateral cooperation should be expanded into such areas as diplomacy, defense, education, medicine and energy, too.
To this end, the two leaders vowed to have in-depth discussions on pending issues by hosting regular dialogue channels, such as dialogue between diplomatic and defense vice-ministerial-level officials, talks between foreign ministers and a joint panel to discuss economic issues.
"The UAE is the first Middle Eastern country with which Korea has made a 'special strategic partnership,'" said President Moon. "I hope that Crown Prince Mohammed will join our efforts to open a path to make our existing bilateral ties expand across various areas."
"As President Moon said, I'm sure that the relationship between our two countries will further develop," said the crown prince. "Although lots of cooperation has already been undertaken across various areas, I hope to see more cooperation being made across a wider range of areas. The UAE is more hopeful than Korea that bilateral ties will be taken to a new level."
The summit also produced a total of five memorandum of understanding covering cooperation on science and IT, on small- and mid-sized companies, on the development of renewable energy and new sources of energy, on the establishment of cooperative channels for industries and energy, and, lastly, on patent administration.
Following the summit, President Moon held talks with five high-ranking UAE officials, including Chairman of the Executive Affairs Authority of Abu Dhabi Khaldoon Khalifa Al-Mubarak and CEO of the Abu Dhabi National Oil Company (ADNOC) Sultan Al Jaber. They talked about ways to enhance practical cooperation on nuclear energy and the energy industries.