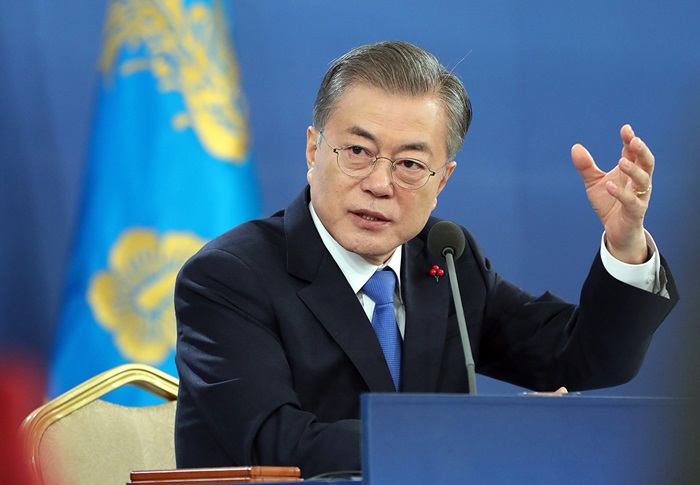 By Kim Young Deok and Kim Minji
Photos = Cheong Wa Dae
President Moon Jae-in on Jan. 10 said North Korean leader Kim Jong Un's recent visit to China is "a sign that the second North Korea-U.S. summit is now close."
In his New Year's news conference at Cheong Wa Dae, the president began a Q&A session for both Korean and foreign reporters by answering questions on diplomacy and national security. Of the 24 questions asked of him on the three areas of diplomacy and national security, economy, and politics and society, the most (10) were on the first category.
On Kim's recent visit to China, President Moon said, "It will positively influence a successful second summit between North Korea and the U.S.," adding, "We soon might hear about high-level negotiations between both sides on their second summit."
Turning to the lack of progress last year by both Koreas in concluding a declaration of the end of Korean War and Kim's inability to visit to Seoul as pledged, the president said, "(Kim's proposed visit) is a turning point and significant opportunity in inter-Korea relations."
"Because Chairman Kim promised (to visit Seoul), I believe it will happen," he said. "Moreover, if the second North Korea-U.S. summit is held, Chairman Kim's visit to Seoul might proceed far more easily."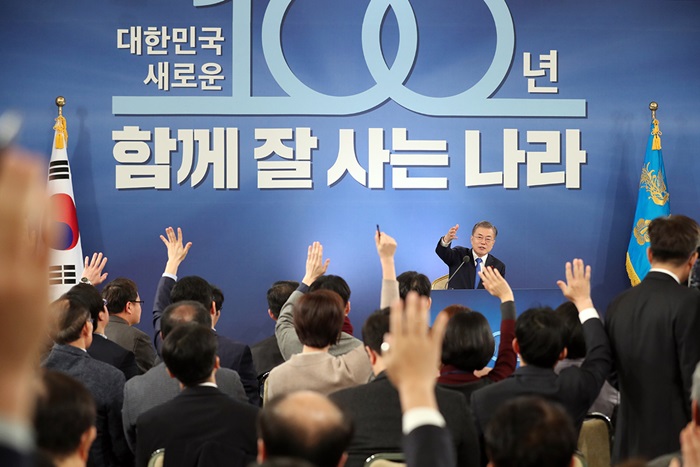 On how North Korea can get its international sanctions lifted, he said the North should take drastic action toward denuclearization, saying, "The lifting of sanctions on the North will depend on the speed of its denuclearization."
Touching on the possible agenda for the second North Korea-U.S. summit, he said reciprocal measures by both sides toward the North's denuclearization will be considered and that unlike in the first summit, where only abstract conclusions were made, specific measures will be discussed in the second meeting.
On if he answered the personal letter he received from Kim late last year, President Moon said, "I cannot disclose the letter's content but I said I wish that the leaders of the two Koreas can hold meetings more frequently this year and that inter-Korean relations and denuclearization make progress."
He also mentioned plans for a "peace agreement after denuclearization" signed at an inter-Korean summit last year. The agreement and denuclearization are connected, the president added, and after the final step of denuclearization, a multilateral approach is needed so that all relevant countries can participate in the agreement.
On his opinion of Japan's opposition to a Supreme Court of Korea ruling ordering compensation for victims of forced labor by a Japanese company, the president said, "The Japanese government must have a more modest attitude."
In addition, he asked that Seoul and Tokyo diligently cooperate to substantially alleviate the victims' pain, saying, "Using (the forced laborer issue) for political maneuvering and harming a future-oriented relationship are inconsistent with the correct attitude."