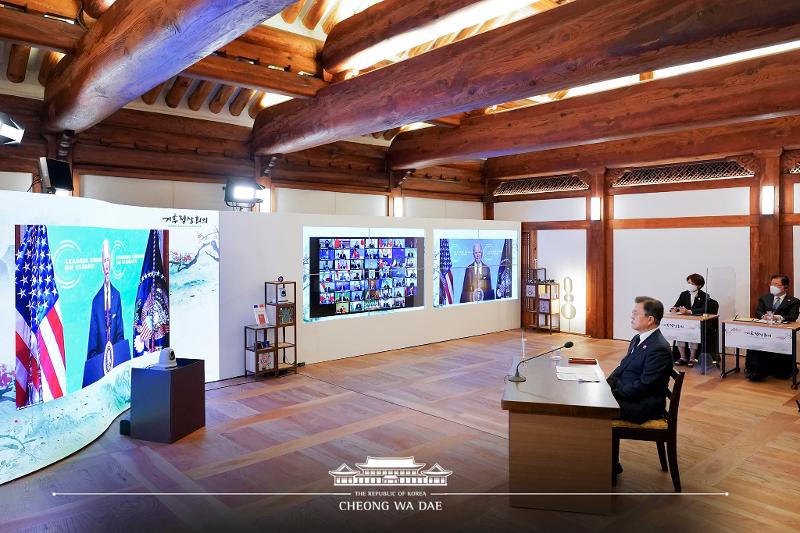 By Jung Joo-ri and Lee Jihae
President Moon Jae-in has announced a further rise in a nationally determined contribution for carbon emissions by 2030 and a stop to public financing for building coal-fired power plants abroad.
At the inaugural Leaders Summit on Climate hosted online by the U.S. on April 22, he made two pledges to achieve carbon neutrality in his keynote address.
"The Republic of Korea will further raise our Nationally Determined Contribution for 2030 and submit it to the United Nations within this year," he said.
Last year, Korea replaced its original target for emissions reduction with an absolute target of a 24.4% reduction from the emissions level of 2017 and submitted it to the U.N. This was the country's first upward adjustment.
The president added, "Korea will end all public financing for new overseas coal-fired power plants."
"Since the launch of my government, Korea has stopped issuing permits for building new domestic coal power plants, shut down ten aged units earlier than scheduled and, as a result, drastically reduced its reliance on coal for power generation. Instead, we are swiftly moving to ramp up the production of renewable energy such as solar and wind power."
On Seoul's hosting next month of the second P4G (Partnering for Green Growth and Global Goals Solidarity for Global Goal 2030) Summit, the chief executive said, "As a host, Korea will exert every effort to prepare for the summit that inspires an actionable vision and stronger cooperation."
"I ask for your keen interest and participation so that the second P4G Summit becomes a stepping-stone to a successful COP26 (U.N. Climate Change Conference) this coming November."
Leaders from 27 countries took part in the summit including President Moon, U.S. President Joe Biden, Chinese President Xi Jinping, Russian President Vladimir Putin and Japanese Prime Minister Yoshihide Suga.
Among the summit's four sessions, President Moon participated in the first, whose theme was "Raising Our Climate Ambition."